The Ultimate Guide to a
CAREER in
Christian

LEADERSHIP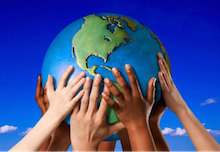 What does "Christian leadership" even mean? Find out in this ultimate guide to careers as a Christian leader, which explains the opportunities available both inside and outside of the church.

Are you wondering if a career in this "industry" is right for you? Chapter two may help you decide, as it lists many of the attributes of successful servant leaders. If you're still on the fence, chapter three will help you weigh the pros and cons of devoting your life to God and serving others. If you are early on in the process and need information about education options, this guide also has chapters about types of degree programs (chapter four), the difference between on-campus and online education (chapter five), and continuing education options (chapter nine).

Chapters six and seven cover the various types of careers in Christian leadership and what the future outlook is for Christian professionals. If you are already a minister, chaplain, youth worker, Christian counselor, educator, or any other type of Christian leader, you may benefit from the list of professional organizations offered in chapter eight. And to top it all off, chapter ten provides a comprehensive list of resources for Christian leaders, from special job sites to helpful reading materials.