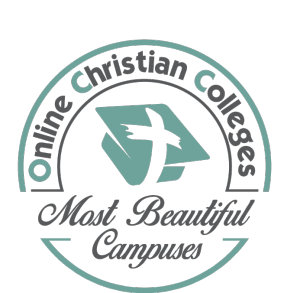 By OCC Staff
Boasting ocean views, stained-glass windows, and enchanting cathedrals, Christian college campuses are some of the most beautiful in the country, This is good news for those college-bound students in search of a college experience that is beautiful both academically and aesthetically. Ranging from mountain-top retreats and beach-side hangouts, to urban jewels and rural havens, the 50 colleges and universities on this list are some of the most beautiful of their kind. Best of all, each school on this list is a highly-respected institution built upon the tenets of the Christian faith.
Ranking Methodology
Though there are surely more than 50 beautiful Christian campuses in the United States, the following schools were chosen and ranked based upon the following methodology. To begin, we consulted a number of "best of" and "most beautiful" lists to identify those colleges and universities routinely considered to be amongst the most beautiful. Once we had a list of nearly 100 Christian schools, we researched each campus very carefully, relying on everything from social media hashtags to virtual tours. Finally, we narrowed down our list and determined our ranking using an holistic approach focusing on the following attributes:
Awards & Recognition Whether a national award, or an honor bestowed by a group or organization, any recognition a campus has received played a large part in its placement on this list. Generally speaking, the greater and more recent the honor, the higher the college was placed.
Student Enjoyment While most of the features described in this article can be appreciated visually by both students and visitors, those campuses with features that can be physically enjoyed by the school's student body (such as botanical gardens or hiking trails) were given higher priority.
Number of Notable Features Campuses with more than one significant or celebrated building or feature were ranked higher than those with a single notable feature.
Other Those campuses with other notable characteristics, such as historical significance or environmental friendliness, were also considered.
Due West, South Carolina
With its elegant old architecture, South Carolina's Erskine College oozes southern charm. Located in the Erskine College/Due West Historic District, the college itself has a spot on the National Register of Historic Places. The most impressive building on a campus of impressive buildings may well be Philomathean Hall. Home to the Philomathean Literary Society, the hall is the oldest building in the entire historic district. Built in 1859, it includes Corinthian columns, interior Italian frescoes, and a slight resemblance to the White House in Washington, D.C. Only about 600 students attend Erskine, which was the first private Christian School founded in the state.
Virginia Beach, Virginia
Founded less than 50 years ago, Regent University may be younger than most other Virginia colleges, but its thoughtful architecture and design means it has rightfully earned a spot on this list. Located on 70 finely landscaped acres in Virginia Beach, Regent University is made up of classical Georgian-style buildings, one of which is the Founder's Inn and Spa, a hotel and special events venue. Beach lovers will love the quick access to the Atlantic Ocean, while Colonial Williamsburg, located less than an hour away, makes for the perfect day trip.
Birmingham, Alabama
Located in the Birmingham suburb of Homewood, Samford University is made up of 200 immaculate acres of uniform Georgian-colonial buildings and a backdrop of trees and gardens. Student housing is located near the manicured quad, which has proven to be the preferred gathering spot of students from freshmen to seniors. Thought every building on Samford's campus is aesthetically pleasing, the Hodges Chapel especially stands out. Its interior dome was painted by fresco master Petru Botezatu.
Rochester, New York
The first Free Methodist Church-affiliated college founded in North America is also one of the most beautiful. The carefully manicured 75-acre campus is home to the Northeastern Seminary (a graduate theology center) and the local landmark that is the B. Thomas Golisano Library. The modern-style library can be seen from just about anywhere on campus and has achieved a number of accolades, including the American Institute of Architects' Citation of Merit Award and LEED Silver candidacy.
Waxahachie, Texas
Southwestern Assemblies of God University's 73-acre campus is a naturally beautiful, tree-lined paradise for students. Originally founded in 1927, the university existed in a number of locations before settling in its current rural setting of Waxahachie. The most impressive building on campus is easily the Blake L. Farmer Administration Building, a stylish and grand construction that dates back to the early 1900s. Today, the building hosts conference halls, classrooms, and faculty offices.
New York City, New York and Nyack, New York
There may be no other college in the state that better reflects New York's rich history and old-world ethics than Nyack College. The college is actually spread between New York City and the suburb of Nyack. Both campuses are comprised of collegiate-style buildings that vary from traditional to more modern. In fact, students of the Manhattan campus are bound to be impressed by the seemingly skyscraper-like stature of the academic buildings.
Dallas, Texas
Located in Dallas, Texas, Southern Methodist University is 164 tranquil acres of Georgian architecture, spacious lawns, and tree-lined walkways. The magnificent Dallas Hall, dedicated with the start of classes in 1915, was designed by Boston-based architects Shepley, Rutan and Coolidge. Its grand Georgian design was directly inspired by Thomas Jefferson's famous Rotunda at the University of Virginia. Despite its location on a campus full of beautiful buildings, Dallas Hall remains Southern Methodist University's most iconic landmark.
Fullerton, California
Hope International University is officially non-denominational, but is strongly associated with the Churches of Christ. Founded with its current name and at its current location in 1997, Hope International is easily the most unique looking of any school on this list. Architects Armet & Davis were inspired by the Space Age and automobile culture when initially designing the 18-acre campus, and the result is a unique style dubbed the "Google" style. Most of the buildings on campus, including the now-iconic Darling Library, are impressively angular and have become instantly recognizable among Southern California schools.
Marion, Alabama
Judson College consists mainly of a large and elegant Greek-revival building that houses classrooms, offices, and administration. Its unique cupola tower and roof line are instantly recognizable in the area and adorn a number of local postcards. The building has actually burned down twice before, but was rebuilt bigger and better each time. The rural campus itself is 80 acres of carefully manicured greenery, making it a peaceful hub of learning for its 350 students.
Montecito, California
Westmont College is one of the most highly respected Christian colleges in California. Located on 110 acres in hills of Montecito, a few miles east of Santa Barbara, Westmont provides students a nature-filled college experience. The campus is surrounded by greenery, while a babbling creek runs through campus for most of the year. Architecturally, Westmont is a mix of modern designs and the Mediterranean revival style that has become synonymous with Southern California. In 2008, much of the campus was damaged by wildfire, but the rebuilt campus now includes a number of buildings that are both stylish and fireproof.
Villanova, Pennsylvania
Pennsylvania's Villanova University is well-known as a respected institution of Christian higher learning. The crown jewel of Villanova's campus is most certainly the St. Thomas of Villanova Church. Originally constructed in 1841 as a prep school for Catholic boys intent on becoming priests, the church is now the literal centerpoint of a beautiful campus. The cathedral's architecture is decidedly German, with two narrow towers more than 60 feet tall. The interior of the church is just as impressive, boasting a seven-section dome, myriad religious paintings, and marble columns.
Beaver Falls, Pennsylvania
Walk through Geneva College's lushly forested campus and you're likely to forget that you are less than an hour from Pittsburgh, the second largest city in Pennsylvania. The 130-year old campus buildings are reminiscent of those of the Ivy League, while the rest of the campus consists of 55 acres of breathtaking natural settings. Students spending time outdoors can choose between tree-shaded spots of grass or a number of biking or walking trails, while those who choose to remain indoors will be hard-pressed to find a good study spot without a view of the surrounding hills and trees.
New York City, New York
Though Jesuit school Fordham University has three locations throughout New York City, its Rose Hill campus in the Bronx is arguably the most beautiful. Multiple gardens and greens grace the 85-acre campus, the most popular one for studying and socializing being the expansive Martyrs' Lawn. Roses bloom for much of the year around most of the university's buildings, including the campus crown jewel: Keating Hall. Sitting adjacent to the greenery of Edwards Parade, the neo-Gothic structure was designed by local architect Robert J. Reiley and constructed in 1936.
Waco, Texas
The 1,000 acres comprising Baylor University are dotted with beautiful sights both natural and man-made. The centerpiece of the campus is undoubtedly Burleson Quadrangle. First created in 1886, the Quad is hugely popular among students and visitors alike. Plus, sitting in the Quad gives one spectacular views of some of the campus' most beautiful buildings, most notable of which is Old Main. Constructed in 1887, Old Main combines Italianate and American Victorian features.
Seattle, Washington
Seattle Pacific University sits in the beautiful and historic Seattle neighborhood of Queen Anne Hill. The 43-acre campus is home to charming brick buildings, state-of-the-art facilities, and some of the oldest trees in all of Seattle. The most iconic building on campus is surely Alexander Hall. Called only the "Red Brick Building" when it was first built to house the Seattle Seminary, Alexander Hall is now the oldest building on campus. Students of the main campus may also enjoy taking the occasional trip to Seattle Pacific's two satellite campuses located on Whidbey Island and Blakely Island.
Greenville, Illinois
Located in rural Illinois — but only 45 minutes from St. Louis — Greenville College is a peaceful and scenic 50-acre campus. The grounds feature a number of historic buildings, the most notable of which may be the Almira College House which houses the Bock Museum and the Richard W. Bock Sculpture Collection. When not in class, Greenville students can take full advantage of the nature trail that winds through and around the pretty campus and surrounding areas.
Winona Lake, Indiana
Located in the historic resort town of Winona Lake, it's no wonder that Grace College is considered one of the most beautiful campuses in the country. The buildings on campus are a combination of historic charm and modern elegance, and iconic edifices include Westminster Hall, Mount Memorial Hall, and the new and modern Manahan Orthopedics Capital Center. When they are not in class, students have full access to 360 degrees of beautiful scenic views and recreational activities such as boating and hiking.
Washington, D.C.
Founded in 1789, Georgetown University is the oldest Jesuit university in the country. Centrally located in the nation's capital, Georgetown's campus may well include Washington D.C.'s many museums, theaters, concert halls, monuments, and landmarks. This makes the university an especially exciting place to be. Still, the official campus has its own fair share of impressive constructions. Healy Hall, built in the 1870s, is listed as a National Historic Landmark, while the iconic Observatory has its own rightful spot on the National Register of Historic Places (in 1846, the Observatory was used to determine the coordinates of Washington, D.C.). Finally, beautiful Old North, built in 1794, is the oldest building on campus.
Memphis, Tennessee
If you are walking through any of Rhodes College, you are likely to think you have somehow left Memphis, Tennessee and found your way to old England. That's because the 100-acre campus was designed to resemble an English Gothic village. Rhode's Oxbridge-style quad is crowned by a beautiful and imposing stone library, but it's the Avenue of Oaks that secures Rhodes a spot amongst the most beautiful college campuses. When the college moved to Memphis from nearby Clarksville, student John A. Rollow brought with him a collection of oak tree seedlings. Rollow's Avenue of Oaks now runs from North Parkway to Palmer Hall and is the crowning jewel of an already gorgeous campus.
West Palm Beach, Florida
Consisting of many Mediterranean-style buildings, Palm Beach Atlantic University fits right into its Palm Beach, Florida setting. Situated directly across the Intracoastal Waterway from some of the city's best public beaches, students at Palm Beach Atlantic often find themselves studying or attending class on the beach. The school's prime location means it's also within easy walking distance to myriad restaurants, cultural centers, stores, and churches. True beach lovers will also love the university's easy proximity to John D. MacArthur Beach State Park, an 11,000-acre barrier island where hiking, snorkeling, and scuba diving are all popular pastimes.
Boston, Massachusetts
Though Boston College was instituted in 1863, the 175-acre campus we know today was designed in 1909 by architect Charles Donagh Maginnis. Maginnis' Collegiate Gothic and Gothic Revival style is considered to have been the pioneering force behind the incorporation of such architecture at several other prestigious schools in the area. Today there stand a number of beautiful stone structures on the Boston campus, the most famous of which is likely Gasson Hall. With its iconic bell tower and adjacent eagle sculpture, Gasson Hall is one of six buildings that form the Boston College Main Campus Historic District.
Los Angeles, California
Situated in Westchester at the base of Los Angeles' Del Rey Hills, Loyola Marymount University is surrounded by views reminiscent of Hollywood backdrops. The university itself dates back to 1865, when it was originally founded as Catholic St. Vincent's College. Not surprisingly, much of the campus architecture pays tribute to the school's religious roots and continuing Catholic affiliation. The elegant Sacred Heart Chapel is one of several highlights on the 150-acre campus. Built in 1955, people travel from just about everywhere to view the Spanish Gothic structure and its multi-hued stained-glass windows, marble pillars, and sparkling chandeliers.
Riverside, California
Students flock to California Baptist University from all over the world to attend one of the top Christian academic programs in the world. Situated in Riverside — one of Southern California's wealthiest cities — the gorgeous campus consists of a number of Spanish-inspired buildings that were all designed to resemble a Spanish hacienda. Fundraising efforts of the last decade have resulted in a number of state-of-the-art buildings designed specifically for student enjoyment, though many students also choose to spend their free time in the shade of a tree on the large grassy quad.
Point Lookout, Missouri
There are few places in America more beautiful than the Ozarks, and tiny liberal arts college College of the Ozarks takes full advantage of that natural beauty. Sprawled along the White River, the 1,000-acre campus overlooks beautiful Lake Taneycomo. Students and visitors alike can enjoy a walk through the verdant grounds, which include a working mill, multiple greenhouses, and a rose garden tended entirely by students. Collegiate-style buildings grace the campus, though perhaps none is more breathtaking than the Williams Memorial Chapel. Built in the Gothic style, the chapel is appropriately located at the heart of the campus.
Wheaton, Illinois
Unique for any college campus, most of Wheaton College's buildings are more than a century old (though some tastefully-designed newer buildings have popped up in recent years). One such building is the 150-year old Blanchard Hall, which was once the only building on campus and remains the most iconic. Students and visitors walking across campus will still be greeted with the chimes of its bells — the perfect soundtrack to a collegiate environment as picturesque as they come. Other notable campus buildings include the modern Science Center and the classically designed Billy Graham Center.
San Diego, California
Much of the architecture on Point Loma Nazarene's 90-acre campus dates back to its interesting start as the site of a Theosophical commune. Most notable is the stunning Greek theater that was constructed in 1901. The only one of its kind on the continent, the theater is a popular attraction for both students and visitors. Another magnificent campus building is Mieras Hall. An eye-catching focal point, Mieras blends Victorian timber design with unusual shapes and antiquated details such as Corinthian-style columns and an amethyst dome. Perched atop San Diego's Sunset Cliffs, the campus also offers breathtaking views of the Pacific Ocean.
Waynesburg, Pennsylvania
Waynesburg University is a respected Christian university located in southwestern Pennsylvania. The campus itself totals only about 15 acres, but surrounds four spacious City of Waynesburg-owned parks that have become popular hangout spots for students. Not surprisingly, "Fountain Park" consists of fountains and ponds that attract a fair amount of wildlife, while "Statue Park" contains a beautiful statue commemorating lives lost during the Civil War. The university's architectural gems include Miller Hall and Hanna Hall, the two oldest buildings on campus.
Santa Clara, California
Founded in 1851, long before the city of Santa Clara was the tech capital it is today, Santa Clara University is now 106 acres of peaceful palm trees and California mission-style architecture. The Ricard Observatory is one of the favorite buildings on campus. Completed in 1928, the silver-domed building is still both functional and charming. The Student Activities Center is one of the more iconic buildings on campus. The center is beautiful to look at, and recently earned an LEED Gold certification for its myriad green features, which include low-emissions finishes and brick-paved walkways that limit water runoff.
Spokane, Washington
Besides being one of the most beautiful Christian colleges in the country, Whitworth University consistently ranks as one of the best colleges, too! Located on 200 pine tree-covered acres in Spokane, Washington, much of the campus features red-brick, collegiate-style buildings like that of McMillan Hall, built in 1913. Since 2000, Whitworth has spent over $100 million in renovations that have included a new, state-of-the-art science center, a center for the visual arts, and a recreational center for students.
Spring Arbor, Michigan
Originally founded in 1873 as a Free Methodist Church seminary, Spring Arbor University is now a respected institution with a student body of just under 5,000. The university gets its name from the artesian water springs that are abundant in the community and heavily featured on campus. In fact, the 100-acre campus is nearly all beautiful greenery, ponds and springs, and well-designed modern buildings. The centerpiece of campus is certainly the McKenna Carillon Tower, which was dedicated in 2005 and serves as a symbol of the university's commitment to education and God. The tower has clocks on all four sides, while the school's mission statement and the Wesleyan Quadrilateral are inscribed on all four entryways.
Siloam Springs, Arkansas
Spread over 200 acres, John Brown University is a piece of paradise in the midst of the beautiful Ozarks. Lining public common areas and quieter walking paths alike, dogwood trees have become one of the most recognizable elements of John Brown. However, the crown jewel of the campus is undoubtedly the Cathedral of the Ozarks. Completed in 1957, the cathedral features both a chapel and several academic facilities. Just outside the cathedral doors is the campus's main quad, which serves as a popular spot for students to relax, study, or take part in a game of frisbee or soccer.
Longview, Texas
Originally a World War II-era military hospital, the 162-acre campus that is LeTourneau University is one of the most historically significant on this list. Though LeTourneau gained official university status in 1989, it has retained many of the original buildings, including the Speer Chapel. The picturesque chapel originally opened in 1943 and still has its original wooden sash windows, gabled roof, and towering steeple. However, the centerpiece of the campus, the Jeanette S. Belcher Memorial Bell Tower, is much newer. Completed in 1990, the bell tower towers over the lawns and walkways of the main quad area.
La Mirada, California
Not only do students at Biola University have the pleasure of attending one of the most respected Christian colleges in the United States, but they can do so in the midst of one of the most desirable locations. Situated in the Southern California city of La Mirada, Biola University is within easy access to mountains, beaches, and the excitement of downtown Los Angeles. On campus, students can take advantage of lovely California weather with study breaks in the many gardens and patio areas. Though the on-campus chapel is humble, it has a certain charm to it that makes it one of the most popular buildings on campus.
Lakewood, Colorado
Situated just below the Rocky Mountains (meaning great views!), Colorado Christian University is a pretty and peaceful setting for the outdoors-loving Christian student. In fact, one of the most popular hangouts for students, faculty, birds, and other wildlife is the campus' small pond. Students live in some of the best on-site housing in the country, in buildings that fit right into the comfortable residential neighborhoods of Lakewood. The academic buildings have been carefully and consistently designed, and feature unique architectural elements such as domes and oval-shaped facilities. Students also have the choice of multiple chapels to visit on campus.
St. Davids, Pennsylvania
Though Eastern University is officially affiliated with American Baptist Churches U.S.A., the school's faculty, administrators, and student body come from a variety of faiths. Such a mix contributes to the overall peacefulness and wholesomeness that is associated with Eastern. The lake-side campus is spread over a beautiful wooded countryside, though it remains within easy distance to Philadelphia. Paved bike trails weave through campus to the many buildings that are built in both traditional and modern architecture. The campus also has both a planetarium and an observatory.
Brownwood, Texas
The 80-acre campus of Howard Payne University is full of vibrant green spaces on which students can study and socialize. The most beautiful building on campus is the Douglas MacArthur Academy of Freedom. Constructed in 1890 and extensively renovated in the 1960s, the Academy of Freedom looks like something out of a fairy tale. The building is built in sandstone, topped with a spire, and graced with a shining glass frontage unlike anything else on this list. Students and visitors alike stand in awe of the building, which houses a library, classrooms, and some faculty offices.
Nashville, Tennessee
Pretty Belmont University is a nondenominational Christian liberal arts college that is steeped in Southern charm and beauty. The most beautiful building on the 75-acre campus is arguably Belmont Mansion. Once the home of local socialite Adelicia Acklen, it earned a spot on the National Register of Historic Places in 1971. With its Greek Revival architecture and Italianate details, the mansion remains one of the most opulent antebellum residences in the southern United States. It currently acts as a showpiece and museum for the university. Another historic highlight is Belmont's 105-foot tower and carillon, both of which were built in 1853.
Worcester, Massachusetts
The College of the Holy Cross' campus is exceptionally beautiful. The 174-acre campus is, in its entirety, actually a registered arboretum, boasting more than 6,000 trees, plants, and shrubs that add unique color and elegance to any part of campus. Towering Fenwick Hall serves as the campus' centerpiece, while the jewel of Holy Cross is undoubtedly St. Joseph Memorial Chapel. Constructed in 1922, the chapel features graceful Corinthian columns and a Renaissance Revival aesthetic.
Wenham, Massachusetts
Though Gordon College has officially existed since 1889, it has been located in its current rural setting since only 1955. The campus sprawls over 450 acres, the heart of which sits next to a large and peaceful pond. Impressive buildings on campus include Frost Hall, the 1911-built former mansion of investor Frederick H. Prince; and the state-of-the-art Ken Olsen Science Center. When not in class, students have access to tree-lined walking paths, manicured sports fields, and pond-side activities.
Raleigh, North Carolina
Campbell University offers students the unique experience of a tightly-knit community atmosphere located within the big city. Despite the fact that Raleigh is located a stone's throw away, most students choose to stay on the Campbell campus to take advantage of the many amenities, student activities, and peaceful study spots. Tree-lined walking paths lead from one traditional brick building to another, with grassy quads scattered about. The campus is also home to the Keith Hills Golf Club and the Robert B. and Anna Gardner Butler Chapel, both of which are popular among students and visitors alike.
Houston, Texas
One of the most picturesque college campuses in Texas, Houston Baptist College offers students and visitors a peaceful escape from the busy Houston atmosphere. Tree-lined walking paths, shady copses, peaceful fountains and gardens, and multiple greens provide students with plenty of options for studying or socializing. Academic buildings on campus are a fine mix between traditional and modern, including the popular Dunham Bible Museum, which houses one of the world's most expansive collection of rare bibles.
Notre Dame, Indiana
Take a walk through the University of Notre Dame campus, and you may think you've stepped onto the grounds of an old English university. The 1,250-acre campus is filled with tree-lined walkways and hidden garden areas. Notre Dame's most famous building is undoubtedly the golden-domed Main Building, though its most magnificent is the neo-Gothic Basilica of the Sacred Heart. Consisting of a towering, national record-breaking bell tower and large stained-glass windows, the basilica is almost always featured on lists of stunning churches in the United States.
Asheville, North Carolina
That "Montreat" is an amalgam of "mountain" and "retreat" should be a big sign as to the college and its natural beauty. Originally founded in 1897 by an evangelist and his associates to encourage spiritual and intellectual growth in the Blue Ridge Mountains area, Montreat has been a four-year Christian college since 1945. The campus consists of numerous stone buildings, which, in autumn, are framed by a plethora of red- and yellow-leaved trees. Nearly twenty hiking trails covering roughly thirty miles weave through and around campus, some of which lead to Lake Susan, a popular gathering spot for students looking to boat, swim, and picnic. No wonder the 112-acre campus is so frequently referred to as the "little mountain paradise."
Holland, Michigan
Lovely Hope College is home to the Dimnent Memorial Chapel, which consistently ranks as one of the most beautiful college chapels in the country. Built in the American Gothic style with Bedford stones, the impressive building was completed in 1929 by Chicago-based architect William K. Johnston. The 120-acre campus is carefully maintained and full of green spaces for students to enjoy. When students are not in the classroom, they can wander through charming Holland, which Gallup and Healthways recently named the second-best city in America for personal well-being. Hope's campus is also home to the Western Theological Seminary.
Hillsdale, Michigan
Though officially nondenominational, little Hillsdale College is steeped in the ideals of Christianity and the Western Heritage. The tree-lined main quad is surrounded by brick academic buildings and the iconic Central Hall and clock tower. Visitors come from far and wide to view the collection of statues dedicated to highly respected statesmen such as Thomas Jefferson, Abraham Lincoln, George Washington, Ronald Reagan, Winston Churchill, and Margaret Thatcher. The town of Hillsdale is slowly turning into a charming college town, though students are still likely to see Amish buggies on their walk to church or downtown.
Azusa, California
As the first Bible college established on the West Coast, Azusa Pacific University is now one of the leading evangelical universities in the country, educating more than 10,000 students per year across eight Southern California locations. The main campus in Azusa is a stylish collection of pure white buildings that ooze California charm. Interestingly, the most iconic building on campus was once an industrial warehouse of metal and concrete. Today, the John and Marilyn Duke Academic Complex houses classrooms, study spaces, and two art galleries.
Gambier, Ohio
Established in 1824, Kenyon College is an Episcopalian-affiliated liberal arts college located in rural Gambier, Ohio. The 1,000-acre campus has repeatedly been named one of the most beautiful colleges in the country, most notably by Forbes. Buildings on campus are a distinctive mix of architectural styles, including Modern, Collegiate Gothic, and American Gothic. Impressive campus buildings include Old Kenyon dormitory and the modern-style Horvitz Hall Studio Arts Building. When they are not in the classroom, students can enjoy the popular Middle Path, a tree-lined walkway that acts as a central link on the campus.
Lookout Mountain, Georgia
Nestled high atop Lookout Mountain on the border of Georgia and Tennessee, tiny Covenant College consists of 300 acres of landscaping and architecture designed to showcase the area's natural beauty. The buildings are a mix of current and traditional styles, though every building was designed with a wealth of windows to take advantage of the mountain-top view of seven different states. Flowers and trees are plentiful, and its no wonder Covenant students are estimated to spend nearly 90% of their free time outdoors.
Malibu, California
Pepperdine University is undoubtedly one of the most beautiful college campuses in the United States. The Mediterranean-revival architecture seems to ooze Southern California charm. Set amongst the foothills of Malibu, Pepperdine boasts easy access to some of the most celebrity-dotted beaches on the coast, while from the campus itself, students can enjoy spectacular views of the Pacific Ocean, the Channel Islands, and the city of Los Angeles. Though Pepperdine's easy-going beauty makes it easy to get caught up in the Hollywood glamour, iconic Phillips Theme Tower remains a stylized reminder of the school's commitment to its Christian goals and mission.
San Diego, California
The University of San Diego is a small private university associated with the Jesuits. Situated atop a hill, the campus provides stunning panoramic views of the Pacific Ocean, San Diego Harbor, the Coronado Islands, and La Jolla. Nearly every building on campus is done in the 16th-century Spanish Renaissance architectural style, a style consistent with the university's Catholic roots. One of the most magnificent buildings on the 180-acre campus is undoubtedly Immaculata Church, which is decked out in unique details that include a door made of solid bronze, Spanish-inspired red-tiled roofs, and a mosaicked dome.
A high resolution version of the award badge in this article can be found here. Please feel free to use it in your promotions.
Related Resources: