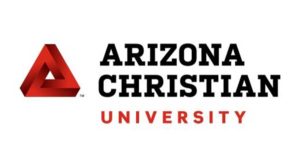 Arizona Christian University Degree Programs
Check out our ranking of the Top 50 Online Christian Colleges for Future Missionaries.
Arizona Christian University (ACU) is a private educational institution located in Glendale, AZ. The school features a Christian-based curriculum that features ethical approaches to over. ACU opened its doors in 1960 as a Bible School. Today, the college has expanded its role to include over 50 pathways toward baccalaureate degrees with an accumulation of over 20 minors as well. In 2017 ACU gained permission to begin offering degrees online and has begun an effort to reach students heretofore unable to spend time in classes.
Arizona Christian limits its student body to 820. With this small size, the school has seen no need to divide its programs into multiple schools or divisions. The school may do so in the future since it is contemplating developing a graduate program and because of necessity if online programs increase.
The school presents one associate degree—Associate of Arts in General Studies—and one certification—Certificate in Bible Studies—for beginning students. These programs are designed to immerse students in the educational process for the first time, teaching them how to study and perform at a high academic level.
The school offers several baccalaureate degrees in a variety of fields. Students have an opportunity to explore areas of study in such diverse subjects as business, theology, music, journalism, English, history, family studies, sports, communication, criminal justice, education, film, health care, mathematics, political science, and psychology. All these subjects are studied with the development of human spirituality in mind as a foundational force for a civilized world.
ACU keeps with its original intent as a Bible School by not only fostering a spiritual approach to the problems and diversity of the modern world, it still maintains a presence in the theological community with degrees such as:
Bachelor of Arts in Biblical Studies – Biblical Languages
Bachelor of Arts in Biblical and Theological Studies
Bachelor of Science in Christian Ministries – Interdisciplinary Studies
Bachelor of Science in Christian Ministries
Bachelor of Science in Music – Modern Worship
Bachelor of Science in Music – Music Ministry
Arizona Christian is opening its campaign into the online presence. Even though the school has just entered the online space over the last three years, its programs are growing. Today, the school offers six of its baccalaureate degrees online, including:
Bachelor of Science in Business Administration
Bachelor of Arts in Biblical and Theological Studies
Bachelor of Science in Elementary Education
Bachelor of Arts in Family Studies – Marriage and Family
Bachelor of Science in Secondary Education (Certified)
Bachelor of Science in Behavioral Health
Arizona Christian offers students the opportunity to expand their major degrees with a minor. Currently, ACU does not offer any of its minor degrees online, but the future looks positive as many of its minor degrees correspond with those majors offered online. The school offers 12 minor degrees in the traditional classroom setting, including:
Minor in Behavioral Health
Minor in Biblical Studies
Minor in Communication
Minor in Accounting
Minor in Business Administration
Minor in Management
Minor in Marketing
Minor in Sport Management
Minor in Political Science
Minor in Family Studies
Minor in Music
Minor in Secondary Education
Even though ACU is not yet offering graduate-level degrees, the school has applied for and received permission to pursue building graduate-level programs. These programs take years to develop as they need to be presented for accreditation before being offered as a degree, whether in a traditional classroom or online.
About Arizona Christian University
Since its creation in 1960, Arizona Christian has generated graduates who enter the fragile world of business, healthcare, or education with a strength that few other graduates from other schools can boast. The school centers its curriculum on building the internal strength of students to engage the complexities and damages an independent foray into the world encounters. Holding that the Christian faith has infinite value in character building, ACU proudly presents its students to the world as examples of the meaning of the term "civilized" means.
US News & World Report ranks Arizona Christian as 22nd among Regional Colleges West and 21st in Top Performers in Social Mobility. Niche.com rates the school as one of the safest in the country with some of the best college dorms.
Arizona Christian University Accreditation Details
Arizona Christian University is regionally accredited through the North Central Association of Colleges and Schools, The Higher Learning Commission and has national accreditation from the Association for Biblical Higher Education, Commission on Accreditation. ACU also has an affiliation with Council for Christian Colleges and Universities and is licensed by The Arizona State Board for Private Postsecondary Education.
Programs at ACU are approved by:
The Arizona State Approving Agency, a division of the Arizona Department of Veterans' Services
The Arizona State Board of Education for teacher training in elementary and secondary education in preparation for state certification
The United States Department of Justice for the education of international students
ACU holds several memberships in educational organizations to help with students to cope with academic life including:
The American Association of Collegiate Registrars and Admissions Officers (AACRAO)
The Arizona Association of Student Financial Aid Administrators (AASFAA)
The Western Association of Student Financial Aid Administrators (WASFAA)
The National Association of Student Financial Aid Administrators (NASFAA)
The Association of Christian Schools International (ACSI)
The Association of Independent Colleges and Universities of Arizona (ICUA)
North American Coalition for Christian Admissions Professionals (NACCAP)
National Association of Intercollegiate Athletics (NAIA)
American Council on Education (ACE)
Association of Business Administrators of Christian Colleges (ABACC)
Association of International Educators (NAFSA)
College & University Personnel Association for Human Services (CUPA-HR)
Evangelical Council for Financial Accountability (ECFA)
Arizona Christian University Application Requirements
To apply for admittance to ACU, students must present their high school transcripts that reflect a minimum of 2.0 GPA along with ACT score of at least 18 or SAT score of 860 or higher. Applications are accompanied by a fee of $30, but not to worry as the school has an acceptance rate of 64 percent. Applications must be presented to the school by August 15.
Tuition and Financial Aid
The tuition rate at ACU is $27,890 per year. For those students living on campus, room and board comes to $11,200 per year.
Arizona Christian offers merit, music, and athletic scholarships to help alleviate the cost of school. ACU recommends that students also apply for grants such as Pell Grants and Need Grants from the federal government as well as grants from state, paternal, or community organizations. The school accepts scholarships from any organization that wishes to offer them to the student. Veterans with GI collegiate funds are welcome. ACU recommends that students seek Federal Student Loans as a last resort since these may create a financial burden after graduation.
Arizona Christian provides spiritual guidance to its students to cope with a world that presents multiple complexities. Graduates from Arizona Christian University are recognized as guides for the future in whatever endeavor they involve themselves after graduation.
Related Resources: