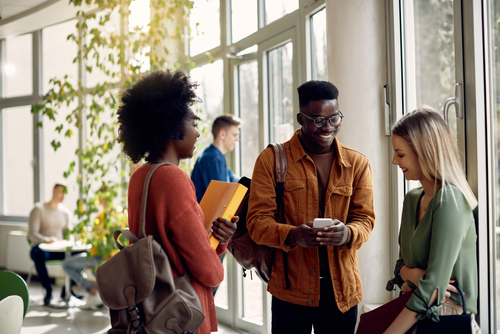 A historically black college is defined as any school that was established before 1964 that has maintained a primary goal of educating black Americans. The Higher Education Act of 1965 created this definition and experts have since identified more than 100 colleges fitting that description. Historically black colleges (HBCUs) offer students several benefits including a supportive environment and diverse cultural experience, as well as several career-oriented benefits.
Scholarships for Students at HBCUs
Many scholarships exist for students attending historically black colleges, and those scholarships are available for students in virtually every area of study. For example, the Thurgood Marshall College Fund works with Lowe's to offer the TMCF/Lowe's GAP Scholarship for graduating seniors entering an HBCU. Students who write a 200-word essay may apply for the Denny's – Tom Joyner Foundation Hungry for Education Scholarship, which awards a $2,000 scholarship, and students who make a 1-minute video may apply for the GEICO HBCU Tailgate Tour Community Contest scholarship of $1,000.
Classes and Degrees in African American Studies from Highly Qualified Faculty
Although historically black colleges offer degrees in virtually every area of study, HBCUs are an excellent place to seek a degree in African American Studies or a related area. As an interdisciplinary field that offers graduates job opportunities in virtually every industry, African American Studies represents a degree area with a prestigious history dating back more than a century. The birth of degrees in African American studies began with efforts by W.E.B. Du Bois in the late 19th century to record and reveal the histories of black Americans beginning with the slave trade.
Black Colleges Offer Excellent Graduation Rates
Statistics from Diverse Issues in Education reveal that historically black colleges enjoy high graduation rates for students. For example, Howard University saw 100% of its marketing students graduate in 2017. Alabama A&M University students studying Communications Technologies/Technicians and Support Services also enjoyed a graduation rate of 100%. Students studying Mathematics and Statistics at Albany State University saw 100% of students graduate. Throughout the world of HBCUs, administrations and faculty members dedicate themselves to ensuring the success and eventual graduation of all students who enter college.
Wages for Graduates from Historically Black Colleges
Industry publication Inside Higher Ed reveals that a study conducted by Howard University and Morehouse College found that HBCU graduates enjoy higher than average wages versus black graduates of other colleges. The study encompassed a timeframe from before desegregation and after it, and was based upon data gathered from the National Survey of Black Americans. Authors of the study, which was completed in 2012, hope that the results lead to greater conversation on the topic of HBCUs and the career opportunities given to graduates.
Post-Graduation Associations for Alumni of HBCU
Several organizations and associations exist with goals that include supporting graduates of black colleges, as well as supporting the teachers and educators working in such institutions. One organization is the National Association for Equal Opportunity in Higher Education, which works as an advocate for graduates of HBCUs and Predominantly Black Institutions (PBIs) via programs and assistance offered to students and educators. Another organization is the National HBCU Alumni Association, which was established in 2010 in Washington D.C. Historically black colleges also offer students ample access to student government opportunities.
Continue the Storied Legacy of Historically Black Colleges
Enrolling in an HBCU offers students many benefits that start on the first day of classes and continue throughout time spent in college, as well as for many years after completion of study. Graduating from a respected historically black college may mean higher wages, greater career advancement, and the satisfaction of continuing an important legacy within the American college and university system.
Related Resources: