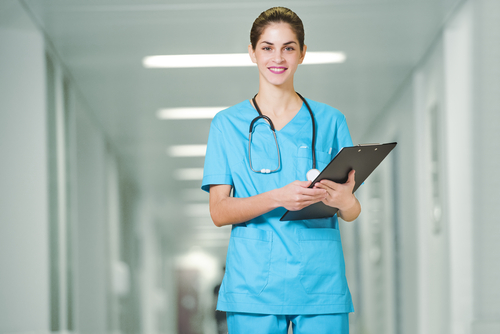 Registered nurses (RNs) wishing to advance in their careers often ask what they can do with a Master's in Nursing. The answer to this question often has them contemplating pursuing a master's degree in nursing for several reasons. RNs with a Master's in Nursing are not only in line for higher wages but also have a much wider variety of career options available to them. The Master's in Nursing program prepares students for research, teaching and leadership positions. The Master's in Nursing program is definitely worth the time and commitment. There are many reasons why an RN might want to pursue a Master's in Nursing.
More Respect in the Field
Nursing is not only a growing field but also a highly respectable field. The need for more qualified nurses has put RNs very much in demand. Earning a Master's in Nursing will result in the RN getting more respect not just from healthcare professionals but also from colleagues and other RNs in the department. RNs with master's degrees are often relied upon to answer complex medical questions and requested to help solve medical dilemmas. An RN with a Master's in Nursing will often get preferential treatment during a job interview because of their advanced education and training.
Higher Pay
Despite the fact that most RNs have chosen nursing careers because they want to help others, the pay is still a motivating factor for many. As of May 2018, registered nurses earned average annual wages of $75,510, but their wages can also go up to $106,530 or more according to the U.S. Bureau of Labor Statistics (BLS). Earning a Master's in Nursing can result in a pay increase almost immediately after graduation. The masters also qualify RNs for higher-level nursing positions, which also provide higher wages.
More Specializations Available
Candidates with an associate or bachelor's degree in nursing have many career opportunities available to them but not near as many as RNs with a Master's in Nursing. The Master's in Nursing program offers nursing students the opportunity to specialize in certain areas of nursing. These might be areas that are highly in demand or just those that offer higher pay. RN graduate students can choose to become certified in several areas of nursing, such as family nurse practitioner, clinical nurse specialist, informatics nursing, nurse midwife, a pediatric nurse, and surgical nurse, among others. In fact, Nurse Journal reports that there are more than 100 nurse specializations.
More Job Opportunities
Although RNs with associate degrees and bachelor degrees may find many excellent jobs working as RNs, their careers are somewhat limited. Graduating with a Master's in Nursing puts the RN in a position to apply for many nursing and nursing-related jobs. Graduates may pursue licensure as an advanced practice registered nurse. Here are just a few of the many careers an RN with a Master's in Nursing might choose:
Nurse Midwife
Nurse Practitioner
Clinical Nurse Specialist
Nurse Anesthetist
The Master's in Nursing also offers the RN more flexibility on the job and the opportunity to work in leadership positions.
Related Resource: Top 10 Christian College Nursing Programs
According to the BLS, RNs are on pace to see job growth of 12% between 2018 and 2028. This number should result in about 371,500 new RN nursing jobs created by 2028. RNs who hold a Master's in Nursing will generally see the best job opportunities.
Related Articles: