5 Jobs Suited for Industrial Relations Professionals
Employee Relations Management
General Human Resources
Labor Relations Specialist
Executive Management
Research and Policy
Education and experience in industrial relations can open up many exciting career opportunities for those interested in the field. While many people with a degree in industrial or employment relations work in human resources, there are several ways to approach this path and other opportunities outside this role altogether. Current students should consider their future career paths when pursuing internships and selecting specialized coursework.
1. Employee Relations Management
Employee relations managers are often part of the human resources infrastructure within an organization, but this highly-specialized role is a prime career path for many professionals. These managers typically advise executives as they help create, develop and implement policies regarding workplace behavior. They apply their knowledge and experience to formulate and improve ideas to ensure successful establishment and adoption throughout the work environment.
2. General Human Resources
Most large organizations have a separate human resources department that provides employees with an outlet for conflict resolution and helps protect the company from liability. A degree in industrial relations is a possible pathway into an HR career, which has several different opportunities on its own. Transitioning to larger companies or more senior positions is a typical career pathway for these jobs. Human resources management positions, which are often accessible to people with a bachelor's degree, paid a median salary of $113,000 in 2018 and are expected to increase in demand through 2028, according to the US Bureau of Labor Statistics.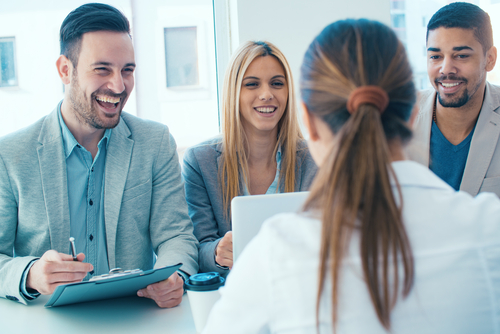 3. Labor Relations Specialist
Labor relations specialists can perform many different functions depending on the needs of their employer or client, but they are often consulted for drafting, interpreting or administering labor contracts. These professionals typically analyze situations from the perspective of employers interacting or negotiating with a collective workforce. While the decline of unions is changing the nature of this job, the skill-set and responsibilities run parallel to similar careers in employee relations.
4. Executive Management
High-level decision-makers leverage a combination of academic background, personal experience and professional authority to lead organizations into the future. As experts in issues regarding employers, employees and work environments, industrial relations professionals can be eligible for executive positions in companies, non-profits or government agencies. However, even qualified and experienced people still have to develop a strong social ability, critical thinking skills and strong business instincts to succeed in these positions.
5. Research and Policy
Professionals who are more interested in the academic or wide-scale implications of their field can seek out industrial relations careers in research or policy instead. Several federal government agencies employee specialists and experts in industrial relations to consult on policies impacting labor markets. Universities and other institutions throughout the country also rely on established professionals within the field to publish and teach a growing body of material on the subject.
Choosing an ideal career path requires understanding personal and professional goals. The diversity of job opportunities often depends on local markets, so recent graduates may have to move to find the positions they want. Many of the top careers in industrial relations are accessible with a moderate amount of experience, provided applicants are willing to actively guide their career towards these ambitions.