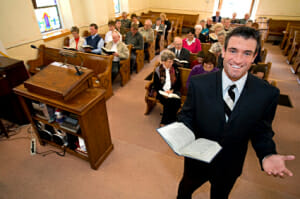 If you are passionate about Christ and the Church and want to share this passion with others, you might want to become a pastor. The path to becoming a pastor varies greatly depending on your religious organization, and within a single organization there are often multiple paths you can follow toward a goal of pastoring your own congregation. Both Catholic and Protestant churches have pastors. Since many Catholic priests do not actually pastor congregations, this article will focus more closely on the career path taken by most pastors in mainline Protestant churches.
Discernment
The first step in becoming a pastor is discerning a call to the ministry. Different churches refer to this process in different ways, and each religious organization has different supports and means of spiritual direction to help guide those who think they may have received a call to become a pastor. If you are interested in this career, first, pray on it. Then make an appointment to speak with your local pastor or other spiritual leader in your community. This person can help you discern the calling on your life.
Education
There are nearly as many different educational programs for future pastors as there are Christian denominations in the United States. Some churches don't require any formal education prior to ordination, although most will at least require informal mentorships and spiritual direction from an experienced pastor or team of church leaders. Others require extensive theological and biblical literature studies.
Most larger denominations require pastors to have a bachelor's degree in theology, biblical literature, pastoral studies or a related subject, according to Education Portal. After graduation, these students are often given positions as youth pastors, pastoral assistants or interim pastors while they continue their studies. Many churches place specific seminary requirements on those seeking ordination. These requirements may include home-study courses prepared or approved by the denomination. Other times the requirements include graduate studies at a seminary or university.
Ordination
In most church organizations, ordination isn't automatic upon completion of a degree program or course of study. Some organizations, such as the Universal Life Church, will provide ordinations recognized by the U.S. government to individuals with no training necessary. Other churches have panels much like those faced by doctoral students that screen and recommend candidates for ordination.
In order to perform weddings and administer the sacraments, an individual generally needs to be ordained. However, many churches allow interns and those preparing for ordination to preach, teach, care for the sick and lead activities at the church.
Related Resource: Popular Christian College Degrees
Preparing to become a pastor is different for those in different denominations. However, all those discerning a call into the ministry have a special purpose to fulfill. The job of bringing the light of Christ to a world in need isn't something into which you should enter lightly. It takes much prayer and preparation. You will spend many hours on call or visiting parishioners when you would rather be sleeping or spending time with family. You may not get a big salary if you become a pastor, but rumor has it that the retirement plan is out of this world.