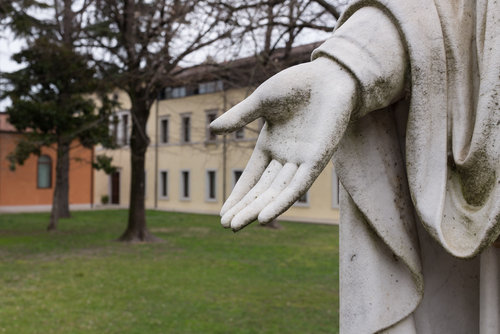 Christian colleges are all over the country, and students wishing to attend Christian colleges must meet specific admission criteria. The admission requirements vary depending on if the student is enrolling in a four-year university or a two-year college and if the student is using the Common Application process. Christian colleges are generally one of two kinds: those that were founded as religious college but offer a traditional curriculum and those that also include religious material and faith throughout their programs and daily lives. Regardless of the type of Christian college the student aspires to attend, they are still required to satisfy the school's admission requirements.
Admission Requirements
Colleges often use a variety of admission criteria. While one may use a formula, another may use actual physical student-based information. Although the actual admission requirements might vary from one Christian college to the next, most of the colleges have similar admission requirements and require students to submit certain information.
Overall academic grades
GPA
GPA linked to the chosen major
GPA on core subjects like math, English, speech, foreign language and science
ACT or SAT scores
Personal statement
Personal life experiences and background
Recommendations from school counselor or church reference such as a pastor
High school transcripts
Application fee
Students are generally required to apply to an actual school rather than a specific program. However, some Christian colleges allow students to apply directly to their chosen major. Students are not required but are advised to visit their chosen campus and speak with staff.
What is the Common Application?
The Common Application is a method of application used by many students interested in obtaining a college education. The Common Application, which is used by hundreds of colleges, is designed to make the admission process much easier for students. Its popularity comes from the fact that it allows students to apply to several colleges at one time rather than having to fill out a different application for each college.
The purpose of the Common Application is to decrease the barriers and difficulties that many students encounter when applying to a college or several colleges. U.S. News & World Report states that the Common Application process also allows students to apply to colleges later in the school year without the fear of missing early deadlines.
Benefits of a Christian College
Obtaining a religious education is generally the main reason why students choose Christian colleges, but there are several benefits to attending a Christian college.
Faith-based atmosphere – Students have the benefit of having chapels, pastors and Bible studies right on campus.
Excellent education – Christian colleges offer an excellent education, many of which are ranked very highly by USNWR and Princeton Review.
Family-based atmosphere – Many Christian colleges offer a familiar setting so students feel like they're part of a large family.
Various activities – Christian colleges offer various activities, such as college publications, plays and student organizations.
Small class sizes – Christian colleges typically have small class sizes so students get more one-on-one time with instructors.
Education and faith integration – Christian colleges integrate faith into the education curriculum.
Service to others – Christian colleges offer students the opportunities to provide service to those in the community.
Unlike in the past when Christian colleges were aimed at students who were heavily into religion, today Christian colleges are attractive to a diverse group of students. Completing the admission criteria for Christian colleges is the first step towards obtaining an education that students can carry with them throughout their lives.
Related Resources: