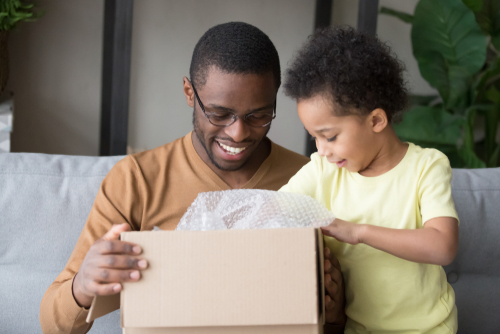 As Christians, it is our responsibility to teach our children about God and the Bible. But teaching things like Biblical stories, memory verses, religious figures, and more is not always an easy task. That's what makes a Christian subscription box such a valuable tool. Designed especially for children, these subscriptions boxes about the Bible teach myriad Biblical themes in the form of stories, crafts, kid-friendly devotionals, and so much more. Keep scrolling for our pick of the 10 best subscription boxes for Christian children!
1. Brave Roots
From $19.00 / month
Brave Roots is a monthly subscription box seeking "to help equip the next generation to walk bravely and intimately with God." Separate boxes are sent for kid subscribers and teen subscribers, but all boxes include:
a devotional booklet containing 20 short, yet meaningful lessons around a particular theme
a bookmark with memory verses relating to the same theme
a fun pen with which to write one's thoughts
a sticker sheet
an activity idea sheet
2. Christian Kids Book Box
$19.95 / month
Designed for kids 0-6, the Christian Kids Book Box is a great way to ensure your child's bookshelf includes all of the best Christian books. Subscribers may choose to receive boxes appropriate for ages 0-3 or 3-6. Then, each month a Christian-themed box for children will arrive on the doorstep containing two Bible-based books and a fun craft or activity book.
3. Hello Bible
$24.90 / month
Hello Bible is a monthly subscription box meant to help children and their families grow in faith. Each box is filled with items like craft materials and teaching guides through which children can learn all about the Bible. Because the box is meant for the whole family, subscribers may choose to add materials for up for four kids. Plus, a portion of every subscription goes to providing education for children in Kilgoris, Kenya. For every 50 Hello Bible boxes shipped, one child can attend elementary school in Kenya for one year. Every 100 Hello Bible boxes shipped contributes enough to pay a teacher's salary for one year.
4. The Mass Box
From $24.95 / month
Catholic children can prepare for upcoming Mass with The Mass Box. This monthly subscription box consists of a month's worth of readings, crafts, and quiet activities for use in church — all of which relate to that month's Masses. The subscription boxes for Christian children are meant to get children involved in Mass and can be packed for 1-3 children ages 5-8.
5. The Conscious Bedtime Story Club
$24.99 / month
With a subscription to The Conscious Bedtime Story Club, parents can fill their child's bookshelf with meaningful, wholesome, and entertaining storybooks that kids will want to read again and again. Each month's box includes the Book of the Month, a sticker sheet and inspirational magnet related to the Book of the Month, and an activity page. Every book sent to subscribers is carefully chosen, and follows a theme such as "love the body you have," "respect all living beings," and "recognize the love that surrounds you."
6. Kids Faith Krate
$28.99 / month
Perfect for children aged 4-10, the Kids Faith Krate is designed to help a child grow in his or her Christian faith. Each box follows a particular Biblical topic suitable for the time of year. Past topics have included love (February), gratitude (November), and Christmas (December), to name but a few. Included in each box are a craft to enjoy for every week of the month, cards prompting family discipleship, a memory verse, and some other fun goodies.
7. Saint Albert's Science Crate
$34.00 / month
Not only did Saint Albert teach about virtues and the importance of being a good person, but he was also a scientist! The Saint Albert's Science Crate, designed for children ages 8-18, is a monthly subscription box packed with step-by-step projects relating to science, technology, engineering, and mathematics. Not only do the projects inspire learning, but they also act as exercises in passion, patience, and perseverance. Past projects have included building a boat, building an LED Christmas tree, and putting together solar-powered bugs that actually crawl once charged.
8. The Craft of Faith
$39.95 / month
The Craft of Faith is a monthly subscription box that uses crafting as a study tool for learning about the Bible. The box can be enjoyed by the whole family. It includes four unique Bible-themed craft projects based on lessons in the:
Old Testament
New Testament
Psalms
Proverbs
Each children's subscription box also includes a parent guide, scripture cards boasting beautiful illustrations, and easy-to-communicate Biblical morals.
9. Godly Girlz Box
$35.95 + shipping / two months
Perfect for Christian girls ages 8-13, the Godly Girlz Box is a bi-monthly surprise of everything girls love. Typical items include Christian t-shirts, fashion accessories, edible goodies, and much more. Each box follows a new theme such as "Christmas," "Summer," and "Love." As an added bonus, for every Godly Girlz Box shipped, a meal is donated to the Christian charity Food for the Poor.
10. Bible Time Fun
From $39.99 / month
The Bible Time Fun subscription box is perfect for families who want to teach their preschool-aged children about God and the Bible. Cumulatively, the boxes make up a 52-week devotional curriculum. Each suscription box for Christian children includes Bible stores, crafts, activities, and other fun goodies meant to delight and inspire.
Recommended Resources: