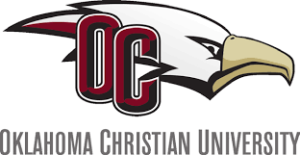 High-Quality, God-Centered Liberal Arts Education at OC
Oklahoma Christian University appears in our ranking of the Top 50 Online Christian Colleges for Future Missionaries.
Named the West's 64th best institution by the U.S. News & World Report, Oklahoma Christian University is a nonprofit, coed Church of Christ CCCU member in Edmond that offers 53 bachelor's and 22 master's degrees, including eight entirely online, at a 13:1 student-teacher ratio. For example, the B.S. in Medical Laboratory Sciences has a 128-credit, NAACLS-accredited plan overseen by Dr. Scott LaMascus with 100 percent grad school placement at McGill, Oklahoma State, Langston, Vanderbilt, Texas Tech, and more. Chaired by Dr. Jeff McCormack, the 128-credit B.S. in Chemistry helps Eagles conduct Herold Science Hall research, secure internships like ConocoPhillips, participate in the Bridge Mentoring Program, travel abroad from Germany to China, and join Philiatros.
Online on Blackboard, the M.S.E. in Engineering Management has boasted 120 percent growth since 2015 for starting a 30-credit, ABET-accredited curriculum headed by Dr. Bryon Newberry six times yearly with advanced eight-week courses from Semiconductor Devices to Stochastic Processes. Directed by Dr. Charles Rix, the 73-credit, three-year Master of Divinity (M.Div.) encourages Christ-followers to complete field practicum like Dayspring Church of Christ, publish the Dialogismos eJournal, participate in the Fast Forward Program, and serve in Honduras.
Other Oklahoma Christian degrees include the B.F.A. in Interior Design, B.S.E. in Social Studies, B.A. in Music, B.S. in Mathematics, B.A. in Bible, B.S. in Pre-Law, M.A. in Christianity & Culture, M.B.A. in Marketing, and M.S. in Computer Science.
About Oklahoma Christian University
Oklahoma Christian University originated in 1907 when Church of Christ members J.C. Harrel, A.W. Fleming, and W.D. Hockaday teamed up to open Cordell Christian College. Closed in 1918, it was revived in 1921 and renamed Western Oklahoma Christian College. In 1925, it adopted the Oklahoma Christian College name to signal state-wide education efforts. Hurt by the Great Depression, it was shut down again until July 1948 when Central Christian College was envisioned. In Fall 1950, an inaugural class of 97 enrolled in junior college courses at Henry Vernon Foster's former estate. In 1957, President James O. Baird relocated Central from Bartleville to the Oklahoma City Metro. In 1959, it was again called Oklahoma Christian College and authorized for bachelor's degrees. Accredited in 1965, Oklahoma Christian notably founded the American Citizenship Center in 1966. By 1994, OC had founded Cascade College in Portland, Oregon. Two years later, the Oklahoma Christian University name was adopted.
Endowed for $29.1 million, Oklahoma Christian University now employs 92 full-time faculty teaching 1,911 undergrad and 348 post-grad Eagles from 42 countries online or at the 43-building Edmond campus with 60+ clubs like Phi Omega Nu for 75 percent retention. In 2018, OC won the Bob Ladenson Spirit Award at the National Intercollegiate Ethics Bowl. In 2019, Oklahoma Christian received the "College of Distinction" designation. OC was chosen for the 2012 Apple Distinguished Program too. The U.S. News & World Report honored Oklahoma Christian for the 181st best engineering programs nationwide. On Niche, OC boasts America's 85th best religion, 98th best design, 186th top nursing, and 243rd top finance degrees. WalletHub placed OC 292nd for student selectivity, 178th for campus safety, and 260th for learning experience. College Factual honored Oklahoma Christian for the 191st best value, 152nd most diversity, and 54th best Southwest education. PayScale crowned OC as Oklahoma's seventh-best investment.
Oklahoma Christian University Accreditation Details
On July 1, 2016, the Higher Learning Commission of the North Central Association (HLC-NCA) Institutional Actions Council formally notified Oklahoma Christian University that the Level III accreditation status was successfully extended through 2025-26 under the seventh president, Dr. John deSteiguer, who earned the Truman Scholarship and Rotary International Scholarship. Located 785 miles up Interstate 55 in Chicago, Illinois, this humongous 19-state Heartland Region accreditor is recognized by the U.S. Secretary of Education and Oklahoma State Department of Education. The Office of the Provost also lists the following accreditations:
Accreditation Council for Business Schools and Programs
National Council for Accreditation of Teacher Education
Accreditation Board for Engineering and Technology
Council for Interior Design Accreditation
National Accrediting Agency for Clinical Laboratory Sciences
Commission on Collegiate Nursing Education
National Association of Schools of Music
Association of Theological Schools Commission on Accrediting
National Council on Family Relations
Oklahoma Christian University Application Requirements
Starting at Oklahoma Christian University is classified "moderately difficult" by Peterson's because just 1,588 of the 2,452 Fall 2017 applicants were selected for 65 percent acceptance. First-year Eagles must have completed eight semesters of licensed high school or the GED equivalent. The Class of 2021 presented a cumulative mean GPA of 3.53. Mid-range admitted ACT scores were 20-28 on Math and 20-27 on English. The middle 50th percentile had SAT scores of 500-620 for Reading and 490-600 for Math. Undergrads age 18+ who transfer at least 30 college-level credits graded C or better can skip testing. The Honors Program mandates a minimum 3.5 GPA, 28 ACT, or 1310 SAT mark. Foreign students still need English proficiency proof with 61 TOEFL iBT and 6.0 IELTS scores or higher. The Graduate School seeks regionally accredited bachelor's completers with GPAs above 2.5. Some programs, such as the Master of Accountancy, require 3.0 GPAs. Minimum GRE and GMAT scores of 285 and 450 respectively are requested. Individuals with five years of work experience qualify for waivers.
Oklahoma Christian University set an Early Acceptance deadline of December 1st for freshmen. Undergraduate and graduate admission is generally rolling year-round though. Note application fees are waived until October 31st. Enrollment deposits of $250 are only refundable through May 1st. OC in Rwanda also has a July 31st final deadline. Accordingly, complete the OC or Common Application online with $25 by credit or debit card. Forward official transcripts to 2501 East Memorial Road in Edmond, OK 73013. Directly submit test scores via SAT/TOEFL code 6086 or ACT code 3415. Attach supplemental materials, such as the resume, brief introduction video, essay, 2-3 references, statement of understanding, passport, and bank letter. Contact (405) 425-5000 or info@oc.edu with any questions.
Tuition and Financial Aid
For 2019-20, Oklahoma Christian University is billing traditional undergrads $11,725 each term or $23,450 annually full-time. Studying part-time incurs $975 per credit. Overload credits over 17 cost $690 apiece. Bachelor's majors cover the $ 150-semester activity fee and one-time $150 orientation fee. Residing on the Edmond campus' dorms like Gunn Henderson Hall adds $2,200 for semester housing. All-access Eagle Bucks meal plans for Gaylord Center are $2,075 extra. OC budgets $1,200 for books and $4,455 for personal expenses. Annual undergrad attendance equals about $36,605 on-site or $28,415 if commuting. The Graduate School charges general tuition of $625 per credit. International students spend $655 per credit. Theology programs, such as the Master of Christian Ministry, are an exception at $550 per credit.
According to the NCES College Navigator, the Student Financial Services Office in Heritage Plaza links 95 percent of full-time OC Eagles to tuition assistance averaging $14,186 each for $26.52 million combined. University funds include the Founder's Scholarship, National Merit Scholar Award, Oklahoma State Regents Scholarship, Theater/Drama Scholarship, Varsity Athletics Scholarship, Student Bible Scholarship, Church Match Scholarship, Northwest Endowment Scholarship, Children's Home Discount, Foreign Missionary Discount, Sister School Discount, and Christian Engineering Scholarship. The Presidential Academic Success Scholars Program gifts $10,000 annually to freshmen meeting the 1400 SAT or 32 ACT minimum. The Heritage Scholar Award covers full tuition if selected undergrads maintain GPAs above 3.25. Federal aid, such as the Supplemental Educational Opportunity Grant and Teach Grant, requires FAFSA applications coded 003165. The Oklahoma Tuition Equalization Grant also helps Sooners with family income below $50,000 afford private education.
Search through six accredited colleges granting 75+ Biblical-based programs ranked 238th nationally by Washington Monthly at the Oklahoma Christian University website.
Related Resources: