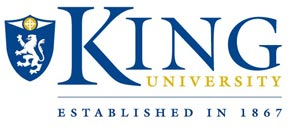 Elite, Evangelical Liberal Arts Education at King
King University appears in our ranking of the Top 50 Online Christian Colleges for Future Missionaries.
Named the South's 47th best value by the U.S. News & World Report, King University is a private, Presbyterian CIC member in East Tennessee that offers 33 undergrad and six post-grad majors, including 15 entirely online, at a 13:1 student-professor ratio. For example, the Bachelor of Social Work shapes a 52-credit, CSWE-accredited completion program online for 16 months of generalist licensure prep with 400 practicum hours at 60+ partners like Children's Advocacy Center. Chaired by Dr. John Gilmer in White Hall, the 124-credit BS in Forensic Science lets undergrads practice at the Institute for Security & Intelligence Studies, join the Criminology Club, and intern at Knoxville Police.
Online via Canvas, King University admits team-based cohorts of 20-25 into the 36-credit MBA for Professionals led by Dr. Mary Lynn Connor with fast five-week courses specialized in Human Resources, Healthcare, Management, Information Systems, Marketing, or Project Management. Directed by Dr. Tracy Slemp, the MSN for Family Nurse Practitioners builds a 45-credit, CCNE-accredited curriculum in Pediatrics, Women's Health, or Adult/Geriatrics tracks at three King campuses with 600-hour internships, such as Bristol Regional Medical Center or Encompass Health. Other available degrees include the BS in Communication, BS in History, BA in English, BS in Athletic Training, BS in Information Technology, BA in Digital Media Art, MSN in Administration, MEd in Curriculum & Instruction.
About King University
King University originated on April 9, 1866, when the Holston Presbytery met at Bristol's Pleasant Grove Church to discuss opening an all-male Christian classical school. In Fall 1867, Rev. James Doak Tadlock welcomed an inaugural class of 63 to James King's donated estate. In 1915, King College became officially affiliated with the Synod of Appalachia. In 1917, Rev. Isaac Anderson relocated King to Bristol Hall at a larger Sullivan County campus. In 1922, King College's football team made history by defeating Lenoir College 206-0. Nine years later, King became coeducational after Stonewall Jackson College was forced to close. Regionally accredited in 1948, King formed an independent Board of Trustees in 1979. In 1997, President Charles Cauthen Jr. established its KingNet system online. In Fall 2001, the Office of Graduate & Professional Studies added the master's education that led to university status in 2013.
Endowed for $36.7 million, King University now educates 2,920 Tornados from 37 countries online, on the 135-acre Bristol campus, and at 12 Tri-Cities Region locations with 30+ clubs like Sigma Tau Delta for 96 percent job placement. In 2019, King was a Conference Carolinas Murphy Osborne Award finalist. In 2017, the King University Restoration Project was honored with a Hardscape North America Award. King was chosen for the $70,000 USA Triathlon Foundation Women's Emerging Sport Grant too. The U.S. News & World Report placed King 116th for online nursing and 175th for online MBA courses. On Niche, King boasts America's 42nd best information technology degrees, 160th most conservative students, and 192nd top nursing school. The Brookings Institution positioned King University third in Tennessee for value-added education. Best College Reviews declared King the 16th most affordable online choice.
King University Accreditation Details
On December 21, 2018, the Kingsport Times News reported that the Southern Association of Colleges and Schools Commission on Colleges (SACSCOC) Board of Trustees took action to reaffirm King University's Level V accreditation through 2028 under its 23rd president, Dr. Alexander W. Whitaker, who earned two Legions of Merit. Based 277 miles down Route 23 in Decatur, Georgia, this esteemed 11-state Southeast Region accreditor is authorized by the Council on Higher Education Accreditation (CHEA) and Tennessee Higher Education Commission (THEC). King University also features the following programmatic accreditations:
Commission on Collegiate Nursing Education
Accreditation Council for Business Schools and Programs
Council on Social Work Education
Commission on Accreditation of Athletic Training Education
King University Application Requirements
Getting into King University is classified "moderately difficult" by Peterson's because 683 of the 1,152 Fall 2017 applicants were triumphant for selective 59 percent acceptance. First-year Tornados must graduate from a recognized high school with at least 17 academic units. Official GED equivalency results are considered case-by-case. Freshmen need a minimum 3.0 GPA, though the average is 3.5. Presenting 22 ACT, 1000 SAT, or better scores is wholly optional. Accelerated online bachelor's programs are reserved for college transfers with 40+ non-remedial credits and GPAs above 2.0. International students must complete the ELS Program or achieve at least 84 TOEFL iBT marks. The Office of Graduate & Professional Studies seeks accredited bachelor's holders with 3.0 GPAs. Master of Education cohorts must earn at least 22 out of 32 points on a research-based writing sample. Prospective MSN entrants need state licensing, CPR certification, and prerequisite courses like Health Assessment. Online MBA students also need two years of work experience.
King University conveniently has rolling admission for U.S. residents. March 1st is the only priority deadline for scholarship consideration. International students must file before July 30th for Fall or December 20th for Spring starts. The School of Nursing has MSN deadlines of October 1st and March 1st each year. The Doctor of Nursing Practice is open January 1st to June 1st. Accordingly, use the Student Portal to submit the King Application online with a $50 non-refundable fee. Forward official transcripts to 1350 King College Road in Bristol, TN 37620. Supplemental checklist items include the entrance exam scores, immunization form, statement of purpose, references, experience résumé, RN license, and certified bank statement. Learn more by contacting (800) 362-0014 or admission@king.edu.
Tuition and Financial Aid
For 2019-20, King University is billing full-time bachelor's tuition of $14,474 per semester or $28,948 annually. Undergrads pay mandatory service fees of $1,668 each year. Accidental injury insurance premiums are $215 yearly. Residing at the Bristol campus' dorms like Mitchell Hall adds $4,532 for housing rent. Standard nine-month meal plans for Tipton Dining Hall are $4,492 extra. Traditional annual attendance equals about $39,640 on-site and $30,616 if commuting. Online undergrad courses cost $290 per credit. The RN-BSN Program is one exception charging $315 per credit online. Daytime MBA students spend $6,500 each term. Online MBA for Professionals tuition is $495 per credit. Master of Education cohorts pay $365 per credit. The School of Nursing has $520 MSN and $750 DNP prices per credit.
According to the NCES College Navigator, the Office of Financial Aid connects 69 percent of full-time King Tornados to tuition assistance packages averaging $11,928 each for $19.23 million combined. Institutional funds include the Anne Liston Foundation Scholarship, Liston Family Scholarship, King Bell Scholarship, Athletic Scholarship, Lettie Pate Whitehead Scholarship, Evangelical Presbyterian Church Scholarship, Snider Honors Scholarship, Music Major Scholarship, Performing Arts Scholarship, Alumni & Friends Grant, Phi Theta Kappa Scholarship, and DMAD Participation Scholarship. The Freshman Academic Scholarship gifts $15,000 annually to undergrads meeting the 1310 SAT or 28 ACT minimum. Transfers qualify for the $14,000 Merit Tier 1 Scholarship with GPAs of 3.5 and higher. Federal aid applications coded 003496 open doors like the Pell Grant, Teach Grant, and Direct Subsidized Loan. Tennessee residents also claim the Education Lottery Scholarship, Middle College Scholarship, Hope Access Grant, Dual Enrollment Grant, General Assembly Merit Scholarship, and more.
Explore the five accredited schools housing 80+ Christian majors ranked 352nd overall by Washington Monthly on the King University website.
Related Resources: