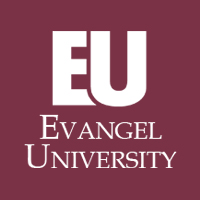 Private, Pentecostal Christian Education at Evangel
Evangel University appears in our ranking of the Top 50 Online Christian Colleges for Future Missionaries.
Ranked in the Midwest's top 165 by the U.S. News & World Report, Evangel University maintains a 15:1 student-faculty ratio to deliver 17 associate, 59 bachelor's, 13 master's, and five doctoral majors, including 12 entirely online, rooted in Assemblies of God USA values.
For example, the Biblical Studies B.S. builds a 124-credit, eight-term theological curriculum that includes engaging in the Center for Compassion, serving with Convoy of Hope, and taking Global Connections trips. Chaired by Dr. Cameron Pace, the 124-credit Film & Broadcasting B.A. applies Springfield courses like Cinematography with Art Group workshops, a Los Angeles Film Center semester, and KECC 98.1FM show production.
On Canvas, the Master of Organizational Leadership utilizes the Baldrige Excellence Framework for a 36-credit online degree with only two week-long residencies each year and Lean Six Sigma certification.
Other offerings include the Intercultural Studies A.A., Pre-Nursing A.A., Behavioral Health B.S., French Education B.A., Mathematics B.S., Computer Information Systems B.S., Theatre B.A., Athletic Training M.S., School Counseling M.S., Islamic Studies M.Div., Biblical Interpretation Ph.D., and Curriculum & Instruction Ed.D.
About Evangel University
Evangel University originated on April 26, 1954, when the General Council of the Assemblies of God petitioned the Department of Health to purchase the former O'Reilly Hospital closed in 1952. That December, the 57.5-acre property was deeded to the Church to create America's first Pentecostal liberal arts school. By September 1955, Rev. Ralph Riggs welcomed its inaugural class of 87. In 1963, the former World War II Army barracks were renovated into Klaude Kendrick Library. One decade later, Evangel opened the Assemblies of God Theological Seminary under Dr. Thomas F. Zimmerman. Fully accredited in 1985, Evangel started its first doctorate, the Doctor of Ministry, in 1997. In 2000, Evangel alumnus Vern Clerk became Chief of Naval Operations for the Pentagon. In Fall 2013, Evangel University was formed by merging with Central Bible College. In 2018, Evangel students won the first-ever Enactus USA Leaders of the Year Awards. Endowed for $14.7 million, Evangel University now serves 2,200 Crusaders from all 50 states online and in Southwest Missouri with 40+ clubs like Sigma Zeta. On Niche, Evangel boasts the 51st best religious studies, 170th top teaching degrees, and 199th best communications program. Washington Monthly also placed the "College of Distinction" 79th for baccalaureates.
Evangel University Accreditation Details
On May 5, 2017, the Higher Learning Commission (HLC) Institutional Actions Council (IAC) mailed an official notification letter to Evangel University that reaffirmed the maximum Level VI accreditation through 2026-27 under its fourth president, Dr. Carol A. Taylor, who received the Orange County Business Journal Women in Business Award. Based 509 miles northeast via Interstate 55 in Chicago, this gigantic 19-state Great Lakes Region accreditor is recognized by the U.S. Secretary of Education and Missouri State Department of Education. Evangel is formally endorsed by the Alliance for Assemblies of God Higher Education. Other degree-specific accreditations touted by Evangel University include:
Council on Social Work Education
Association of Theological Schools
Accreditation Council for Business Schools and Programs
National Association of Schools of Music
Commission on Accreditation of Athletic Training Education
Evangel University Application Requirements
Entering Evangel University is classified "moderately difficult" by Peterson's because 918 of the 1,631 Fall 2017 applicants were victorious for selective 56.2 percent acceptance. First-year Crusaders need a certified high school, homeschool, or GED equivalency diploma. Traditional admission requires a minimum 2.5 GPA, though the average is 3.31. Freshmen must reach a 20 ACT or 1030 SAT composite mark. The Classic Learning Test is recognized for scores above 66. Marking the test-optional box is possible for undergrads with GPAs preferably over 3.0. Foreign undergrads need a 70 TOEFL iBT or 6.5 IELTS score of English proficiency. The School of Graduate Studies only considers entrants with at least 3.0 GPAs in the last 60 credits of four-year bachelor's programs. Combined GRE General Test scores or 290 or better are mandated. The Clinical Mental Health Counseling M.S. seeks three psychology prerequisite courses graded "B-" or greater. Master of Organizational Leadership Online cohorts need 2+ years of management experience. All Master of Education options demand current K-12 teaching certification. Athletic Training M.S. students must verify 35 hours of supervised practice.
Evangel University has freshman deadlines of November 15th for Early Action and March 1st for Regular Decision. Transfers and graduate students have rolling admission until August 15th for Fall or December 15th for Spring. Accordingly, start the EU Application online for free or $25 if post-baccalaureate. Registrars mail official transcripts to 1111 North Glenstone Avenue in Springfield, MO 65802. If chosen, test score reports are sent with ACT code 2296 or SAT/GRE code 6198. Supplemental program materials include the ministerial reference, teacher recommendation, two-page autobiography, digital photograph, experience résumé, APA-style writing sample, background check, art portfolio, music audition tape, teacher or nurse license, and observational hours verification. Inquire further by contacting (415) 865-2811 or admissions@evangel.edu.
Tuition and Financial Aid
For 2018-19, Evangel University charged full-time undergrads $11,073 per semester or $22,146 annually. Taking less than 12 credits cost $923 apiece. Overload credits above 18 were $615 each. Summer School tuition was the lowest at $475 per credit. Undergrads paid a $575 student fee, $25 ID card fee, and $100 EU Launch fee. Living at the Springfield campus' dorms like Spence Hall added $2,152 for double or $3,228 for single occupancy. The biggest 20-meal plan for Crusader Dining Hall was $2,109 extra. Annual bachelor's attendance equaled about $37,374 on-site and $29,244 at home. Online undergrad courses were $285 per credit. The School of Graduate Studies billed standard tuition of $400 per credit. However, the Doctor of Education cost $600 and the Master of Organizational Leadership was $400 per credit.
According to the NCES College Navigator, the Office of Financial Aid in Riggs Hall Room 202 connects 95 percent of Evangel Crusaders to average assistance of $12,776 for $19.84 million combined. University funds include the Pentecostal Leaders Scholarship, Distinction Award, Scholars Award, Excellence Award, Heritage Award, Promise Award, Fine Arts Scholarship, Athletic Scholarship, Impact Grant, Church Match Scholarship, Multicultural Scholarship, Zimmerman Minister's Scholarship, and Transfer Academic Scholarship. The Founders Scholarship gifts up to $25,000 for freshmen exceeding the 3.5 GPA, 24 ACT, 1160 SAT, and 76 CLT mark. The CCCU Tuition Waiver Exchange Program has a March 1st deadline for eligible dependents with minimum 2.0 GPAs. Employees of Mercy or Cox Hospital receive a $1,000 automatic housing scholarship. Federal aid, such as the Pell Grant and Teach Grant, requires FAFSA applications coded 002463. The Missouri A+ Recognition provides freshmen or transfers with $1,000. Similar state programs like the Access Missouri Grant, Wartime Veteran's Survivor Grant, Bright Flight Grant, Willis Alexander Scholarship, and Minority Teaching Scholarship are also valuable.
Search through nine accredited departments conferring 90+ flexible, faith-forward programs on the Evangel University website.
Related Resources: