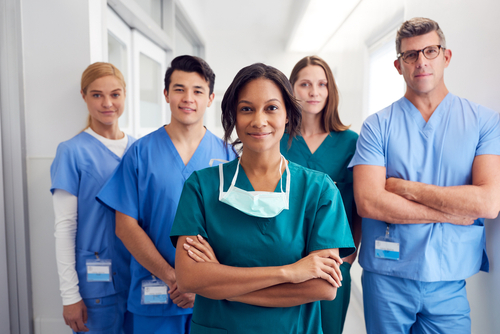 Registered nurses can care for patients with either an associate's or bachelor's degree in nursing, but differences between the two levels of education abound. A two-year degree offers limited career opportunities and an entry-level exploration of clinical science. With a bachelor's degree in nursing, graduates immerse themselves in the best practices for community health, patient care and nursing assessments.
Associate Degree in Nursing (ADN)
A two-year associate's degree in nursing allows students to quickly enter the profession. ADN programs focus on clinical skills, teaching pharmacology, wound care and nursing assessment to students. Graduates are prepared to work in long-term care facilities or medical offices. Some hospitals will hire ADN-prepared nurses for entry-level positions, but most hospitals prefer nurses with bachelor degrees. Many students who are eager to start working as nurses complete an associate degree in nursing then look for AND-to-BSN bridge programs to earn a four-year degree while working as a nurse. Some employers offer tuition assistance to nurses, so it can be financially savvy to start working as soon as possible.
Bachelor's of Science in Nursing (BSN)
Students have two routes for earning a four-year degree in nursing. Those who already have a bachelor's degree can look for accelerated nursing programs that can be completed in less than a year. However, these programs require an intense, full-time study. Students without another four-year degree or those who want a less overwhelming timeframe can pursue a traditional Bachelor's of Science in Nursing program. In either type of program, students will learn clinical nursing techniques as well as leadership, social science and community health skills. This expanded curriculum helps nurses provide high-quality, culturally sensitive patient education. A BSN also provides more opportunities at the start of a career; highly desirable clinical positions such as emergency room nursing, labor & delivery nursing and pediatric nursing usually require a four-year degree.
ADN versus BSN Career Options
Advocacy groups and state legislatures are pushing for all nurses to complete a BSN degree. For example, the American Association of Colleges of Nursing is considering advocating for the Baccalaureate in Nursing to serve as the entry-level degree, according to Inside Higher Ed. For now, nurses with an ADN can work in clinical settings, but career options are limited. Non-clinical nursing jobs in public health, education, research and nursing leadership typically require a four-year nursing degree. Additionally, registered nurses who want to continue their education and become a nurse practitioner, clinical nurse specialist or professor of nursing must start with a bachelor's degree before enrolling in graduate education.
ADN versus BSN Salaries
Nursing is an in-demand profession. According to the U.S. Bureau of Labor Statistics, job opportunities for registered nurses may grow more than 10 percent by 2028. However, nurses with bachelor's degrees will command higher pay and have access to more lucrative positions. Plus, the demand for nursing is not equally distributed throughout the country. Large cities are more competitive markets, so graduates who want to work in an urban setting will need a higher level of education to snag a job.
Related Resource: Top 10 Christian College Nursing Programs
There's no one way to become a nurse. The differences between ADN and BSN programs allow students to find the best path to a fulfilling, rewarding career.
Related Resources: