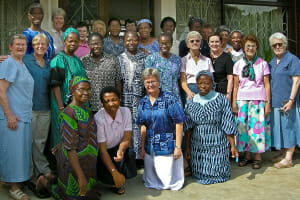 Several prominent religious colleges in the country encourage students to work as a missionary, but those students need to know what a missionary does before signing up. Some of those colleges even allow students to take up to two years off to devote to missionary work before coming back to finish their studies, and students can often gain course credit for the work that they do. Missionary work is difficult, but many people find the work rewarding.
What is a Religious Missionary?
A religious missionary is someone who travels and works on behalf of a religious institution or organization. They work in underdeveloped areas and areas that do not have a strong religious institution in place. Missionaries spread the word of Jesus Christ and encourage others to learn more about the religion they represent. Most missionaries spend a large portion of time working in the field and living in a new community, and they may spend months or even years away from home to complete their work.
Do They Get Paid?
The Bureau of Labor Statistics lists missionaries under the title of all other religious workers. The BLS found that the median wage for religious workers is $16.40 an hour or $33,520 a year. The bottom 10 percent of religious workers earn less than $9 an hour, which is around minimum wage, while the top 10 percent of religious workers earn more than $60,000 a year. Most missionary positions are unpaid and volunteer positions that do not come with a salary. When finding out what a missionary does and looking at a specific positions, you may find that some positions come with additional perks. While you may not receive a paycheck, the organization may pay for your housing and food or give you a stipend to cover any costs you incur on your trip.
Where Do They Go?
Missionaries can work in almost any country or city around the world. There are some missionaries working right here in the United States in the Appalachian Mountains and other rural areas to increase the presence of their church and to seek out new members. Others work in parts of Europe, including Romania, Portugal and even France. Many churches encourage missionaries to travel to areas without many churches to seek out new members and to spread the word about their teachings.
What Else Does a Missionary Do?
Though most of what a missionary does involves their church and its religious teachings, they can perform other tasks as well. Churches often send missionaries to the site of natural disasters. They'll arrive after a tsunami, a hurricane or an earthquake to assist with relief efforts and to lead study groups and church services. They also provide support to areas that are in need of desperate help due to poor economic conditions, changes in government or other issues. The work that missionaries do to improve the conditions of an area can lead to residents expressing interest in their teachings.
Related Resource: Parachurch
Missionaries often accept unpaid positions working for major churches to talk about what religion means to them and help others find their way to the same church. Depending on where you attend church services and where you go to school, you might look at what a missionary does, including how they help people living in different parts of the world.