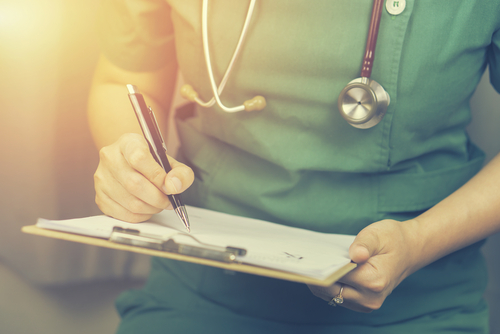 Christian colleges offer Doctorate in Nursing programs, but how can you know if you'll receive a quality education? Attending a religious school offers pros and cons. If your heart is set on a faith-based school, here's what you need to know to make the best decision for your career.
Christian College Doctorate in Nursing Curriculum
What is the main difference between a secular and a religious graduate program in nursing? With both programs, you take similar courses, complete the same amount of clinical training and sit for the same licensing exams. However, at a religious university, your courses will include Biblical viewpoints, a Christ-focused approach and discussions of the rich contributions that faith-based communities have made to the nursing profession. You'll be free to write papers or speak up in class about how your faith has led you to nursing or the parallels you see between current healthcare events and Biblical parables.
Benefits of Nursing Programs at Christian Colleges
Nursing is a sacred profession. Even the Nightingale Pledge, recited by each class of graduating nurses, begins with "Before God." At a religious school, you can combine your faith and your profession. If you want to pray with patients, speak freely of the wonders of God's creation or simply feel comfortable in a like-minded community, a Christian college can be a good fit for you. You won't have to worry about offending your classmates by speaking your mind, so you'll be able to focus on your studies. Additionally, many of the top universities with nursing programs partner with local religious hospitals. This means you can complete your clinical hours in a faith-based environment.
Drawbacks of Obtaining a Doctorate in Nursing from a Christian College
If you're ready to commit to a faith-based nursing program, you will find few drawbacks at a Christian college, especially if you take the time to research the best graduate-level nursing program for your unique educational needs. Many Christian schools require students to sign a statement of faith and promise to follow certain moral guidelines. Before enrolling in a multi-year program, make sure that your values align with those of your prospective school. Also, ensure that any school you consider attending is certified by the Commission on Collegiate Nursing Education to ensure you receive a quality degree.
Career Options with a DNP or PhD in Nursing
As you climb the ranks of your nursing career, you will have to choose an area of focus. With a DNP, or Doctorate of Nursing Practice, you will learn cutting-edge nursing interventions and become an expert in clinical care. You can advance your career as a nurse practitioner, certified registered nurse anesthetist (CRNA) or certified nurse midwife. If you're more interested in a research or education role, you should enroll in a Ph.D. in Nursing program. You'll complete a dissertation, dive deep into the scientific process and graduate ready to conduct research to improve nursing practice for all registered nurses. Often, you'll become a professor at a university and split your time between research and teaching.
As Doctorate in Nursing programs explode in popularity, it's important to do your research before committing. Take your time so you can find the right Doctorate in Nursing program at a Christian college for you.
Related Articles: