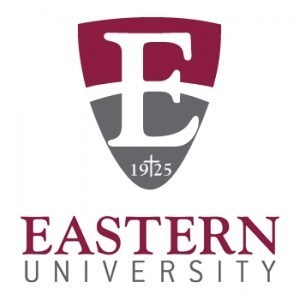 Christian, Co-Ed Greater Philly Education at Eastern
Eastern University appears in our ranking of the Top 50 Online Christian Colleges for Future Missionaries.
Ranked the U.S. News & World Report's 74th best Northern college, Eastern University maintains a 10:1 student-professor ratio to deliver one associate, 51 bachelor's, 22 master's, and four doctoral majors, plus 37 online programs, with holistic Baptist values. For instance, the 121-credit BS in Chemistry offers a hands-on Summer Science Research project in Andrews Hall Lab, internships like GlaxoSmithKline, ACS membership, and a 4+1 Temple University partnership. On D2L, the BA in Youth Ministry Leadership follows a 65-credit, two-year transfer track of seven-week online courses with a one-week May residency in St. Davids and two field placements, such as McKinley Memorial Church. Chaired by Dr. David Bronkema, the MA in International Development has a 32-credit, scholar-practitioner curriculum online with 20 percent Alumni Discounts off classes like Theology of Poverty and a 2.5-week Rwanda mission. Other Eastern degrees include the BA in Music, BSN in Nursing, BA in Philosophy, BS in Data Science, MA in Clinical Counseling, MAT in Classical Education, MBA in Social Impact, and MA in Urban Studies.
About Eastern University
Eastern University originated on March 19, 1925, when six American Baptist Publication Society pastors decided to start the Eastern Baptist Theological Seminary for males only. In 1932, it added a co-educational college division for liberal arts degrees. Independence was gained in 1951 for Eastern Baptist College. Later that year, it acquired the 1913 Walton Estate designed by D. Knickerbacker Boyd for today's 114-acre St. Davids campus. Fully accredited in 1954, it was reinvented as Eastern College in 1972. By December 2001, the Pennsylvania Department of Education chartered it as a four-year university. On July 1, 2005, its original theological seminary was renamed for the 12-year President Gordon Palmer with United Methodist ties too. In 2013, its Esperanza College was a Excelencia in Education Award finalist. Given a $1.27 million grant in 2017, Eastern University now teaches 3,300 Eagles with 20 NCAA Division III teams, 122 Strategic Alliances partnerships, and 60+ clubs like Angels of Harmony. On Niche, Eastern boasts America's 88th best religious studies, 247th best history programs, and 280th top teaching degrees.
Eastern University Accreditation Details
On June 1, 2018, Eastern University satisfactorily submitted the Periodic Review Report to the Middle States Commission on Higher Education (MSCHE) to continue the Level VI accreditation through 2023 under its 10th president, Dr. Ronald A. Matthews, who earned the Christian Leadership Award. Based 14 miles southeast via Interstate 476 in Philadelphia, this superb six-state Atlantic Seaboard accreditor is authorized by the U.S. Education Department and Pennsylvania Department of Higher Education. The NC-SARA member also lists these specialized accreditations:
Master's in Psychology and Counseling Accreditation Council
Association of Theological Schools Commission on Accrediting
Accreditation Council for Business Schools and Programs
Commission on Collegiate Nursing Education
Commission on Accreditation of Allied Health Education
Council on Social Work Education Office of Accreditation
Commission on Accreditation of Athletic Training Education
Eastern University Application Requirements
Enrolling at Eastern University is classified "moderately difficult" by Peterson's because 1,154 of the 1,759 Fall 2017 applicants were successful for selective 66 percent acceptance. First-year Eagles must exceed academic standards in a college-prep secondary education. Adhering to the Christian mission and faith statement is required. Freshmen must graduate in the top 50th percentile of their classes. The average unweighted GPA is currently 3.43 on the 4-point scale. At minimum, undergrads need a 1000 SAT, 20 ACT, or 72 Classic Learning Test score. Associate transfers qualify for 60 credits with cumulative GPAs above 2.0. Foreign learners must have reached the 79 TOEFL iBT or 6.5 IELTS mark in the last two years. Graduate School entrants need at least 2.8 GPAs during four years of bachelor's study. The MEd in School Counseling prefers 3.0 averages with prerequisites like Human Development and Educational Psychology. The MEd in School Health Services requires passing the NCLEX-RN exam for valid state licensure. PhD in Marriage and Family Therapy criteria raises the GPA to 3.5.
Eastern University has rolling undergrad admission until 30 days from program starts. However, the Graduate School has some degree-specific deadlines. The DA in Marriage & Family Therapy Studies considers May cohorts until December 15th yearly. PhD in Organizational Leadership students must exceed the GRE's 50th percentile by November 1st. Online programs like the MEd in TESOL admit each August, January, May, and June. Accordingly, complete the $35 Undergraduate or $75 Graduate Application online. Have official transcripts mailed to 1300 Eagle Road in St. Davids, PA 19087. Utilize Educational Testing Service code 3665 for score reporting. Other documents may include the 600-word admission essays, two recent references, résumé or curriculum vitae, criminal background waiver, signed program of study, RN credential, faith statement, and 10-page writing sample. Learn more by contacting (610) 341-5800 or admissions.file@eastern.edu.
Tuition and Financial Aid
For 2018-19, Eastern University charged full-time undergrads $16,246 per semester or $32,492 annually. Traditional part-time students paid $712 per credit. Online Summer School courses fall to $350 per credit. Mandatory fees incurred $390 each year. Living at the St. Davids campus' dorms like Hainer Hall adds $5,986 yearly. Standard meal plans for Walton Dining Hall are $5,268 extra. Eastern budgets $2,520 for personal expenses, $1,300 for books, and $1,440 for transport. Annual bachelor's attendance equals $49,396 on-site and $38,142 at home. Accelerated adult studies are generally $569 per credit. The Associate of Arts is slightly cheaper at $436 per credit. The Student Accounts Office lists graduate tuition of $707 per credit. Doctoral candidates pay $824 to $985 per credit though. Palmer Theological Seminary cohorts spend less at $502 full-time or $533 part-time per credit.
According to the NCES College Navigator, the Financial Aid Office at Janet Long Mall Cottage gets 100 percent of incoming Eastern Eagles median assistance of $20,600 for $8.65 million total. University funds include the Templeton Honors College Award, Goode Scholarship, Youth Ministry Major Scholarship, Christian High School Commuter Award, Cornerstone Award, Provost Scholarship, Brauch Scholarship, Sider Scholarship, Bowen Baptist Scholarship, Esperanza College Grant, Young Life Leadership Scholarship, Music Major Scholarship, and EU-Nova Engineering Fast Track Scholarship. The Leadership Fellows Program gifts $2,000 per year to 40 freshmen meeting 3.2 GPAs and engaging in community service. Transfer commuters exceeding 2.75 GPAs can claim the $12,500 David and Valerie Black Scholarship. The $3,000 Faith, Reason & Justice Scholarship has a September 24th deadline for the 500-word essay submission. Filing FAFSA forms coded 003259 determines Federal Pell Grant, SEOG Grant, Work-Study, TEACH Grant, and Direct Loan eligibility. Undergrads and GPS adults taking 8+ credits qualify for the Pennsylvania State Grant. The Eagle Learning Center also arranges graduate assistantships paying at least $12.00/hour.
Search through 160+ Baptist programs across seven accredited colleges at the Eastern University website.
Related Resources: