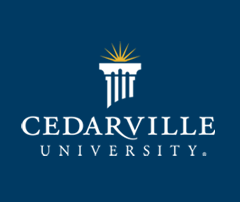 Engaging, Sought-After Baptist Degrees at Cedarville
Cedarville University appears in our ranking of the Top 50 Online Christian Colleges for Future Missionaries.
Ranked the Midwest's 12th best by the U.S. News & World Report, Cedarville University integrates the Word of God into 73 bachelor's and 15 graduate hands-on majors, including 10 online programs on Moodle, for 98.3 percent job placement with median pay of $52,500. For example, the B.S. in Geosciences follows a 128-credit, four-year sequence to the Professional Geology exam with Anza Borrego Desert trips and Geological Society of America membership. Starting Fall 2019, the 128-credit B.S. in Sport Medicine will uniquely follow a 3+2 format to complete a CAATE-accredited Master of Athletic Training faster with experience in Stranahan Gymnasium serving 16 NCAA Division II teams. Chaired by Dr. Jason Lee, the Master of Divinity (M.Div.) starts its 79-88 credit curriculum with the Character Colloquium for eight tracks, such as Biblical Apologetics, that require internships like Far Hills Community Church. Other Cedarville options include the B.A. in Linguistics, B.A. in History, B.S. in Electrical Engineering, B.A. in Music Education, B.S. in Molecular Biology, M.B.A. in Business Analytics, M.S.N. in Global Public Health, and Pharm.D.
About Cedarville University
Cedarville University originated in 1887 when the New Light Reformed Presbyterian Church utilized $25,000 bequeathed by William Gibson to form Cedarville College. In 1895, President David McKinney welcomed its inaugural class of 35 faithful students for Biblical programs at Founders Hall. Facing financial trouble after World War II, it was acquired by the Baptist Bible Institute of Cleveland in 1953. During President James Jeremiah's tenure, Cedarville became a Baptist liberal arts institution in 1954. From 1959 to 1965, enrollment tripled at Cedarville College before accreditation was granted in 1972. In 2000, the current Cedarville University name was adopted for advancing academics. By 2003, President Paul Dixon had invested over $100 million to create today's 400-acre, 63-building Ohio campus 26 miles from Dayton. Dedicated to Philippians 4:8, Cedarville now serves 4,193 Yellow Jackets from 62 countries with 86.5 percent retention online and on-site with 100+ clubs like Enactus. On Niche, Cedarville boasts America's 33rd best teaching degrees, 37th top dorms, and 44th best religious studies. Forbes placed Cedarville University 269th overall with the 91st best liberal arts education.
Cedarville University Accreditation Details
On October 26, 2020, Cedarville University will undergo its next assurance review by the Higher Learning Institution of the North Central Association (HLC-NCA) to retain Level V accreditation through 2026 under its 10th president, Dr. Thomas White. Located 319 miles northwest via Route 30 in Chicago, Illinois, this gigantic 19-state Great Lakes Region accreditor is recognized by the U.S. Education Department and Ohio Department of Higher Education. The Office of Assessment & Accreditation Services also lists the following approvals:
Accreditation Council for Business Schools and Programs
National Association of Schools of Music
Accreditation Board for Engineering and Technology
Commission on Collegiate Nursing Education
Council on Social Work Education
Accreditation Council for Pharmacy Education
National Council for Accreditation of Teacher Education
Commission on Accreditation of Athletic Training Education
Association of Christian Schools International
Cedarville University Application Requirements
Getting into Cedarville University is classified "moderately difficult" by Peterson's because just 2,886 of the 4,039 Fall 2017 applicants were successful for 71 percent acceptance. First-year Yellow Jackets must verify successful high school diploma completion or college ready GED achievement. Freshmen must exhibit evidence of faith in Jesus Christ and moral lifestyles. Weighted 3.0 GPAs or better in grades 7-12 are preferred since the average is 3.64. For English proficiency, undergrads need a 21 ACT, 550 SAT, or 59 CLEP score. Minimum mathematical marks of 19 ACT, 530 SAT, and 53 CLEP are required. Incoming transfers should hold at least 12 credits of 1000-level courses with cumulative GPAs above 2.75. The Graduate School also demands four years of accredited bachelor's study over the 2.75 GPA mark. Prerequisites vary by program, such as Economics, Statistics, and Managerial Accounting for the Online M.B.A. Doctor of Pharmacy entrants need PCAT scores at the 50th percentile or better. Online M.S.N. cohorts are reserved for registered nurses with 3.0 GPAs at CCNE or ACEN accredited colleges.
Cedarville University has rolling undergrad admission with no deadlines for U.S. residents. In contrast, international students passing the English3 Exam must apply by May 1st for Fall and November 1st for Spring. The Graduate School currently has online registration deadlines of August 13th, October 8th, December 14th, February 26th, April 22nd, and June 10th. Please note Doctor of Pharmacy cohorts are only considered until March 1st yearly though. Simply create a CedarNet account to submit applications online with $30 or fee waivers. Registrars mail official transcripts to 251 North Main Street in Cedarville, OH 45314. Standardized testing information is sent with SAT code 1151 or ACT code 3245. Other requested documents include the Christian leader recommendation, teacher evaluation, signed Cedarville Covenant, résumé, housing deposit, and medical history form. Please contact (800) 233-2784 or admission@cedarville.edu for more.
Tuition and Financial Aid
For 2019-20, Cedarville University is charging full-time undergrads $15,561 per block or $31,122 annually. Studying part-time incurs $1,178 per credit. Overload credits over 17.5 cost $805 each. Summer Session courses are reduced to $803 per credit. Bachelor's majors pay a $200 student fee. Living at the Greene County campus' dorms like Printy Hall adds $2,159 per term or $4,318 yearly for housing. Dining Hall meal plans from Pioneer Caterers Inc. are $3,300 extra. Cedarville budgets around $1,220 for books and $1,730 for personal expenses. Annual undergrad attendance equals $39,194 on-site and $32,106 at home. Master of Divinity tuition is $399 per credit or $31,521 total. Online M.B.A. cohorts spend $623 per credit for $22,438. The School of Nursing bills $623 per credit for $27,412. The Doctor of Pharmacy program has an estimated yearly total of $46,684.
According to the NCES College Navigator, the Office of Financial Aid in Stevens Center gets 87 percent of Cedarville Yellow Jackets pollinating assistance packages averaging $14,362 each for $42.45 million overall. Institutional funds include the President's Society Fellows Scholarship, Chancellor's Excellence Scholarship, Achievement Scholarship, Athletic Scholarship, Foster Care Scholarship, Dr. Sherill Honorary Scholarship, Rev. James Parker Sr. Young Leader Scholarship, Ministry Impact Scholarship, One Campus Leadership Scholarship, Soli Deo Gloria Scholarship, and Speech Team Scholarship. The Church Matching Program has a May 1st deadline for doubling parish scholarships up to $500. Faculty Excellence Scholarship recipients meeting the 1100 SAT or 22 ACT score receive $9,000 yearly. Cedarville participates in the Council of Independent Colleges Tuition Exchange Program. FAFSA applications coded 003025 determine Federal Pell Grant, SEOG Grant, TEACH Grant, and Direct Loan amounts. Federal Work-Study positions pay biweekly for up to 20 hours. Local Buckeyes pursue the Ohio College Opportunity Grant, Choose Ohio First Scholarship, Nurse Education Assistance Program, and National Guard Scholarship too.
Search 16 academic departments with 75+ accredited, evangelical degrees at the Cedarville University website.
Related Resources: