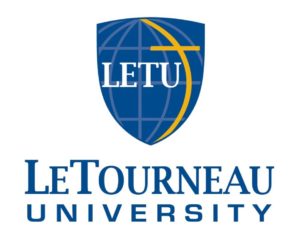 LeTourneau University Degree Programs Available
LeTourneau University appears in our ranking of the Top 50 Online Christian Colleges for Future Missionaries.
LeTourneau University offers degree programs in online, on-campus and hybrid formats that are designed for every type of learner. All programs are based in Christian faith and the school views every workplace as a mission field. They prepare graduates not only for their chosen career but also to spread the mission of Christian values.
The Bachelor of Science in Criminal Justice at LeTourneau University is designed to broaden knowledge of the criminal justice system. The program also prepares students for a profession with a growing need for people with strong morals and ethics. Because all programs at LeTourneau University are taught from a Christian perspective, future employers see graduates of the University as potential employees of high moral character. Students are able to concentrate their studies in Criminal Justice Management, Human Trafficking or Homeland Security. The program is available in both online and on-campus formats. Along with general education courses in psychology, English, math, science, and social science courses required for the major include:
Administration of Criminal Justice
Biblical Literature
Biblical Theology for the Christian Life
Constitutional Criminal Procedure
Corrections and Restorative Justice
Criminal Law
Criminology
Justice and Human Rights
Introduction to Criminal Justice
Personal and Professional Ethics
Police and the Community
LeTourneau University offers a Bachelor of Science in Aviation Management that is available both online and on campus. The program combines the school's nationally recognized aviation program with strong business education which can help graduates obtain leadership roles in the field of aviation. Students may choose to concentrate their studies in Aircraft Dispatch, Homeland Security, Maintenance or Professional Pilot. In addition to courses in English, math, science and social science, the major requires the following courses:
Aircraft Systems for Pilots
Airport Operations and Management
Aviation Human Factors
Aviation Law
Aviation Management
Aviation Safety Factors
Aviation Safety Management Systems
Biblical Literature
Biblical Theology for the Christian Life
Elementary Statistics
Flight Science I
Foundational Concepts of Aviation Studies
Human Resource Management
Microeconomics
Organizational Behavior
Powerplant Systems for Pilots
Principles of Finance
Principles of Financial Accounting
Project Management
The Master of Strategic Leadership at LeTourneau University is available online and meets the needs of working business professionals who want to be strong leaders. The program is designed for those with creativity, innovative thinking, and strong moral judgments. The Christian-based curriculum prepares graduates to think ethically and morally while leading others. Courses required for the program include:
Analyzing Data and Trends
Developing an Ethical Climate
Dynamics of Teams and Communities
Integrating Faith and Work
International Travel Experience or Communication and Culture in a Global Society
Leadership in a Global Society
Organizational Change and Development
Organizational Effectiveness
Self-Leadership Assessment and Development
Spiritual Elements of Leadership
Strategic Leadership in Practice
Strategic Thinking and Planning
The Art of Leadership
The Strategy-Focused Organization
Work-Life Balance
About LeTourneau University
LeTourneau University began as LeTourneau Technical Institute, the brainchild of R.G. LeTourneau and his wife, Evelyn. The couple visited Longview, Texas, in 1946, looking for an area to open a manufacturing site for their equipment business. While traveling the area, they flew over the Harmon General Hospital which was abandoned at the time. Ms. LeTorneau mentioned that the 200 buildings would be perfect for an institute of higher learning designed for returning World War II veterans. Her husband and several other community leaders agreed, purchasing the hospital from the United States government for $1. There were stipulations that the property would be returned to the government if there was a national emergency and that no demolition or new construction be performed on the property for a set number of years.
LeTourneau Technical Institute, from the beginning, offered classes based in Christian faith although they accepted students of all denominations. Initially, there was a secondary school option that allowed students to complete their junior and senior years of high school while also taking college courses. Those in the programs then earned a two-year trades degree and there was also a four-year technology program available. Students worked in the manufacturing plants owned by the LeTourneau's one day and attended class the next, fulfilling lab requirements with real-world experience.
The school became LeTourneau College in 1961 after bachelor's degrees were offered. At the same time, old wooden barracks were transformed into modern dormitories, a library, and a science hall. In 1989, the school gained University status.
Today, there are almost 3,000 students enrolled and the school continues teaching courses with a strong Christian focus.
LeTourneau University Accreditation Details
LeTourneau University is accredited by the Southern Association of Colleges and Schools Commission on Colleges. Through the accreditation process, the school undergoes periodic evaluations that confirm they have the resources to meet their goals and obligations. The review also confirms that students are receiving an education that meets the criteria set forth by the Commission and LeTourneau agrees to address any areas that are identified as needing improvement.
Engineering and technology programs at the school are accredited by the Accreditation Board for Engineering and Technology. The school is also accredited by the Association of Christian Schools International and the Federal Aviation Administration
LeTourneau University Application Requirements
An online application must be completed to apply to LeTourneau University. Official high school transcripts along with official ACT or SAT scores are also required. Students who have earned college credit after high school graduation must also submit official transcripts from all colleges and universities attended.
In order to apply for graduate programs, students must hold a bachelor's degree or higher from an accredited college or university. They must provide official transcripts from all colleges and universities attended. Some graduate programs have additional admissions requirements so students are encouraged to speak to a graduate admissions counselor before applying.
LeTourneau University Tuition and Financial Aid
On campus full-time undergraduate tuition is $30,520 per year while online undergraduate tuition ranges from $9,585 to $12,825 per year. Graduate tuition, both on-campus and online, range from $10,890 to $13,140 per year.
More than 90 percent of students who attend LeTourneau University receive some type of financial assistance. Grants and scholarships, which do not need to be repaid, are available along with work-study which provides employment to offset tuition. Loans are also available but it is important to remember they must be repaid after graduation. Students must complete the Free Application for Federal Student Aid (FAFSA) in order to qualify and the FAFSA must be renewed annually.
For more information about attending LeTourneau University, see the school's website.
Related Resources: