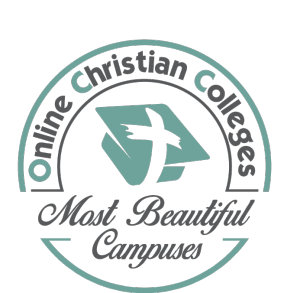 By OCC
If you are a high school student looking for a Christian college, we bet you're considering a variety of requirements. For example, you probably want the college you attend to have a good academic reputation. Perhaps you're searching for an affordable tuition cost. And how about the offered degree programs? Those are important! But one thing that should definitely be considered is the college campus itself. After all, college students spend a lot of time on campus, and it helps if it's pleasing to the eye.
Below is a ranked list of the most beautiful Christian college campuses in the United States. Because beauty is subjective, we've included a wide range of campus types, from urban jewels to small campuses nestled into the remote woods. Despite their many differences, each campus on this list also happens to be a highly respected Christian institution.
Methodology:
Determining a ranking for the most beautiful Christian college campuses comes with a few inherent challenges. Most notably, what is appealing to some may not be appealing to others. For this reason, we used an holistic approach to narrow down a list of nearly 100 Christian colleges and universities to just 50. This approach considered such factors as:
Awards & Recognition (40%): Whether a national award or an honor bestowed by a group or organization, any recognition a campus has received played a large part in its placement on this list. Generally speaking, the greater and more recent the honor, the higher on the list the college was placed. Examples of awards and recognition range from inclusion on another list of most beautiful college campuses, to architectural awards, to recognition for particularly sustainable or "green" features.
Student Enjoyment (40%): Most of the features described in this article can be appreciated visually by both students and visitors. But those campuses with features that can be physically enjoyed by the school's student body (such as botanical gardens or hiking trails) were given higher priority.
Number of Notable Features (10%): Campuses with more than one significant or celebrated building or feature were ranked higher than those with a single notable feature.
Other (10%): Those campuses with other notable characteristics, such as historical significance, were also considered.
Keep scrolling for the 50 most beautiful Christian college campuses of 2021.
50. Campbell University
Raleigh, North Carolina
Despite its location in the big city, Campbell University sits on a beautiful campus that feels more like a rural paradise. Walking paths are lined with trees, the many large green spaces are well manicured, and nearly every building on campus is a uniform red brick. The campus even includes a chapel and a golf club, both of which are enjoyed by both students and local residents.
49. Colorado Christian University
Lakewood, Colorado
A gorgeous Rocky Mountain backdrop isn't the only thing that makes Colorado Christian University one of the most beautiful Christian college campuses in America. The university is ideal for those who love nature. A small pond nestled in the midst of campus attracts a large number of birds and other wildlife. Many of the academic buildings boast domes and large windows from which students can better view their stunning natural surroundings.
48. LeTourneau University
Longview, Texas
LeTourneau University went from being a World War II-era hospital to one of the most beautiful Christian colleges in the United States. The 162-acre campus has retained many of its original buildings, including the picturesque Speer Chapel. Built in 1943, the chapel still has a number of its original features, including a gabled roof, towering steeple, and original wooden sash windows. Yet another impressive building on the LeTourneau campus is the Jeanette S. Belcher Memorial Bell Tower. Built in 1990, this much newer building towers over the university's main quad.
47. Wayland Baptist University
Plainview, Texas
Wayland Baptist University has 14 campuses throughout the United States, but we think its most impressive campus is its main one located in Plainview, Texas. The 80-acre campus is full of architectural beauties such as Gates Hall. Gates was built in 1910 and features Greek Revival columns. It houses classrooms, offices, study spaces, and even an auditorium. Besides its buildings, the university also has plenty of green spaces, as well as a community garden.
46. Lipscomb University
Nashville, Tennessee
While so many colleges on this list are known for their old, classical-style buildings, Lipscomb University is an exception. Its most famous building, the Bennett Campus Center, is located right on the Bison Square quad, and features a recently renovated interior complete with a full-service Starbucks. Other fantastically updated campus buildings include the Willard Collins Alumni Auditorium and the A.M. Burton Health Sciences Center. The latter recently received LEED Gold certification.
45. Franciscan University of Steubenville
Steubenville, Ohio
Franciscan University of Steubenville describes the views from its hilltop location as "heavenly." We have to say we agree! Everything about the university's campus is about beauty and the glory of God, from the flowerbed arranged into a large cross to its well-manicured green spaces just perfect for a picnic study session. In terms of buildings, there may be none more impressive than Saints Cosmas and Damian Science Hall. The limestone and brick building was inspired by the architecture of Assisi, Italy, and houses the departments of:
engineering science

computer science

natural sciences

math.
44. Seattle Pacific University
Seattle, Washington
Seattle Pacific University is located in Queen Anne Hill, one of Seattle's most beautiful and historic neighborhoods. Comprised of 43-acres, the university campus is defined by its classic brick buildings, tree-lined walkways, and modern, state-of-the-art facilities. Ask anyone familiar with Seattle Pacific to name the university's most beautiful building and you'll like receive Alexander Hall as the answer. This iconic building happens to be the oldest on campus. It was once referred to as only the "Red Brick Building" due to its main building material. Seattle Pacific also happens to have satellite campuses on nearby Whidbey Island and Blakely Island, both beautiful in their own rights.
43. Houston Baptist University
Houston, Texas
Houston Baptist University has easily one of the most beautiful college campuses in Texas, if not the United States. Its peaceful atmosphere is characterized by:
fountains and gardens
shady copses
walking paths lined with trees and other greenery
The university's many buildings are varied in architectural style, though most lie somewhere between traditional and modern. Especially worth mentioning is Dunham Bible Museum, which houses one of the world's biggest collections of rare bibles.
42. Waynesburg University
Waynesburg, Pennsylvania
Located in southwestern Pennsylvania, Waynesburg University is one of the most beloved Christian colleges in the country. The tiny, 15-acre campus includes such architectural masterpieces as Miller Hall and Hanna Hall, two of the university's oldest buildings. But Waynesburg students aren't limited to just the beauty on their campus. Much of the surrounding town has been adopted by the university and its students. Of the many popular off-campus hangout spots, Statue Park and Fountain Park, with its ponds and wildlife, stand out as highlights.
41. John Brown University
Siloam Springs, Arkansas
John Brown University is one of two college campuses on our list located in the beautiful Ozarks. The 200-acre campus is pristine from corner to corner. Most notably, its quad is a common space of walking paths, green spaces, and shady dogwood trees. The university's cathedral, built in 1957, features a chapel and several academic facilities.
40. Erskine College
Due West, South Carolina
The campus of tiny Erskine College is chock full of elegant architecture and Southern charm. The college, which was the first Christian institution founded in the state of South Carolina, is located in the town's historic district. In fact, it even has a spot on the National Register of Historic Places! Erskine's most iconic building is almost certainly Philomathean Hall with its Corinthian columns and interior Italian frescoes. Once the headquarters of the Philomathean Literary Society, the Hall was built in 1859 and is the oldest building in the aforementioned historic district.
39. Whitworth University
Spokane, Washington
Whitworth University has the unique distinction of being top-ranked for both its beauty and its academic excellence. Situated in Spokane, Washington on 200 acres, Whitworth's campus features hundreds of fragrant pine trees and an impressive collection of red-brick buildings. Happily, the university seems to value beauty on its campus. It has spent upwards of $100 million dollars in the last two decades to renovate older buildings and construct new, state-of-the-art centers for the sciences, visual arts, and recreation.
38. Regent University
Virginia Beach, Virginia
Regent University sits on 70 acres in Virginia Beach, Virginia. The campus resembles a majestic Georgian manor house. It includes lovingly cared for gardens and greens, plus an impressive collection of columned brick buildings. Regent University students are fortunate to have access to plenty of beauty off-campus as well, as the Atlantic Ocean and Colonial Williamsburg are both an easy hop away.
37. Azusa Pacific University
Azusa, California
Southern California's Azusa Pacific University was the first Bible college on the West Coast. Though the university covers eight campuses, its main campus in Azusa is practically postcard perfect. The campus consists of a collection of pure white buildings, including the John and Marilyn Duke Academic Complex. Once an industrial warehouse, the complex today is a stylish center that houses two art galleries, classrooms, and study spaces.
36. Harding University
Searcy, Arkansas
Forty-nine buildings make up Harding University's 350-acre campus. Of those, the heart and soul seems to be the George S. Benson Auditorium, which hosts daily "chapel" required of all students. Other notable buildings include the American Studies Building, with its distinct columned facade, and the Pattie Cobb Hall. When not in class, students can enjoy Harding's more natural features, including:
fountains
gardens and green spaces
foot paths.
35. Samford University
Birmingham, Alabama
Two hundred pristine acres make up Samford University, one of the most beautiful Christian college campuses in America. The campus, located in the Birmingham suburb of Homewood, is well known for its collection of Georgian-colonial buildings, picture-perfect garden areas, and many tree-lined pathways. Students living in the college dorms are fortunate to have first-class views of Samford's beautiful quad area, while inside the university's Hodges Chapel, students can admire fresco work done by Petru Botezatu.
34. Southwestern Assemblies of God University
Waxahachie, Texas
The 73-acre campus of Southwestern Assemblies of God University is a lovely, tree-lined place where students can enjoy all of the beauty nature has to offer. Its rural setting offers lots of green space and wide open views, while its man-made attractions include the Blake L. Farmer Administration Building. Built in the early 1900s, the building still looks grand and imposing, and houses conference halls, administrative offices, and classrooms.
33. Howard Payne University
Brownwood, Texas
There is certainly no other college campus in the world that looks like Howard Payne University. The beautiful 80-acre campus is respected far and wide for its verdant green spaces on which students can relax or study. Perhaps most impressive of all is the university's Academy of Freedom. Looking like part castle, this impressive sandstone building is topped with two large spires while its facade is characterized by a shining glass frontage. The Academy of Freedom houses:
a library
faculty offices
classrooms.
32. Wheaton College
Wheaton, Illinois
Most of the buildings on Wheaton College's campus were built more than a century ago. Of these majestic old treasures, the most iconic is almost certainly Blanchard Hall. Built more than 150 years ago, the Hall's bells still chime to notify students and faculty of the time. Other impressive buildings on the Wheaton campus include the Billy Graham Center, with its classical architecture, and the Science Center, newer and built in an architectural style much more modern than most of its neighbors.
31. Spring Arbor University
Spring Arbor, Michigan
Tiny Spring Arbor University has one beautiful campus! Located on 100 acres in rural Michigan, this former Free Methodist Church seminary is home to:
verdant green spaces
modern buildings
lots of ponds and springs
In fact, the university got its name in honor of the artesian water springs that are so common within the local community. Spring Arbor's centerpiece is undoubtedly the McKenna Carillon Tower. Officially unveiled in 2005, the tower consists of four clocks and the school's mission statement inscribed above each of the four entryways. It stands as a physical representation of Spring Arbor's commitment to both God and education.
30. Hope College
Holland, Michigan
Beautiful Hope College is the home of Dimnent Memorial Chapel. Often ranked as one of the country's most beautiful college chapels, it was built in 1929 by William K. Johnston, a Chicago-based architect. But the chapel isn't the only beautiful element of the Hope College campus. There are a number of other impressive buildings, plus lovingly maintained greens and gardens for the students to relax and enjoy.
29. Judson College
Marion, Alabama
Judson College may consist of only 80 rural acres and a few buildings, but what it lacks in space and structures, it more than makes up for in beauty. Judson's main building and the centerpiece of its campus is a massive and elegant Greek Revival that houses administrative offices and classrooms. The building's cupola tower is instantly recognizable throughout the surrounding area, as is the rest of the campus's carefully manicured lawns and gardens.
28. Brigham Young University
Provo, Utah
They take the concept of "beautiful" very seriously at Brigham Young University in Provo, Utah. The school's campus is immaculate and includes carefully maintained greens, lots of plants and foliage, and stunning views of the Wasatch Mountains. BYU's man-made elements are beautiful too, like the 90-foot Carillon Bell Tower. Over the years, the university has been listed on a number of "most beautiful" lists, including a deserved first place in the 2005 America in Bloom competition.
27. Gordon College
Wenham, Massachusetts
Despite being founded in 1889, Gordon College has only existed in its current Wenham, Massachusetts setting since 1955. Situated on 450 acres, the campus encompasses carefully tended sports fields, dozens of tree-lined sidewalks, and even a large picturesque pond. Though there exist a number of impressive buildings on campus, perhaps the most impressive is Frost Hall. Built in 1911, the Hall was once the mansion of investor Frederick H. Prince.
26. California Baptist University
Riverside, California
Not only is California Baptist University one of the most beautiful Christian colleges, it also happens to be one of the best, attracting students from all over the world to attend its academic programs. The campus'  buildings and classrooms have all been constructed in the Spanish style that is typical of Southern California. And while plenty of facilities have been built for purposes of student enjoyment, the sight of students lounging around the grassy quad is a common one — a testament to the beauty of the university's campus.
25. Point Loma Nazarene University
San Diego, California
Point Loma Nazarene University's beautiful campus is most famous for its Greek theater. Built in 1901, when the university was still a Theosophical commune, the theater is the only one of its kind in North America. The university is also home to Mieras Hall with its smorgasbord of architectural features that include:
Corinthian columns
an amethyst dome
Victorian timber design
plenty of other period details
Finally, one cannot mention the beauty that is Point Loma Nazarene University without mentioning the stunning Pacific Ocean views that can be enjoyed from the school's top-of-the-hill setting.
24. Southern Methodist University
Dallas, Texas
Sitting on 164 peaceful acres in Dallas, Texas, Southern Methodist University is a beautiful collection of Georgian architecture, tree-lined walkways, and spacious green spaces. The campus's most iconic building is undoubtedly Dallas Hall. Dedicated in 1915, the Hall's grand Georgian design was inspired by the famous Rotunda designed by Thomas Jefferson for the University of Virginia.
23. Georgetown University
Washington, D.C.
Georgetown University, located a stone's throw from some of Washington, D.C.'s most famous sites, is America's oldest Jesuit university. The campus is composed of an incredible collection of buildings, including:
an Observatory which is listed on the National Register of Historic Places
the Old North building which dates back to 1794
Healy Hall, another one of Georgetown's buildings with a spot on the National Historic Register.
22. Loyola Marymount University
Los Angeles, California
Nestled in the foothills of Los Angeles, Loyola Marymount University offers its students beautiful views from an even more beautiful campus. The 150-acre campus was founded in 1865 as Catholic St. Vincent's College. Today, people travel from far and wide to gaze at the university's elegant Spanish Gothic architecture. The campus's centerpiece, Sacred Heart Chapel, is a beautiful display of sparkling chandeliers, marble pillars, and stained-glass windows.
21. St. Olaf College
Northfield, Minnesota
St. Olaf College, located in Northfield, Minnesota, consists of 920 acres of elegant maple trees and picturesque buildings. Perhaps the most iconic of St. Olaf's buildings is Old Main, a magnificent Gothic-style building that has been a part of the school since 1877. Originally, Old Main housed the dining hall, living quarters, and even a library. Today it is home to the Department of Religion.
20. Eastern University
St. Davids, Pennsylvania
Peaceful is the word that comes to mind when trying to describe the beautiful campus of Eastern University. Located in St. Davids, Pennsylvania, Eastern's campus enjoys a lake on one side, and wooded countryside on the other. A number of trails weave their way through campus for students to enjoy hiking or cycling. An on-campus planetarium and observatory allow for the exploration of a different kind of nature.
19. College of the Ozarks
Point Lookout, Missouri
College of the Ozarks, located in Point Lookout, Missouri, offers students all of the awesome beauty the Ozarks has to offer. For example, the college's campus takes up 1,000 acres situated along the White River, and even overlooks Lake Taneycomo. A student-tended rose garden, greenhouses, and a working mill are just some of the many outdoor spaces students can enjoy on campus. The man-made features worthy of mention includes the Williams Memorial Chapel, a Gothic-style stone structure located in the center of campus.
18. College of the Holy Cross
Worcester, Massachusetts
The Princeton Review has named the "exceptionally beautiful" College of the Holy Cross one of the five most beautiful college campuses — Christian or otherwise — every year since 2010. Take one step onto campus and you'll see that Fenwick Hall is the college's towering centerpiece, though no one can talk about College of the Holy Cross without also mentioning the St. Joseph Memorial Chapel, a beautiful Renaissance Revival chapel constructed in 1922. Also worth mentioning: the entirety of the college's 174-acre campus is a registered arboretum, complete with more than 6,000 trees and plants.
17. Belmont University
Nashville, Tennessee
Southern charm and beauty is alive and well at Belmont University, a nondenominational liberal arts college in Nashville, Tennessee. The 75-acre campus is chock-full of stately historic buildings, including the famous Belmont Mansion. Once the home of socialite Adelicia Acklen, this stunning building is now a museum and the heart of the Belmont campus. Its Greek Revival and Italianate architectural details have earned it a spot on the National Register of Historic Places.
16. Fordham University
New York City, New York
Fordham University's Rose Hill campus, located in the Bronx, looks like something out of a movie. The 85-acre campus is dotted with gardens, while large green spaces like Martyrs' Lawn make for the perfect study spot for students wanting to surround themselves in nature. But natural beauty isn't all that Fordham can boast. Many of the campus's buildings are built in the neo-Gothic style, including stunning Keating Hall, built in 1936.
15. Baylor University
Waco, Texas
Baylor University's beauty begins right at its heart, Burleson Quadrangle. Constructed in 1886, the quad has become the unofficial preferred hangout spot for visitors, students, and even faculty, all of whom enjoy spectacular views of Baylor's stunning architecture. One of Baylor's most beautiful buildings is certainly Old Main, an 1887 building with elements of American Victorian and Italianate architectural features.
14. Sewanee: The University of the South
Sewanee, Tennessee
With its stunning collection of Neo-Gothic buildings, Sewanee: The University of the South, is easily one of the 50 most beautiful Christian college campuses. The campus is spread over 13,000 acres of Tennessee's Cumberland Plateau, and its most iconic building is All Saints' Chapel. Designed by Ralph Adams Cram and opened in 1959, the chapel includes a tower, arched ceilings, and a rose window a la Notre Dame de Paris.
13. Santa Clara University
Santa Clara, California
Amidst the hustle and bustle of California's tech capital, there is an oasis of peace and beauty that is the campus of Santa Clara University. The 106-acre campus is lined with palm trees and dotted with perfectly manicured green spaces ideal for a picnic study session, or game of frisbee. As is traditional in so many parts of California, many of Santa Clara's buildings are Spanish in architectural style, including the Student Activities Center. Built in 2010, the Center is as environmentally impressive as it is beautiful. It was recently honored with a LEED Gold certification in recognition of its low-emissions finishes, brick-paved walkways to limit water runoff, and many other green features.
12. Boston College
Chestnut Hill, Massachusetts
Boston College was founded in 1863, but its current 175-acre campus is a little younger. Designed in 1909 by the architect Charles Donagh Maginnis, the college was one of the first to incorporate the Gothic and Gothic Revival architectural styles that we now consider the hallmark of prestigious institutions. Today's campus contains a number of impressive stone structures such as Gasson Hall, which with its iconic bell tower, makes up part of the Boston College Main Campus Historic District.
11. Thomas Aquinas College
Santa Paula, California
The beautiful campus of Thomas Aquinas College is nestled in the picturesque hills of Santa Paula, California. Its 131 acres include a number of impressive buildings, though perhaps there is none more impressive than Our Lady of the Most Holy Trinity Chapel. Designed by a Notre Dame University professor of architecture, and opened in 2009, the chapel is built in the Spanish Mission style and includes a beautiful 89-foot tall dome.
10. Hillsdale College
Hillsdale, Michigan
Students at Hillsdale College may be unfailing in their search for the good, the true, and the beautiful, but we think that when it comes to the latter, they need only look around. The heart of Hillsdale's campus is its tree-lined quad. Surrounded by four academic buildings and the iconic Central Hall, the quad also includes an impressive collection of statues of such famous political figures as:
Thomas Jefferson
Winston Churchill
George Washington
Abraham Lincoln
Ronald Reagan
When a quiet moment is needed, students have access to a large arboretum, complete with a pond and gazebos.
9. Covenant College
Lookout Mountain, Georgia
Tiny Covenant College sure is beautiful! Situated on 300 acres atop Lookout Mountain (part of the border between Georgia and Tennessee), Covenant students have stunning views of seven states! And these views certainly aren't taken for granted. Each building on campus boasts dozens of windows to better enjoy all views, while plentiful flowers and trees make spending time outside truly feel like a celebration of nature.
8. Kenyon College
Gambier, Ohio
Situated in rural Ohio, Kenyon College is a nearly 200-year old liberal arts school affiliated with the Episcopalians. The college consistently ranks as one of the most beautiful college campuses in the country, thanks in part to its unique mix of architectural styles and peaceful, verdant landscaping. Much of the 1,000-acre campus is tree-lined, including the famous Middle Path. Especially impressive buildings include Old Kenyon dormitory and Horvitz Hall Studio Arts Building, the latter of which was built in a modern architectural style.
7. Montreat College
Asheville, North Carolina
Nestled into the Blue Ridge Mountains is the beautiful campus of Montreat College. The college, which has been nicknamed the "little mountain paradise," includes roughly 30 miles of hiking trails, plus a popular lake where students can picnic, swim, and boat. The rest of the 112-acre campus consists of numerous stone buildings that blend into the natural surroundings with the help of some lush and colorful vegetation. Of course, none of this should come as much of a surprise considering the college was named "Montreat" as an amalgam of "mountain" and "retreat."
6. Pepperdine University
Malibu, California
It should come as no surprise that Pepperdine University is included on just about every list of the most beautiful college campuses, Christian or otherwise. Nestled in the foothills of Malibu and overlooking the Pacific Ocean and the City of Los Angeles, Pepperdine's campus is dotted with beautiful examples of the Mediterranean-revival architecture for which Southern California is so well known. Most iconic is Phillips Theme Tower, a tangible symbol of the University's Christian mission.
5. University of Notre Dame
South Bend, Indiana
Spend some time on the campus of University of Notre Dame and it would be easy to think you've somehow left Indiana and landed in Oxford or Cambridge. Notre Dame's 1,250-acre campus is chock-full of green spaces, secret gardens, and tree-lined walkways, not to mention a collection of impressive buildings. Although the university's most famous building is undoubtedly the Main Building with its golden dome, we would argue that the most impressive building is actually the Basilica of the Sacred Heart. Built in the neo-Gothic architectural style, the basilica features stained glass windows and one of the tallest bell towers in the country.
4. Salve Regina University
Newport, Rhode Island
Salve Regina University in Newport, Rhode Island looks more like a Golden Age mansion than it does a university. Salve Regina's stunning 80-acre campus includes a number of beautiful buildings, though the highlight is almost certainly Ochre Court, which was built in 1892 in the Neo-Gothic French style. Other campus highlights include:
an Elizabethan manor house called Wakehurst
the Romanesque Revival that is McAuley Hall
gorgeous views of the waterfront.
3. University of San Diego
San Diego, California
With views of the Pacific Ocean, San Diego Harbor, La Jolla, and Coronado Island, it's indisputable that University of San Diego is one of the most beautiful Christian college campuses. The university, which is private and associated with the Jesuits, is comprised of gorgeous buildings constructed in the Spanish Renaissance architectural style of the 16th century. While there are any number of beautiful buildings we could talk about, especially worth mentioning is Immaculata Church and its door of solid bronze, Spanish-style red roof, and mosaic dome.
2. Rhodes College
Memphis, Tennessee
One look at the picture, and you might mistake Rhodes College for somewhere in jolly olde England. Indeed, this Tennessee-based college enjoys a certain English flair. After all, it was designed to look like an English Gothic village. The heart of the 100-acre campus is the Oxbridge-style quad, with its stunning stone library situated along its edge. Rhodes is also home to the famous Avenue of Oaks, an entire lane of stately oak trees once brought to campus as seedlings by a student.
1. Berry College
Mount Berry, Georgia
Not only is Berry College one of the most beautiful campuses in the country — Christian or otherwise —at 27,000 acres, it also has the distinction of being situated on the world's biggest contiguous college grounds. That's a lot of acreage to keep up appearances! Students at Berry have plenty of opportunity to cycle or hike. Much of those 27,000 acres consists of:
woods
meadows
streams
two lakes
more than 80 miles of trails
Berry is home to plenty of man-made beauty, too! Of the many English Gothic-style buildings, the most iconic is perhaps Possum Trot Church. The church originally housed a school for boys that was founded in 1902, and remains used and present on the modern-day college campus.
Related Resources: