Take a look at the news and the amount of political activity taking place on college campuses is easy to see. For a long time, colleges have been a fundamental source for young people to make their voices heard.
This is usually done through political organizations that align with the personal beliefs of individual students. Sometimes, these organizations branch off-campus to assist in the efforts of political campaigns, fundraisers, and the practice of canvassing for votes. But are religious learning institutions any different?
What Types of Political Organizations are Available at Christian Colleges?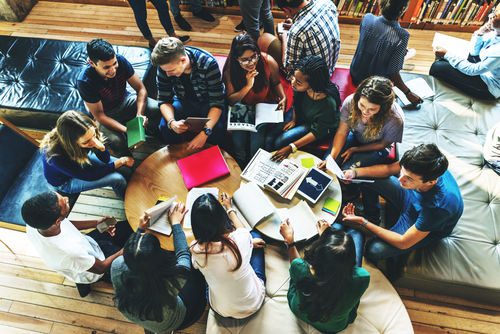 Have you been wondering what types of political organizations are available at Christian colleges? If so, you're not alone; many students thinking about higher education wonder how they'll be able to express their civic values while attending classes. The good news is that no matter what issues matter the most to you, it's easy to find a group of like-minded co-eds organized into a student-run organization.
Democratic and Republican Student Groups
Have you been wondering if your Christian college will have both Republican and Democratic student groups? At most schools, the answer is yes. Although a few conservative campuses only recognize Republican groups, the majority of Judeo-Christian colleges are home to student groups for both political parties.
You'll be able to make friends who share your political and religious beliefs while organizing voter registration drives, bringing political candidates to campus, and tabling to educate other students. You can also expect to enjoy healthy debates with members of the opposing party in a respectful and civically-minded environment.
If you're more interested in a Libertarian political organization, you can find one on many college campuses, but it will likely be smaller than the Democratic or Republican student group.
Advocacy Groups
Are you passionate about a specific political topic? Maybe you're pro-life or pro-choice, committed to social justice and poverty reduction, or interested in preserving the second amendment. At many Christian campuses, you can find special-interest student groups to nurture your strongest beliefs. However, not all college communities will be home to all of these Christian student groups. You may find yourself starting up a political organization.
This route will require time and energy but provide you with an amazing resume, leadership skills, and good friends. Another option is to look for faith-based schools that mirror your interests. For example, if you want to join a Christian environmentalist group, look for liberal Catholic or Jesuit universities. If you want to spend your Spring Breaks on medical mission trips to needy countries, find a Christian college with strong study abroad and healthcare programs.
Career Opportunities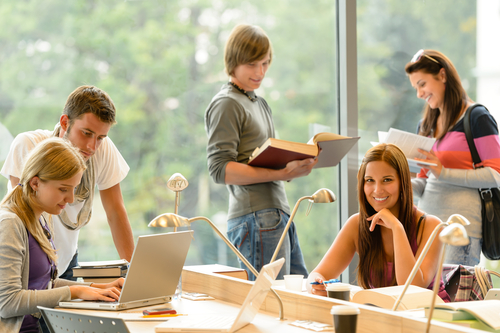 As a Christian attending college, you'll be exploring your religious beliefs, your life values, and your political views. You can network with students and professors with similar beliefs, but you can take your career development one step further. Many Christian universities offer internships and part-time jobs on the ground floor of political campaigns and institutions.
For candidates and advocacy groups that represent Christian values, you are the perfect candidate. Your school can help you find internships in D.C. or your local area, meaningful volunteer opportunities organizing political campaigns, or policy-based work in a local government office. The skills you learn in these roles will improve your resume, but more importantly, you'll have a chance to live your values.
Christian colleges are similar to other universities in the breadth of opportunities offered to students. However, they have one important difference: They enable you to practice your religious beliefs alongside your political views. Now you know that there's no need to wonder what types of political organizations are available at Christian colleges because no matter what variety of student groups you're interested in, it will be available.
Frequently Asked Questions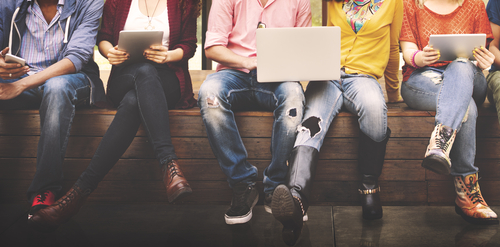 1. Are debates regularly held at Christian colleges?
At many Christian colleges, debates are regularly held. However, debates can range from several subjects, including issues that are irrelevant to politics. But most religious schools have debate teams, most of which will discuss subjects within the umbrellas of political and social issues.
Scheduled events can happen involving different groups at the school, neighboring colleges, or even off-campus debates. The typical debates at any college, including those that are religious, are usually very formal. Informal debates do take place but are often brief conversations among individual students or guests at the college.
Debates are a great way for students to finetune their social and political beliefs. Because of this, they're often encouraged so long as all interlocutors dialogue in good faith. And at a Christian college, discussion with respect between each opponent is the norm.
2. Are political demonstrations commonplace?
Historically, colleges of all kinds have been an epicenter of political activity involving demonstrations and protests. The same applies to Christian colleges. As always, peaceful and lawful protests are compulsory. Still, most political demonstrations are events made to be intentionally innocuous.
For example, the majority of demonstrations organized by a political group as a Christian school may involve online activity, such as signing petitions for various causes, writing letters to politicians, and passing flyers throughout campuses to spread awareness about different issues. Protests that involve assembly do happen but are orderly. Christian colleges are the same.
In short, students are better connected than ever before. Social media is a large cause of this, including the proliferation of smartphones. Students can organize and assemble but most political groups in higher education conduct their activities through the web.
3. Are both liberal and conservative views abundant at Christian colleges?
At first thought, some could have the impression that Christian colleges are overwhelmingly conservative due to religion playing a large part in the student curriculum. But the truth is that they're usually the most diverse "schools' of thought. Students from liberal and conservative backgrounds can be found at Christian colleges, including student-run organizations within each.
There's no shortage of Democrat and Republican-majority groups. But in some cases, students can also join and participate in the activities of groups that are a mixture of all people on the left, right, and center. They're numerous and a great way for students to make friends that not only share their religious beliefs but political sentiment.
Christian colleges inspire students to work with people from different backgrounds and ideas. Their religious nature assists in this since the majority of students are unified by the same faith. At non-denominational Christian schools, some religious groups could appeal to conservative and liberal-minded students but cohesion among the Christian faith is a uniting factor.
4. What kind of off-campus political activities are common?
Students aren't institutionalized at Christian Colleges and political organizations routinely take part in activities off-campus. They're not confined to college auditoriums and study halls.
When student groups do brand off campus, it's usually for volunteer work that entails fundraising, support for various political candidates through cookouts and music events, or even charity work. Most activities are prepared and scheduled between students through social media, with groups meeting on campus before outside plans are made.
5. Do Christian colleges invite political commentators as guest speakers?
Social media has been a major source for the proliferation of student political organizations of today. They're easy to find and just about every viewpoint has pundits on the web that articulate and share like-minded ideas of students in Christian colleges.
Conservative and liberal speakers sometimes conduct meetings over the internet with groups sharing their interests. At times, commentators may wish to speak at colleges, usually to the students with similar views but sometimes to debates as well. Discussions as these events range from respectful to constructive but contentious dialogue.
Most guests are non-confrontational and share the ideas of the religious school body. Some visitors may challenge the ideas of students, which is encouraged.
Christian colleges, like non-religious universities, can decide to host political commentators at their leisure. Student political groups sometimes reach out to their favorite commentators, asking them to speak at events at their college.
Some controversial pundits may or may not be accepted, sometimes for security purposes or ideas that aren't shared by the majority of students. But diversity in political ideas is abundant, including in the people that are allowed to hold discussions on campus.
6. Do candidates often visit and engage with Christian college students?
You may have seen politicians and candidates running for office in town halls taking place in large auditoriums. These are sometimes conducted at public and private universities, including Christian colleges. Politicians are aware of the cohesive nature of colleges and routinely seek them out to push new policies that are in the works. When campaigning, students may engage in voter canvassing in the local area of the college.
This is most prevalent during presidential and midterm campaigns. Nevertheless, political organizations are also known to spread awareness on and off-campus for local and gubernatorial elections. Since the Christian faith harbors people of a melting pot of political views, Democrat and Republican student groups
7. Are Christian colleges majority conservative or liberal?
Since colleges of all kinds attract students from varying ranges of backgrounds, they're typically diverse, both ethically and politically. If there weren't a feature of Christian colleges, they wouldn't harbor the large number of political organizations that make up their student body. Of course, some colleges have large conservative and liberal populations of students, but most are identical to the makeup of the country as a whole.
Knowing this, the typical Christian college's population consists of a large independent majority, students that aren't beholden to any one political party. There are student organizations on campuses to reflect this, such as centrist or moderate groups.
8. How does the political atmosphere differ from Christian colleges and public universities?
In most characteristics, the political climate is much the same at Christian colleges as those that are non-religious. Students are active in groups, form friends with like-minded interests, and learn how their participation in them can produce the social and political outcomes they desire to see.
The main difference lies in the religious beliefs of all students there. Christian colleges contain students, deans, and professors that believe in the same faith. Students may have few similarities in political beliefs, but their faith in Christianity facilitates the practice of camaraderie on a personal and spiritual level.
Even if students don't agree to the same policies implemented by elected officials, vote for the same candidates, or belong to uniform organizations, their Christian values unite them.
9. How do Christian colleges help students become better informed about politics?
This can be done through the course taught at college or information taught within student political groups. Students who may not have known how to gather research into certain candidates running for office will come out of a Christian college understanding the importance of civic participation and awareness. It enables both undergraduates and graduate students to communicate with each other.
Students with political majors can use the skills they learn from their courses and apply them to activities that take place in their political groups. And as a Christian college, students will also discover the historical significance of religion as it pertains to government throughout the world.
10. Will political organizations at Christian colleges grow in the future?
Political groups on and off college campuses emphasize the importance of working together through networking. Since methods of communication between people are continuously refined, The political activities of students at Christian colleges are expected to increase. However, this will mostly be in the form of networking on the internet.
The hardware and software students use within their political organizations will streamline the way they spread information. Fundamentally, this isn't exclusive to Christian colleges, and increases in student interest in politics are easy to see at present.
Summary
The average Christian college is an omnipresent campus that's filled with new and emerging ideas in technology, sociology, and politics.
They contain groups that interest students in these fields, helping them to take in new concepts, challenge their sentiment on political issues, and engage with people serving in office. Christian colleges can even motivate students to pursue a political career themselves, using their knowledge and personal values to appeal to the public at large.
There's no shortage of political opinions on a college campus and Christian colleges are the perfect settings for students to better understand their political beliefs and the beliefs of others. The political organizations there encourage this. Yet as a benefit to the students, their Christian background provides them a source to find and extend their principles to the groups they join on campus.
Recommended Resources: