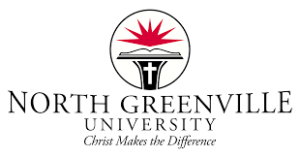 Degree Programs at North Greenville University
North Greenville University appears in our ranking of the Top 50 Online Christian Colleges for Future Missionaries.
North Greenville University offers more than 30 degree programs for undergrads and eight graduate degree programs. It also offers six online degree programs. Though the university once offered online options for adult learners, it now welcomes students of any type to apply. Its online programs give students a convenient way to complete all their degree requirements without attending classes in Greenville.
The university offers both a Bachelor of Science and a Bachelor of Arts in Interdisciplinary Studies. While both programs require that students take general education classes, they can fully customize their degrees with courses from any department. This allows students to see how different fields and disciplines relate to each other. Music majors can choose from programs in music education, music performance or music worship studies. Some of the other popular majors for undergrads include accounting, broadcast media, criminal justice, and legal studies, psychology and media ministry.
Online students can study business and leadership, which teaches them how to lead others and helps them understand the different aspects of business today. Its criminal justice program is a suitable choice for those who want to work as paralegals or other criminal justice fields and those who want to attend law school. The university also offers online programs in Christian ministries, elementary education studies, general studies, and applied psychology.
The North Greenville University Graduate School of Business offers a Master of Business Administration (MBA) that takes 18 months to finish. All the courses in this program, including Organizational Behavior, Human Resource Management and Research Methods in Business, run for eight weeks. A Master of Music Education program is also available for teachers and those who want to teach and specialize in music education. Other popular North Greenville University graduate programs include those in ministry and education.
About North Greenville University
North Greenville University is a religious university in Tigerville, South Carolina. Established as the North Green High School in 1892, it was initially a private high school maintained by the North Greenville Baptist Association. The Southern Baptist Convention took over the operations of the campus in the early 1900s and renamed it the North Greenville Baptist Academy. When the South Carolina Baptist Convention took over the school, it became the North Greenville Junior College and added some two-year programs. As students called for more traditional programs, the college added more degree programs and dropped junior from its name as well as its high school classes. The North Greenville University name came about after the university added four-year degree programs.
NGU now provides all incoming students with a copy of its guidebook, which explains how they should act both on campus and off as well as how they should use the university's resources. U.S. News and World Report ranked NGU as the 10th best liberal arts university in terms of the number of students accepted and listed it as the 80th best college in the south. Forbes also included NGU on its own list of the best schools in the United States. NGU is a small university with an enrollment of more than 2,200 undergrads.
North Greenville University Accreditation Details
The Southern Association of Colleges and Schools (SACS) is the organization responsible for the regional accreditation that NGU has. NGU can grant degrees to any student who graduates and both accept transfer credits and award financial aid packages. All the education programs offered by the university have accreditation from the National Council for Accreditation of Teacher Education (NACTE). This also applies to the teaching experiences that these majors do in the field. NGU also has accreditation for its music degree programs from the National Association of Schools of Music (NASM).
North Greenville University Application Requirements
Incoming freshmen applying to NGU will pay a $30 application fee when they submit their applications. Prospective students must create an account that allows them to log in with their usernames and passwords and spend as much time as they want on their applications rather than completing it in one sitting. They will then mail in official transcripts from their high schools and any colleges they attended and provide official test scores. The university offers an application that students can mail in but will still require test scores and transcripts from those students. There are similar requirements for students applying to an online undergrad program.
Any student applying to a graduate program will also use the NGU application system and create an account. Though each program charges a $30 application fee, they may have other requirements too. The MBA program asks students to write a 500-word essay that reflects on their past experiences and how those experiences will help them in graduate school. They will also provide two professional references, one personal reference, and their official transcripts. The university's ministry programs require the same essay and transcripts but also ask for references from someone who knows the applicant on a personal level, a professional who worked with the student and the student's minister. Those applying to the music education program will need to complete an interview and a few tests.
Tuition and Financial Aid
A full-time undergrad attending NGU will take between 12 and 19 credit hours of classes each semester. Those students pay $9,875 per semester. Any student who takes more or fewer credits will pay $480 per credit hour. The cost of housing and a meal plan will add around $5,000 to the amount that they pay each semester. Graduate students pay $390 per credit hour in the education and ministry programs and $450 per credit hour for programs in the Graduate School of Business.
NGU awards millions of dollars in financial aid to both undergrads and graduate students every year. The Christian Ministry Scholarship goes to students who want to earn degrees and work in ministry positions. Students must write an essay about their faith and have a grade point average of 2.5 or higher. Another scholarship goes specifically to graduate students applying to the university. NGU also offers the standard financial aid that other schools do, which it bases on the FAFSA that each student submits. Those who want loans, grants and jobs should submit this form. Students enrolled in any of the academic programs offered by North Greenville University can apply for financial aid.
Related Resources: