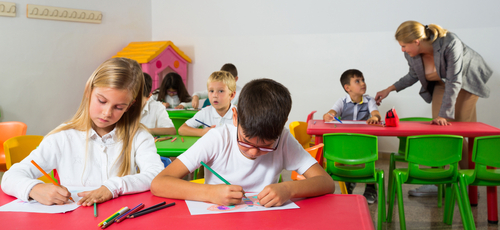 Students who are aiming for a rewarding career in education but want the unique aspects of a Christian education often wonder whether it's possible to get a bachelor's degree in education from a Christian college. Luckily for those aspiring educators, many of today's most prestigious Christian colleges and universities offer excellent programs in education that can help lead students to professional certification and their first job managing their own classroom and contributing to successful student outcomes. As with selecting any university, there are some considerations to be made before selecting a specific Christian institution for their education department.
Make Sure the Selected School Has the Proper Accreditations
The single most important factor to consider when selecting from today's Christian colleges and universities is whether or not they have the right accreditation to offer students the best degree that tuition can buy. Unlike pubic universities, which are chartered and monitored by state agencies, private universities with a Christian backing are free to exist outside the regional or national accreditation guidelines set forth by the United States Department of Education. When choosing a school there are a few things to consider. According to the Council for Higher Education Accreditation, programs without accreditation from an approved CHEA body will be unable to grant students access to federal financial aid programs, and their degrees often will not allow students to take PRAXIS certification examinations or enroll in a graduate program at other schools.
When seeking out an education degree from a Christian school, ensure that it's accredited either by a regional body or by one of the approved national accrediting agencies listed on the US Department of Education's website. This will ensure not only the quality of the education but also its affordability and the degree's utility in the workplace.
Make Sure the School Has the Right Education Major
Thanks to increasing specialization of education programs at the degree level, it's no longer possible in many states to simply obtain a bachelor's degree in education. Instead, students often choose from degrees in elementary education, special education, and secondary education. Some schools may even offer a special bachelor's degree in special education. Each of these degrees will permit students to take a different PRAXIS exam and enter into a different segment of the education industry, so it's important to make sure that the selected Christian school offers the right one.
Before applying to the school, browse their website, or contact an admissions counselor. This will offer clarification about each of the school's education majors, their coursework, and how students are prepared for the workplace as part of the program's core curriculum.
Conduct Research into Student Outcomes Before Accepting Admission
Finally, remember that the goal of an education degree, whether it's at a Christian university or elsewhere, is to prepare students for certification and their first job as a teacher in today's schools. For peace of mind, be sure to pair any college research process with a look at the school's job placement numbers. Also, make sure that the school's graduates successfully pass the PRAXIS examination or any other state-required certification exam needed to begin teaching in the classroom. Those schools that offer the highest job placement and certification rates are the ones worth considering in the end.
With Adequate Research, a Great Program is Just a Few Steps Away
Christian universities operate some of the most prestigious schools in the United States and have educated thousands of highly qualified teachers. For those looking to get a bachelor's in education from a Christian college, be sure to look for accreditation, the right major, and measurable rates of success in the real world, and everything else will be relatively simple.
Related Resources: