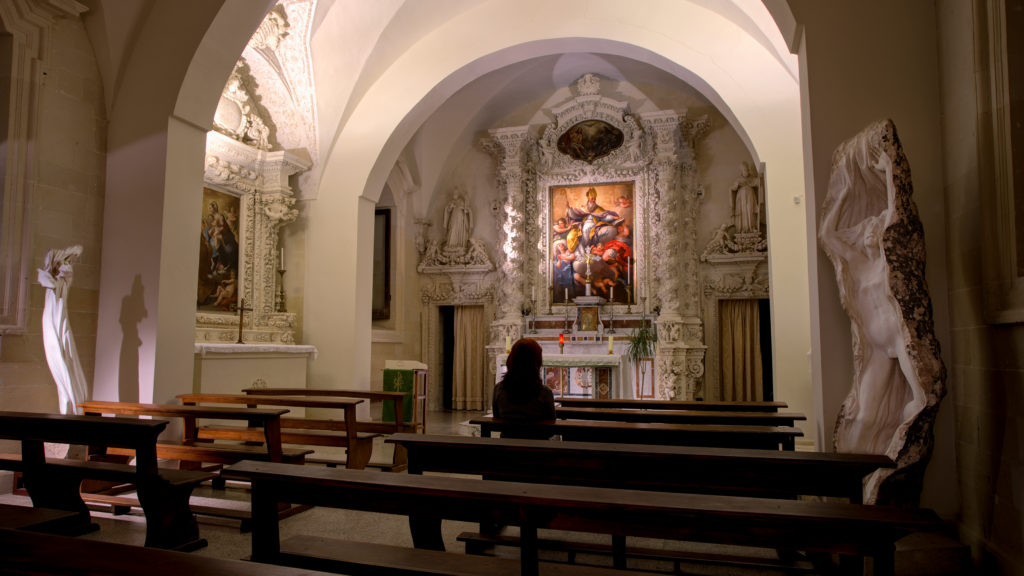 The length of time it takes to complete a degree at a seminary varies by the specific degree and institution, so if you're asking, "how long is seminary?", the answer is, "it depends."
Doctoral degrees take longer than master's degrees and a student carrying a full load of courses will finish faster than someone attending part-time. In the case of a divinity degree in which a student is preparing for the priesthood, there may be a period of placement in a parish after finishing coursework but before graduation. Students pursuing theology degrees may take courses first and then spend one or more years writing a dissertation.
Online and Flexible Degrees
Although the mainstay of seminary education is a traditional classroom experience, some seminaries offer online or low-residency degrees designed for people who are balancing their studies with full-time careers. Many of these programs are hybrid. They involve working online for most of the year but may also include on-campus residency periods. Even traditional seminary programs may allow students to study part-time by taking only one or two classes a term. Although one might complete an online or flexible master's degree in one or two years, someone studying part-time might take three or four years to finish. Online theology master's programs offer flexibility yet follow the same curricula as brick and mortar programs.
Credit Hours
Program requirements and individual courses in North American institutions are usually described in terms of credit hours. A three-credit-hour course normally requires three "contact" or classroom hours. The concept of a credit hour assumes that one spends three hours studying and doing homework for every contact hour in the classroom. This means that a three-credit course requires a time investment of 12 hours per week over a 16-week semester. A course load of four courses per semester is considered a full-time course load in most programs. Some programs will allow students to take five courses in a single term as an "overload." Many programs will permit students to enroll in part-time and take fewer courses per semester over a longer period.
Master of Arts and Masters of Theology Degrees
Many seminaries offer MA degrees that require between 30 and 60 credit hours. These credit hours can include regular courses, independent studies, and thesis supervision hours. Most MA degrees are designed to be completed over one or two years of full-time study. However, students who are studying part-time or in summer programs may arrange to take a reduced course load over a longer period to accommodate their careers or other responsibilities. Master's in Theology degrees usually require fewer credit hours than MA degrees but tend to require a stronger academic background in theology for admissions.
Doctoral Degrees
Seminaries offer doctoral as well as masters degrees. Two of the most common degrees offered are the Doctor of Ministry and Doctor of Philosophy degree. A doctoral degree normally requires 30 to 60 credits beyond a masters degree. This usually means two or three years of coursework followed by exams and a dissertation. Completing a dissertation may take from one to three years.
Benefits of Attending a Seminary
Wondering how long is seminary and whether it's worth it? Seminary programs are long academic journeys that last at least two to four years. Seminaries also require in-depth spiritual reflection and personal commitment to God. Enrolling at a seminary is beneficial for post-grads who are definitive in their vocational calling to serve religious congregations. Seminaries fulfill the Biblical qualifications needed to become a clergy member in most Christian, Jewish, and Muslim denominations. For example, the Catholic Church requires male students to complete at least a Master of Divinity to become ordained priests. Pastors, ministers, rabbis, imams, and nuns aren't the only ones who go to seminary. Seminary degrees unlock careers for theologians, pastoral counselors, Biblical historians, church planters, and religion teachers. The Bureau of Labor Statistics reports an average clergy salary of $55,190.
Standard Admission Criteria at Seminaries
What requirements must students fulfill to enter a seminary? Admission criteria vary by seminary and program type. However, all seminaries require 120 or more semester credits for bachelor's preparation. Baccalaureates from regionally accredited U.S. colleges and equivalent foreign institutions are always needed. Doctoral programs may require a previous graduate degree, such as the Master of Divinity. Prerequisite courses in Biblical and theology courses are usually listed. Seminary entrants may need to be fluent in English plus one other Biblical language like Hebrew or Greek. Most seminary programs seek strong academic merit with a 2.50 or higher GPA minimum. Many seminaries request post-grads to take the Graduate Record Exam. Combined GRE verbal and quantitative scores above 300 are typically sought. Seminaries also recruit men and women who demonstrate faithful, moral character. Recommendations from church, mosque, or synagogue leaders are often mandatory for seminary admission.
Tips for Finding an Accredited Seminary
How long is seminary ranges based on the rigor and quality of the curriculum. What do excellent seminaries have in common? They're accredited. Accreditation is a voluntary review process conducted by a third-party organization. Accreditation shows that seminaries have gold standard teaching methods to train religious workers. Unaccredited seminaries may have questionable practices or be scams. Most U.S. and Canadian seminaries are accredited by the Association of Theological Schools (ATS). Located in Philadelphia, this agency has 274 member seminaries who represent all Christian denominations from Protestant to Orthodox. The Association for Biblical Higher Education (ABHE) is another accreditor in Orlando that has 150 approved seminary members from Alaska to Florida. The Transnational Association of Christian Colleges and Schools (TRACS) is a Virginia-based nonprofit that accredits 85 members, such as the Virginia Beach Theological Seminary and Lutheran Brethren Seminary. Online seminaries could be nationally accredited by the Distance Education Accrediting Commission (DEAC) instead.
Financial Aid Available to Seminary Students
How long is seminary tuition and fees going to last? Seminary students need to budget for 24 or more months of seminary expenses. Fortunately, seminaries offer many forms of financial aid besides loans to cover costs. Scholarships, grants, and fellowships provide free money to reduce seminary degree prices. Funded for $2.6 million, the Evangelical Lutheran Church in America (ELCA) has a February 14th deadline to apply for the Leaders Full-Tuition Scholarship. The Presbyterian Church U.S.A. offers 120 Presbyterian Study Grants worth up to $5,000 each for full-time Master of Divinity majors at qualifying seminaries. The Knights of Columbus awards several $2,500 Seminarian Scholarships to men pursuing the priesthood with ecclesiastical approval. Hillel International delivers the $2,500 Hilda Specter Morgenstern Merit Scholarship to Jewish seminary studies who study abroad in Israel and maintain GPAs over 3.5. The Islamic Scholarship Fund also presents $2,000 to $10,000 for Muslim post-grads with minimum 3.0 GPAs and social justice career aspirations.
Related Resource: 30 Best Theological Seminaries in the United States
Degree completion times vary with the degree being sought and the number of courses taken each term. Students can choose a seminary program that fits their own needs and schedules, progressing quickly in a full-time program or more slowly in a part-time one. "How long is seminary?" is a question whose answer can be discovered with a little research and planning.