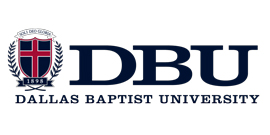 Dallas Baptist University Degree Programs
Dallas Baptist University appears in our ranking of the Top 50 Online Christian Colleges for Future Missionaries.
All of the programs offered at Dallas Baptist University provide on-campus students with more than just an education. DBU has over 50 student organizations, seven local sororities, and four fraternities. The Student Government Association was established in 1958 and between their activities and the culture at Dallas Baptist University, students are all but guaranteed to get a great experience of diversity and make new friends, while getting prepared not only for a new career but even more so a new life.
Between the College of Business, the Mary Crowley College of Christian Faith, the Dorothy Bush College of Education, the College of Fine Arts, the College of Humanities & Social Sciences, the College of Natural Sciences & Mathematics, the College of Professional Studies, the Gary Cook School of Leadership, and the Graduate School of Ministry, Dallas Baptist University offers nearly 80 undergraduate degrees, 31 Master's degree programs, and two doctoral level programs. More than 75 degree programs are available entirely online, including their online Master's of Health Care Management, their Master's of Arts in Family Ministry, their MBA, their BS in Psychology, and they even offer 2 year degrees entirely online for students interested in earning a associate's degree before tackling their Bachelor's or Master's.
At its 292 acre campus, students have access to special programs such as their Applied linguistics program offered in conjunction with the Graduate Institute of Applied Linguistics. Students also have access to Bachelors degree programs in competitive fields such as a BBS in Management, a Bachelor of Arts in Early Childhood Education, and a BBA in Accounting, along with a host of other bachelor's degrees, associates degrees, graduate degrees, and undergraduate and graduate certificates.
Focused on Christ-centered higher learning and intent on producing graduating classes that go out and change the world through the skills and knowledge gained at Dallas Baptist University, this school is a shining example of a university with a moral compass and has been ranked as the best educator of elementary school teachers in the nation by the National Council on Teacher Quality. Students graduating from Dallas Baptist University have a 70% acceptance rate into medical school. Regardless of a student's careers goals, they're sure to find a program at Dallas Baptist to help them reach for their dreams.
About Dallas Baptist University
Twelve miles southwest of downtown Dallas, Dallas Baptist University is a stone's throw from literally thousands of job opportunities for graduates and internship opportunities for current students.
The predecessor of Dallas Baptist University, Decatur Baptist College, was established in 1898. It was the first two-year college to be established in Texas. The school flourished in Decatur until 1965, at which point it was invited by the Dallas Baptist Association to move to Dallas and become Dallas Baptist University. Dallas Baptist University's first class in Dallas was made up of over 900 students. DBU offered its first bachelor degree programs in 1970, and by 1985, the college submitted the paperwork for an official name change to legally become Dallas Baptist University.
The school had a student body of 5,445 students by fall of 2014, and today offers 70 undergraduate majors, 26 master's degree programs, and two doctoral degree programs. Over 1,700 students live on campus at Dallas Baptist University. New campus buildings to accommodate the student body include the Henry Blackaby Hall, Moon International Center, the Ebby Halliday Center, the Tom and Alicia Landry Welcome Center, and the William B. Dean Learning Center. New residential buildings include the Colonial Village Apartment Complex, Spence Hall, and the Williamsburg Village Townhomes and Brownstones.
Dallas Baptist University Accreditation
Dallas Baptist University is accredited by the Southern Association of Colleges and Schools Commission on Colleges to offer Bachelor, Master, and Doctoral level degree programs.
Dallas Baptist University Application Requirements
Freshman at Dallas Baptist University had an average 3.5 GPA on the 4.0 scale on their high school transcripts, which means that most students who ultimately attend were B students in high school. Unfortunately, that doesn't mean Dallas Baptist University is an easier school to get admitted into. Typically, the university requires freshman applicants to be in the top thirty-nine percent of SAT scores. The school accepts SAT scores as low as 1110 on a 1600 scale. Some students may be accepted with SAT's as low as 1035 depending on high school transcripts and letters of recommendation.
The university does have a program called Academics in Motion (AIM) for students who may not be able to be admitted based on current standardized test scores. Students will be required to take the ACT exam prior to registration. Students in the program can not register for more than sixteen hours during their first semester.
Dallas Baptist University Tuition and Financial Aid
Currently, the cost of attending Dallas Baptist University is $24,890 per year for undergraduate students. There are a number of scholarship programs offered at the university to help students pay for their education, including the Christian Leadership Scholarship, the Academic Excellence Scholarship, the Academic Excellence/Phi Theta Kappa Scholarship, the Acteen Scholarship, the AWANA Scholarship, the Baptist Minister's Dependent Scholarship, the Challengers Scholarship, the Transfer Commuter Scholarship, the Air Force ROTC Scholarship, the Charles Lee and Patsy Williamson Scholarship Fund, and dozens more. For more information on specific scholarship opportunities, click here
Prospective students should contact the Office of Undergraduate Admissions for complete information on scholarships and other forms of financial aid.
Today, DBU has a variety of degrees on the undergraduate, master's, and doctoral levels. The university's mission is to produce "servant leaders" who can transform the world. Another primary mission of Dallas Baptist University is to deliver Christ-centered higher learning in the sciences, the arts, and professional studies at both the undergraduate and graduate levels.
Related Resources: