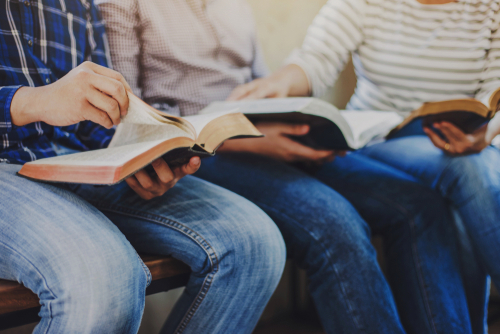 A theology degree is a strong beginning for combining your faith with your career. That's especially true if you work part-time or intern while completing your theology studies. Your work experience will help you find a job, complete your degree and boost your long-term earning power. Not all universities require theology students to complete internships, but you should think twice before skipping over this powerful option for enhancing your career.
Resource: The 30 Best Online Christian Colleges in the U.S. 2015
Will I Have to Do an Internship to Earn a Religious Degree?
Degree requirements vary by school. Typically, undergraduate degrees in religion or theological studies are less likely to require external learning experience. Graduate programs like a M.A. in Religious Studies or a ThM degree usually want students to complete a research project, write a thesis or gain extensive supervised work experience. Online programs that accommodate working students typically will not make you intern in order to graduate because they understand that you have work and family obligations. If they do insist that you complete a practicum, they will be able to connect you to flexible employers who can work around your current schedule.
Will an Internship Help My Career Prospects?
When you're looking for your first job at a church or religious institution, it can be hard to stand out without experience. Working as an intern through your university is a great way to get entry-level training and boost your resume. You may have to take out additional loans to support yourself while interning, but you'll be earning a great return on your investment. Part-time work experiences are also a good idea for testing out a career path. A semester spent coordinating the Youth Ministry section at your local church may teach you that you don't enjoy working with teenagers and help you head in a different direction.
Where Should I Look for Religious Internships?
Your town is filled with opportunities for interning if you know where to find them. Start with your university and ask where previous interns have worked. If you attend religious services, connect with leaders at your institution and ask for their advice. Think about your long-term interests and look for related opportunities; if you want to work as a hospital chaplain, try to intern at a local health care facility. Human services organizations always need helping hands, and a few months working with one lets you try the waters for a career in religious social work or direct ministry.
How Many Internships Can I Complete?
As a student, you can work as an intern as much as you would like. Many programs will allow you to receive college credit for two or three internships during your career. You'll have to pay standard tuition and complete reflective exercises to continue applying your intern hours towards your degree. Talk to your advisor to see how repeated internships can fit into your degree plan.
You can stick to internships at faith-based organizations or branch out into the government or non-profit sector. No matter where you choose to start building experience, you're doing your future self a favor by starting on your career before you even graduate.
Related Resources: