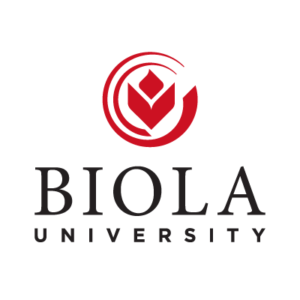 Top-Tier Biola Degrees in La Mirada and Online
Biola University appears in our ranking of the Top 50 Online Christian Colleges for Future Missionaries.
Following a 4-1-4 calendar, Biola University boasts 86 percent retention in 60 bachelor's, 33 master's, and six doctoral programs across nine schools for Christian liberal arts education at a 15:1 student-professor ratio. For example, the B.M. in Music Composition delivers a 139-credit, NASM-accredited Conservatory curriculum near Los Angeles with a $5,000 Annual Competition. Chaired by Dr. Kevin Pittle, the 120-credit B.A. in Archaeology offers hands-on excavation experience in the Cook School's famed Columbian Mammoth Site. On Biola LEARN, the M.A. in Early Childhood Teaching utilizes a 30-credit, 18-month sequence to satisfy California's Child Development Teacher Permit online. Since 1980, the Rosemead School has awarded the Ph.D. in Clinical Psychology for 133 credits like Cognitive Assessment and dissertations in the Institute for Research on Psychology & Spirituality. Other Biola opportunities include the B.S. in Engineering Physics, B.S. in Design, B.S. in Kinesiology, M.A. in Bible Exposition, M.S. in Speech-Language Pathology, M.A. in Linguistics, Ph.D. in Intercultural Education, and D.Min. in Ministry.
About Biola University
Biola University originated in 1908 when Presbyterian preacher Rev. Thomas C. Horton and Union Oil executive Lyman Stewart teamed up to begin the Bible Institute of Los Angeles. Five years later, Dean R.A. Torrey welcomed its first coed class to a temporary Sixth Street building. During Dr. Louis Talbot's 1930s tenure, it moved from the Moody Bible Institute's two-year model to four. In 1949, the name Biola College was adopted to signify broader bachelor's study. Dr. Samuel H. Sutherland pioneered its Talbot Theological Seminary in 1952. Accredited in 1959, Biola relocated to its present 75-acre La Mirada campus in the Gateway Cities that year. Given university status on July 1, 1981, Biola expanded by adding the Charles L. Feinberg Center for Messianic Jewish Studies 2,792 miles away in Manhattan in 2007. Endowed for $114 million, Biola University now employs 536 faculty teaching 6,172 Eagles from 60 countries online and on-site with 70+ clubs like Film Music Guild.
The U.S. News & World Report ranked Biola the 157th best national university, 237th top high school counselor pick, and 224th best online graduate education school. On Niche, Biola has America's 23rd best religious studies, 43rd top film major, 53rd best housing, and 68th top campus location. Times Higher Education placed Biola University within the best 501-600 overall. Forbes picked Biola 307th with the 147th most impactful research. Money magazine declared Biola the 471st best value. PayScale recorded the 477th biggest mid-career mean wage of $92,000 for Biola University graduates. WalletHub noticed Biola for the country's 224th safest environment, 75th best campus experience, and 174th top education outcomes. The Social Mobility Index positioned Biola 349th for economic opportunity. Washington Monthly proclaimed Biola University the 256th best institution with the 119th most PhDs.
Biola University Accreditation Details
On July 8, 2016, the Western Association of Schools and Colleges (WASC) Senior College and University Commission formally announced that Biola University exceeded quality standards for renewing Level VI accreditation through Spring 2026 under its eighth president, Dr. Barry H. Corey, who received the Evangel Distinguished Alumnus Award. Located 386 miles north via Interstate 5 in Alameda, this two-state Pacific Region accreditor is recognized by the U.S. Education Department and California Bureau for Private Postsecondary Education (BPPE). The Office of the Provost also lists the following discipline-specific accreditations:
 American Psychological Association (APA)
 National Association of Schools of Art and Design (NASAD)
 Accreditation Council for Business Schools and Programs (ACBSP)
 Association of Christian Schools International (ACSI)
 Commission on Collegiate Nursing Education (CCNE)
 Association of Theological Schools (ATS)
 National Association of Schools of Music (NASM)
Biola University Application Requirements
Getting into Biola University is classified "moderately difficult" by Peterson's because 2,706 of the 3,926 Fall 2017 applicants were triumphant for just 69 percent acceptance. First-year Eagles must finish a state-approved high school curriculum or an equivalent GED. The B.S. in Nursing requires at least one Chemistry and one Algebra unit. Freshmen B.S. in Biological Sciences majors must have passed Chemistry and Physics. Meeting a 3.0 unweighted GPA minimum is mandated, but the average is 3.54. Undergrads under age 21 present 1000 SAT and 19 ACT composite scores or higher. International students could submit a 70 TOEFL iBT score instead. Attesting to evangelical Christian beliefs is also necessary. Biola Bound transfers need at least 15 semester or 22.5 quarter units at GPAs above 2.50. The Graduate School generally seeks overall 3.0 GPAs in accredited bachelor's programs and 290+ GRE scores. The M.S. in Speech-Language Pathology has prerequisites like Statistics and Developmental Psychology. M.A. in Education options need California SB2042 Preliminary Credentials too.
Biola University has set freshmen deadlines of November 15th for Early Action 1 and January 15th for Early Action 2. The Regular Decision period runs until March 1st for Fall or November 15th for Spring. The Graduate School has wide-ranging admission dates though. For instance, Master of Professional Accountancy cohorts apply until June 1st, November 1st, and April 1st while the Ph.D. in Educational Studies enforces a January 31st cutoff yearly. Check program specifics before submitting the $45 ($65 if graduate) Biola Application online. Institutions mail official transcripts to 13800 Biola Avenue in La Mirada, CA 90639. Institutional codes 4017 (SAT/TOEFL) and 0172 (ACT) send test results. Other documents include the Christian faith testimony, vocational objective essay, two recommendation forms, résumé, and research proposal. Learn more by contacting (562) 903-6000 or admissions@biola.edu.
Tuition and Financial Aid
For 2019-20, Biola University will charge full-time undergrads $20,988 per semester or $41,976 annually. Studying part-time incurs $1,749 per credit. Summer Session courses are $675 per credit. Online bachelor's like the B.S. in Biblical Ministries cost less at $575 per credit. Health insurance adds $1,097 per term. Living at the La Mirada campus' dorms like Alpha East Hall costs $5,170 to $6,834 yearly. Flex meal plans for Blackstone Cafe are $5,214 extra. Annual bachelor's attendance equals around $54,516 on-site and $43,544 at home. The Graduate School generally bills $621 per credit, but program amounts vary. The M.M. in Nonprofit Organizations costs $996 per credit. Clinical Psy.D. cohorts pay $28,344 each year. The Doctor of Ministry features the lowest tuition at $441 per credit.
According to the NCES College Navigator, the Office of Financial Aid in Middle Metzger East helps 99 percent of Biola Eagles soar with median assistance of $19,020 for $76.42 million total. University funds include the William Blackstone Scholarship, Anna Horton Scholarship, Lyman Stewart Scholarship, Founder's Grant, President's Scholarship, Alumni Dependent Scholarship, Church Matching Scholarship, LEAD Scholarship, Ahmanson Veterans Scholarship, and Missionary Scholarship. The FirstGen Scholars Program gifts $2,500 yearly to freshmen whose parents never earned bachelor's degrees. Biola University matches the $1,000 TELACU Scholarship with $2,000 more for low-income learners meeting 2.5 GPAs. Federal Pell Grant, Work-Study, and Ford Direct Loan money is obtained via FAFSA forms coded 001122. The School of Education suggests the $4,000 TEACH Grant for undergrad or post-baccalaureate study. Graduate teaching assistantships provide an average salary of $21,000. The California Student Aid Commission also doles out Cal Grants A/B for up to $9,084.
Search through accredited, hybrid Christ-centered degrees on the Biola University website.
Related Resources: