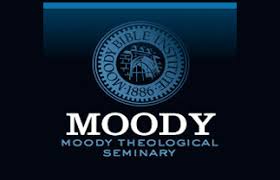 Moody Theological Seminary and Graduate School Programs
Moody Theological Seminary and Graduate School appears in our ranking of the 30 Best Theological Seminaries in the United States.
The purpose of Moody Theological Seminary and Graduate School is to train future members of the ministry who intend to work in churches and parachurch organizations. Students can pursue undergraduate degrees and graduate degrees on the seminary's Chicago campus or the Michigan campus, as well as via online study for some programs.
Most of the programs at Moody Theological Seminary and Graduate School are influenced by or directly related to Christianity. Still, there are also some programs that may offer a student opportunities to work outside the church. Some of the Bachelor of Arts programs include applied linguistics, elementary education, and music. For theological programs, the school offers degrees in theology, pastoral ministry, Jewish studies, and biblical languages.
Graduate students can study in Chicago or Michigan and may choose from a Master of Divinity, a Master of Arts in Ministry Leadership, a Master of Arts in Teaching English as a Second Language, and a Master of Arts in Biblical Spiritual Formation and Discipleship. The seminary also has some options for graduate certificates in areas that match those offered as complete graduate degrees.
The seminary also has an option for high school students to earn college credits through its Moody Pre-College program. Students may qualify if they're a junior in high school and have a cumulative GPA of at least 2.0 on a 4.0 scale. Prospective students must also be an active participant at an evangelical Christian church.
Students with interest in online study may choose from the Associate of Biblical Studies, the integrated ministry studies program, or the Bachelor of Science in Biblical Studies, as well as a handful of other programs. Students can also enroll in graduate programs like the program in global ministry design, the Master of Divinity, the Master of Arts in Biblical Studies, or the ministry studies program, which offers several emphases.
Areas of emphasis include missions, ministry entrepreneurship, biblical preaching, leadership, pastoral ministry, and interdisciplinary studies. Each concentration has a set number of required classes and also allows the student to choose six electives. Some of the classes include Pastoral Procedures & Practices, Theology and Practice of Intercultural Ministry, Principles of Management, and Advanced Homiletics.
About Moody Theological Seminary and Graduate School
Moody Theological Seminary and Graduate School was established in 1886 by a local evangelist who was asked by his local church members to open a theological school in Chicago, Illinois. The school would eventually open a graduate campus in Plymouth, Michigan, and would also operate a campus in Spokane, Washington, for a time. Approximately 3,400 students attend the seminary, and there are around 88 full-time academic staff members.
The school's official colors are blue and white, and students who play on sports teams are part of the National Christian College Athletic Association. Students play as the Archers. In addition to its programs in ministry and bible studies, the seminary also runs two media organizations known as Moody Publishers and Moody Radio. The publishing arm of the seminary has been active since 1926.
Moody Theological Seminary and Graduate School Accreditation Details
Moody Theological Seminary and Graduate School is regionally accredited by The Higher Learning Commission and first gained accreditation in 1989. Accreditation allows the seminary to provide financial aid to students when they submit an application through the federal government. In addition to regional accreditation, the seminary is also accredited by the Association for Biblical Higher Education.
The Higher Learning Commission is recognized by the U.S. Department of Education, and the Association for Biblical Higher Education is recognized by the Council for Higher Accreditation. The seminary's programs in areas like ministry and Christian education are accredited by the Commission on Accrediting of the Association of Theological Schools. The school's music programs are accredited by the National Association of Schools of Music.
Moody Theological Seminary and Graduate School Application Requirements
Applying for admission at Moody Theological Seminary and Graduate School requires submitting the online application, providing an autobiographical essay, sending two references, and submitting a non-refundable application fee. Students must also submit their SAT or ACT scores and their high school transcripts. Homeschooled students are welcome to apply and must submit a home school verification form.
Students who want to be admitted to Moody Theological Seminary and Graduate School as graduate students or study in a Moody Bible Institute Distance Learning program must submit all records from postsecondary work and a document with details of the student's personal ministry. Students must also submit character references and write a statement of purpose during the application process. Graduate students must possess a bachelor's degree from an accredited institution.
Tuition and Financial Aid
Students who live on campus will pay $4,500 for tuition for the semester, as well as an additional amount for housing. Off-campus students will pay $4,245 for their tuition. The rates assume that students will take nine credit hours each semester. Students who enroll in fewer than nine credits will pay $445 per credit hour. Other fees required include a campus network fee of $100, an insurance handling fee of $20, and a student activity fee of $20.
Students may also need to pay a parking fee of $175 per vehicle, a payment plan enrollment fee of $60, and a retreat free that may vary from $10 to $30. The validation exam fee is $100, and students who have a check returned will need to pay a late payment fee of $25. Overall costs for housing per semester vary from $3,585 to $6,325. Housing also requires a one-time security deposit of $250.
Students can qualify for federal student loans when they enroll in classes at Moody Theological Seminary and Graduate School and must submit a FAFSA form to receive federal assistance. Loans are administered through the Federal Direct Loan program and are available for students enrolled in at least six credits each semester. Some loans may be subsidized, which means they won't accrue interest until the student has graduated from college.
Students may qualify for scholarships or grants when they attend the institute, and one of the interesting options is the Timothy Scholarship. This option features a gift of one-third funding from Moody Theological Seminary and Graduate School, one-third funding from the student, and one-third funding from the student's home church.
Related Resources: