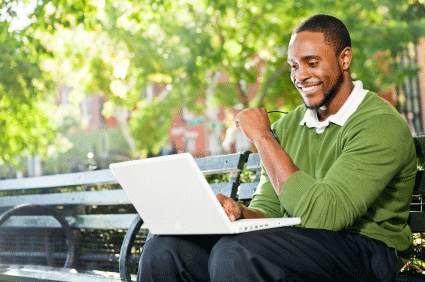 If you're a Christian and are thinking about getting a degree of some sort, you might be wondering about what is required to attend an online Christian college. Every college is different, but in general, you'll have to have a high school diploma or equivalent, have a computer that meets your school's technology requirements and be willing to learn material from a Christian perspective.
High School Diploma
According to the National Center for Education Statistics, the percentage of Americans who drop out of high school is declining; however, a substantial number of young adults still don't have a high school diploma. A diploma is usually required to attend an online Christian college, but other options are also available. For instance, a high school dropout can still get admitted to college if he or she studies for and passes a GED test. Depending on the school that you apply to, you may or may not be required to send in you SAT or ACT scores. Students who do the best in online Christian colleges have usually taken four years of English, three or four years of math, two to four years of Bible and three years each of science, social studies and foreign language. Many schools will admit students who haven't met these recommendations, though.
Technology Requirements
A computer that meets your school's standards is required to attend an online Christian college. If you don't have one, you may not be able to complete all of your schoolwork. A speedy Internet connection is helpful, but you may be able to get by without one if you have a public library nearby that offers free wi-fi. You should be able to find computer requirements on each college's website. If you need to upgrade your computer before classes start, but don't have enough money to go out and buy a laptop, you may be able to include the cost into your cost of attendance. By doing this, you can use grant, scholarship or loan funds to pay for your new computer.
Academics from a Christian Perspective
More than anything, a willingness to learn from a Christian perspective is required to attend an online Christian college. Some Christian schools teach almost the exact same things as secular schools and just require students to take a few Bible courses, but other colleges teach all of their classes from a religious viewpoint. For instance, some Christian colleges teach creationism in their biology classes. As long as you agree with your college's views, this shouldn't be a problem, but it will make for a very long four years if you have to study things that you don't agree with. To make sure that your college years are enjoyable, make sure that you pick a college that has beliefs that you can agree with. When you're deciding what school you want to attend, make sure to look at which denomination a college is affiliated with in addition to whether or not it's Christian.
Conclusion
Enrolling in an online Christian college is a great idea as long as you can find a school that feels like a good fit. If you have everything that's required to attend an online Christian school, you should have a pleasant college experience while preparing for your future career.
Related Resources: