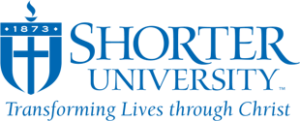 Flexible, Faith-Informed Liberal Arts Education at Shorter
Shorter University appears in our ranking of the Top 50 Online Christian Colleges for Future Missionaries.
Named the U.S. News & World Report's 27th best Southern school, Shorter University is a small nonprofit, Baptist CCCU member in Northwest Georgia that offers five associate, 53 bachelor's, and three master's degrees, including 14 fully online, at a 10:1 student-teacher ratio. For example, the Edith Lester Harbin Department has a 120-credit, NASM-accredited Bachelor of Music in Music Education headed by Dr. John Michael McCluskey where undergrads can perform in Callaway Theatre, join the Javanese Gamelan Ensemble, and teach in Rome City Schools. Advised by Dr. Kris Douglass, the Bachelor of Science in Nursing started a 61-credit, upper-division curriculum in 2009 for juniors to complete practicum like Redmond Regional Medical Center, serve abroad in Haiti, and pass the NCLEX-RN exam.
Online on Canvas, the Robert H. Ledbetter College of Business led by Dr. Heath Hooper grants a 31-credit, 12-month Master of Accountancy where aspiring CPAs take intensive 5000-level courses like Partnership Taxation and Data Analytics anytime before the capstone internship. Since Spring 2015, the Master of Business Administration has plotted 31-credit, SACS-accredited Christian concentrations in General, Healthcare, or Sport Management under Dr. Edwin Nyamwala online with optional Sigma Beta Delta membership for nearly 100 percent job placement.
Other Shorter degrees include the Associate of Science in Criminal Justice, Bachelor of Arts in History, Bachelor of Arts in Spanish, Bachelor of Science in Economics, Bachelor of Science in Ecology, and Master of Management.
About Shorter University
Shorter University originated in 1873 when Rev. Luther Rice Gwaltney opened the Cherokee Baptist Female College at Rome Baptist Church for all-female Christian preparatory schooling. In 1877, it became Shorter Female College after a large donation by Alfred Shorter and his wife Martha. In 1911, President Azor Van Hoose relocated Shorter from Shelton Hill to its current 155-acre location. Accredited in 1920, Shorter Female College soon built America's first indoor swimming pool for mandatory gym classes. In 1948, Shorter began admitting male students on a part-time basis. One decade later, President Randall Minor formed an alliance with the Georgia Baptist Convention. By 1990, Shorter had launched the School of Professional Programs for adults. On June 1, 2010, the Shorter University name was chosen by President Harold Newman. In 2014, Shorter joined the NCAA Division II Gulf South Conference.
Endowed for $14.1 million, Shorter University now employs 388 staff serving 1,652 undergrad and 165 post-grad Hawks from 19 countries online, on its 155-acre Appalachian campus in Rome, or at the North Atlanta Center with 55+ clubs like Order of Omega. In 2019, Shorter won the North Georgia People's Choice Award for Local College. In 2010, Shorter University accepted the prestigious NAIA Champions of Character Team Excellence Award. Shorter had the 2012 Association of Southeastern Biologists' Meritorious Teaching Award recipient too. The U.S. News & World Report featured Shorter among the top 348 online bachelor's schools. The Economist placed Shorter University 419th for most value-added education. On Niche, Shorter boasts America's 78th most conservative students, 419th best athletics, and 484th most diversity. College Factual positioned Shorter 24th among Baptist institutions.
Shorter University Accreditation Details
On June 13, 2019, the Southern Association of Colleges and Schools Commission on Colleges (SACSCOC) Board of Trustees placed Shorter University on warning but kept Level III accreditation valid through the 2021-22 review under President Donald Dowless, who received the Outstanding Young Men of America Award. Located 75 miles southeast via Route 101 in Decatur, this respected 11-state Deep South accreditor is recognized by the Council on Higher Education Accreditation (CHEA) and Georgia Department of Education (GaDOE). Further, the School of Nursing was reaffirmed by the Commission on Collegiate Nursing Education (CCNE) on October 12, 2016. The National Association of Schools of Music (NASM) has also accredited Shorter University since September 1, 1934.
Shorter University Application Requirements
Starting at Shorter University is classified "moderately difficult" by Peterson's because only 1,113 of the 1,820 Fall 2018 applicants were triumphant for selective 61 percent acceptance. First-year Hawks must verify completion of an approved high school or equivalency diploma. Cumulative secondary GPAs of 2.5 and higher are required. Freshmen with 24 or fewer college credits need a minimum of 900 SAT or 19 ACT composite score. The Honors Academy moves the benchmark to 28 ACT and 1400 SAT scores. Transfers are test-optional with GPAs above 2.0. International learners prove English ability with 5.0 IELTS, 61 TOEFL iBT, 450 SAT Reading, and better scores. Online master's entrants need accredited bachelor's degrees with 2.75 or higher GPAs. The Robert H. Ledbetter College of Business lets professionals with 5+ years of experience skip the 450 GMAT requirement. Master of Management entrants must have already worked at least three years full-time.
Shorter University conveniently has rolling admission with few deadlines to abide. The Shorter Scholars Program closes on February 8th each year. International students must apply before July 15th for Fall enrollment only. The Honors Academy suggests filing before March 15th. Accordingly, complete the Shorter Application online with $25 by credit or debit card. Forward official transcripts to 315 Shorter Avenue NW in Rome, GA 30165. Submit electronic testing results via ACT code 0860 or SAT/TOEFL code 5616. Attach supplemental materials, such as the personal essay, Christian faith statement, current resume, 2-3 recommendations, transfer credit evaluation, and portfolio. Contact (800) 868-6980 or admissions@shorter.edu with questions.
Tuition and Financial Aid
For 2018-19, Shorter University billed full-time undergrads $10,970 each semester or $21,940 annually. Associate or bachelor's students added the $90 activity fee and $95 technology fee each term. Traditional part-time study incurred $550 per credit. Overload credits above 18 were $325 apiece. Joint enrollment students paid $300 per credit. Residing at the Rome campus' dorms like Roberts Hall cost $2,450 to $2,850 each semester. Platinum 21-meal plans for Shorter Dining Hall were $2,200 extra. Annual undergrad attendance equaled about $31,770 on-site and $22,370 at home. Online associate/bachelor's courses were $360 per credit with a $25 technology fee. Graduate programs charged $515 per credit with a $25 tech fee per course. Full-time yearly graduate costs average $12,560.
According to the NCES College Navigator, the Financial Aid Office in Sheffield-Thompson Hall Room 119 connects 84 percent of full-time Shorter Hawks to tuition assistance averaging $13,455 each for $15.86 million combined. Institutional funds include the Robert & Hazel Eubanks Scholarship, Presidential Scholarship, Alfred Shorter/Provost Scholarship, Corinne Jordan Memorial Scholarship, Community Scholarship, Lettie Pate Whitehead Scholarship, Baptist Appreciation Scholarship, Goizueta Foundation Scholarship, Missionary Dependent Scholarship, Dream Forward Scholarship, Fine Arts Scholarship, and Athletic Scholarship. The Shorter Scholars Program covers full tuition for outstanding undergrads with a minimum 3.5 GPA and 1100 SAT score. The $4,000 Shorter Excellence Scholarship can help residents or commuters holding GPAs of 3.0-3.5. Federal resources, such as the Pell Grant and Educational Opportunity Grant, require FAFSA applications after January 1st. Georgians can claim the Zell Miller Scholarship, Student Access Loan, Hope Scholarship, Tuition Equalization Grant, Horatio Alger Scholarship, Public Safety Memorial Grant, and more.
Search through six Christ-centered colleges conferring 60+ accredited degrees ranked 212th nationally by Washington Monthly at the Shorter University website.
Related Resources: