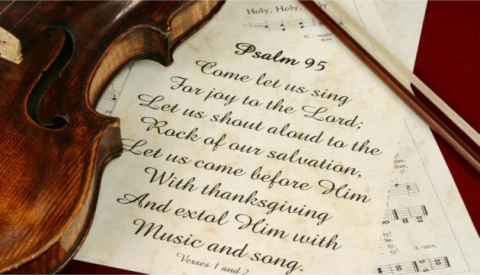 Looking for information on how to get a degree in Christian music ministry? Christian ministry is a specialized area of ministry that prepares you for leading groups of worshipers and working with parishioners. If you have an interest in both your faith and music, this might be a good fit for you. These programs are often available from private religious institutions, but you'll find a few public colleges offering similar programs.
Choose the Right College
Choosing the right college is the most important decision you'll ever make. The wrong college can leave you feeling like an outsider and missing your family and friends, while the right college will make the transition a little smoother. According to the Huffington Post, it is suggested that you visit each college for yourself, look at the opportunities available to you, examine the program and decide if it's a good fit for you. You should feel comfortable on the campus, see yourself living in one of the dorms and feel confident that you can attend classes there. Keep in mind that many private religious colleges have rules that you must follow, including who you can let in your dorm room and what type you need to be back in your room.
Take General Education Courses
To get a degree in Christian music ministry, you must meet the general education requirements of the programs. Schools often require that students take those courses before beginning courses in their majors. Communications courses show you how to work and talk with others, while English and history courses teach you how to research and write about various topics. Many schools also require that students take courses in math, life science, social science and humanities.
Complete the Music and Worship Program
The Bachelor of Arts in Ministry is a program offered by dozens of schools across the country, and a few schools also offer an Associate of Arts in Ministry. These programs let you select music as your minor or concentration. Other schools offer a Music and Worship degree that combines elements of both programs into a single degree program. To earn your degree, you must take a number of theology courses. Some of those courses include introduction to the old testament, introduction to the new testament, prophets and historical books. A bachelor degree program typically requires that students complete 120 credit hours or more of work.
Look for Other Opportunities
When looking at colleges that help you get a degree in Christian ministry, you want to look at programs that offer more than just traditional classes. The best programs are those that give you experience in the real world. You might spend some time as a peer counselor and work with other college students in the career center or health center, or you might work as a tutor and help younger students from nearby schools. Some programs also offer service learning programs that send students into poorer and rural areas to build homes and help underprivileged people.
Conclusion
Working as a minister lets you work with people every day of the week. Most pastors and those working in similar positions have at least an undergraduate degree. To get a degree in Christian music ministry, you need to choose the right program, apply for that program and take a combination of general education courses, music and ministry classes.
Related Resources: