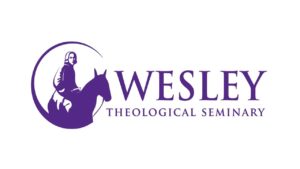 Studying at Wesley Theological Seminary
Wesley Theological Seminary appears in our ranking of the 30 Best Theological Seminaries in the United States.
Students may enroll in any one of six different academic degree programs when they attend Wesley Theological Seminary. Options include a Master of Divinity, a Master of Arts, a Master of Theological Studies, an M.T.S. Dual Degree in International Development, an M.T.S. Dual Degree in Peace and Conflict Resolution, and a Doctor of Ministry.
Students who choose the Master of Divinity degree should be interested in becoming ordained within any one of several major Christian denominations. Future pastors, chaplains, and ministers may benefit from the program. The degree requires a total of 81 credit hours in areas that include Biblical interpretation, congregational life, church history, preaching & worship, and many other topics. Students may take anywhere from three to seven years to finish the program, and the length usually depends on full-time or part-time enrollment.
The Master of Arts program at Wesley Theological Seminary is appropriate for a variety of students with goals that range from increasing knowledge of theological subjects to becoming members of the clergy. There are four paths available for specialization in the MA program that include faith & politics, faith & health, prison ministry, and multicultural ministry. The program usually takes students between three and four semesters to complete.
For the two dual-degree options, students take classes at Wesley Theological Seminary, as well as American University. Students can focus on international development or international peace and conflict resolution. Classes students will take in the dual-degree programs include Religion and Society, Systematic Theology, The Church in History, and Introduction to the New Testament.
In addition to the two dual-degree programs, students may also earn their Master of Theological Studies without a second degree. Those who pursue full-time enrollment can graduate in two years, and the seminary requires that students graduate within six years of entering the program. Students will write a final paper that features in-depth research in a discipline that interests the student. Students may be able to create an artistic project like a play or poem for their final paper.
Students who want to pursue their Doctor of Ministry will compete for one of twenty available spots in the program. The seminary allows students to begin classes in the winter or spring and encourages students to apply early. The program features 30 credit hours of theological coursework, and applicants must have a degree in an approved area of theology to qualify for entry. Students must earn a B- or better in all classes, or they may risk ejection from the doctoral program.
About Wesley Theological Seminary
Wesley Theological Seminary is affiliated with the United Methodist Church. Its campus is located in Washington, D.C. Founded in 1882, the seminary offers instruction within the Mainline Protestant view of Christianity and the Bible. The idea for the school was born in 1881 when local Methodist Protestant Church leaders met for their annual conference in Maryland.
In the 1930s, the school would become one of several theological schools operated by the newly organized Methodist Church, which was a new nationwide denomination. The seminary would remain under the guidance of the group throughout the church's eventual transformation into the modern-day United Methodist Church. The seminary's official colors are purple and white.
Wesley Theological Seminary Accreditation Details
The Commission on Accrediting of The Association of Theological Schools in the United States and Canada has accredited Wesley Theological Seminary as an institution of higher learning that meets published standards of academic and administrative excellence. The commission is recognized by the U.S. Department of Education for its role in providing institutional accreditation to academic institutions across the country.
As an institution affiliated with the United Methodist Church, Wesley Theological Seminary is also approved by the University Senate of The United Methodist Church's Board of Higher Education and Ministry. Further, the seminary is regionally accredited by the Middle States Commission on Higher Education of the Middle States Association of Colleges and Schools. Regional accreditation means students may participate in the federal loan program at Wesley Theological Seminary.
Wesley Theological Seminary Application Requirements
Entering the degree programs at Wesley Theological Seminary requires submission of official transcripts from all previously attended colleges and universities. Students may have their transcripts sent electronically or by traditional mail. Applicants should also send a personal statement, create a resume, and have former teachers or associates send recommendations. Doctoral students will need to submit multiple essays.
Meanwhile, Master of Divinity students must obtain four recommendations from their pastor or a member of the clergy, an administrator within the church, a professor or employer, and a layperson. The application includes a $60 fee, and students will need to create an online account with the seminary to submit their application materials.
Tuition and Financial Aid
The total cost of attendance for graduate programs at Wesley Theological Seminary is $34,406 for full-time students on campus, $38,016 for full-time students off-campus, and $32,720 for part-time students off-campus. Those figures include tuition of $662 per credit hour, fees of $628 per semester, and books & supplies of approximately $1,500. The figures also include the seminary's estimates for various housing on campus and off-campus.
For doctoral students, the seminary charges $4,040 for tuition and fees for students who enroll in six credits. The seminary charges $2,054 for tuition and fees for students who enroll in three credits. The school also estimates books will cost $150 per class. Students may also pay $1,000 for housing for each two-week session, as well as $250 for a meal plan for each two-week session.
Student financial aid is available to students who apply and meet various qualifications and may take the form of scholarships, grants, loans, or student employment. The seminary also offers military veterans the option to participate in the Yellow Ribbon Program or receive an Air Force Chaplaincy Scholarship. The seminary offers merit scholarships that range from one-third of the cost of tuition to full tuition coverage, and student applications are automatically examined for those scholarships.
Students may also submit the Wesley Financial Assistance Application if they'd like to qualify for need-based grants from the seminary or from the federal government. Students who want to receive a need-based grant from Wesley Theological Seminary should submit their application by the priority deadline of May 1.
Related Resources: