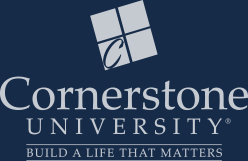 Evangelical Liberal Arts Education at Cornerstone
Cornerstone University appears in our ranking of the Top 50 Online Christian Colleges for Future Missionaries.
Ranked the U.S. News & World Report's 106th best Midwest college, Cornerstone University maintains a 15:1 student-professor ratio to build five associate, 64 bachelor's, and 26 graduate majors, including 23 online programs, atop a Bible core. For example, the 48-credit B.S. in Ministry Leadership uniquely offers an accelerated 2+2 online format of 20 months on Moodle plus an optional Israel Study Tour for transfers. Chaired by Dr. Desiree Duff, the B.A. in Audio Production follows a 120-credit, four-year Grand Rapids curriculum with a 15-week internship, such as Fenton Records, Sound Post Recording, and Sovereign Grace Music. The Bachelor of Social Work developed a 120-credit, CSWE-accredited plan with an optional Child Welfare Certificate and Project Life membership for 96 percent job placement like Bethany Christian Services.
In Kalamazoo or online, the M.B.A. in Finance grants a 38-credit, data-oriented master's with quick eight-week courses, including Social Responsibility, and access to the International Business Institute.
Other Cornerstone degrees are the A.S. in Nursing, B.S. in Environmental Biology, B.S. in Missions Aviation, B.A. in Learning Disabilities Education, B.A. in Worship Arts, B.A. in Publishing, M.A. in Counseling, M.A. in Educational Technology, Master of Theology, and Ed.D. in Organizational Development.
About Cornerstone University
Cornerstone University originated on January 7, 1941, when Wealthy Street Baptist Church started college-level Bible courses for an inaugural coed class of 211 paying just $2. In 1955, the Baptist Bible Institute started admitting only graduates with first bachelor's degrees. However, the Michigan Legislature approved the Institute in 1963 for a Bachelor of Religious Education. The next year, the AABC relocated to a 132-acre campus adjacent to Frederik Meijer Gardens. By 1972, it was regionally accredited as Grand Rapids Baptist College. Two decades later, it was renamed again the Grand Rapids School of Bible & Music. In 1993, the Professional & Graduate Studies Division began to empower Christian adults. The Cornerstone University title was finally adopted on July 1, 1999. Dedicated to 1 Peter 4:10, Cornerstone recently started a Ron Blue Center in 2019 for financial planning courses too. Endowed for $56 million, CU now serves 2,361 Golden Eagles from 20 countries online and on-site with 20+ clubs like Mu Kappa. On Niche, Cornerstone boasts America's 21st safest campus, 83rd best religious studies, and 218th top business degrees. The SR Education Group also ranked the "Military Friendly" school seventh for online undergrad programs.
Cornerstone University Accreditation Details
On February 21, 2012, the Higher Learning Commission of the North Central Association (HLC-NCA) Institutional Actions Council voted to reaffirm the Level V accreditation at Cornerstone University via the PEAQ Pathway through 2022 under its 11th president, Dr. Joseph Stowell, a Harvest Bible Chapel preacher. Located 181 miles southwest via Interstate 196 in Chicago, this mega 19-state Upper Midwest Region accreditor is recognized by the U.S. Secretary of Education and Michigan Department of Higher Education. The Educational Effectiveness Office also lists the following special accreditations:
Council on Social Work Education
Association of Theological Schools
National Association of Schools of Music
Christian Adult Higher Education Association
Cornerstone University Application Requirements
Starting at Cornerstone University is classified "moderately difficult" by Peterson's because 1,844 of the 2,737 Fall 2017 applicants were triumphant for selective 67 percent acceptance. First-year Golden Eagles must exhibit high academic ability and Christian values during high school. Eight semesters of English and six semesters of Math are absolutely mandated. The GED equivalency exam needs 145 scores on four sections. Freshman GPAs must be at least 2.5, but the average is 3.49. Minimum 19 ACT, 1000 SAT, and 64 Classic Learning Test marks are requested. Undergrad transfers must exceed 2.0 GPAs in accredited 100- or 200-level courses graded "C-." Second-language English speakers are welcome with a 550 TOEFL PBT or 6.50 IELTS score. The Professional & Graduate Studies Division seeks 120+ credits of regionally accredited bachelor's study at cumulative GPAs over 2.5. Master of Divinity students need 3.0 GPAs for the Pirsig Fellowship. The MA in Counseling requires clean background checks to ensure Michigan LLPC licensing. Online Doctor of Education entrants need five years of experience after a master's.
Cornerstone University has traditional undergrad deadlines of January 15th for Spring and August 15th for Fall terms. Graduate programs generally have December 1st and August 1st deadlines respectively. Yet, the Grand Rapids Theological Seminary has a March 1st cutoff for M.Div. candidates. The Ed.D. in Organizational Leadership & Development also closes on March 11th. Accordingly, complete the free Undergraduate or $25 Adult & Graduate Application online. Registrars send official transcripts via Parchment or to 1001 East Beltline Avenue NE in Grand Rapids, MI 49525. Test submissions require SAT code 1253 or ACT code 2002. Additional materials include the 500-word intent statement, 2-3 professional references, immigration documents, résumé, and declaration of finances form. Learn more by contacting (800) 787-9778 or info@cornerstone.edu.
Tuition and Financial Aid
For 2018-19, Cornerstone University decreased residential undergraduate tuition from $27,520 to $24,500 annually. Excessive credits over 19 cost $700 each. Living at the Grand Rapids campus' dorms like Keithley Hall adds $9,630 for standard room and board. CU budgets $800 for texts, $800 for personal supplies, and $1,300 for transportation. Annual bachelor's attendance around $40,542 on-site and $31,512 with parents. The Professional & Graduate Studies Division bills online Associate of Science tuition of $355 per credit. Online B.S. degrees cost $450 per credit or $1,540 each course. The Educational Resources fee adds $125 per course. Master's tuition is generally $515 per credit, except for the Online M.B.A. at $565 per credit. Doctor of Education cohorts online pay $665 per credit or $39,900 total.
According to the NCES College Navigator, the Financial Aid Office in Administration Hall connects 86 percent of CU Golden Eagles to average assistance of $12,670 for $20.14 million overall. University funds include the Esther Gilbertson Scholarship, Lukas Squires Memorial Scholarship, Lawrence Bos Scholarship, Stewart-Woodward Scholarship, Edward Powell Family Scholarship, Dr. Raymond Bartholomew Scholarship, Gloria Baker Scholarship, Meryl Welch Arts Scholarship, Howard & Mary Simms Memorial Scholarship, and Catherine Ross Wirtz Elementary Education Scholarship. The Chancellor's Scholarship gifts $3,500 each year to transfers with 24+ credits. Based on ACT/SAT scores, the President's Scholarship offers freshmen up to $11,000 annually. The Kingdom Scholars Program has a December 15th deadline for Christ-honoring students with minimum 3.0 GPAs. Federal resources like the Pell Grant, SEOG Grant, Work-Study Program, and Stafford Loan open with FAFSA forms coded 002266. Military members submit DD214 and VA Authorization forms for GI Bill benefits. Michigan residents also pursue the Tuition Grant, Competitive Scholarship, Gear Up Scholarship, Rosa Parks Scholarship, Sault Tribe Scholarship, and more.
Search through 95 flexible, faith-informed degrees across nine divisions at the Cornerstone University website.
Related Resources: