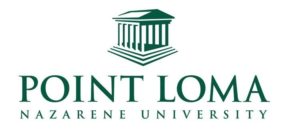 Degrees Available at Point Loma Nazarene University
Point Loma Nazarene University appears in our ranking of the Top 50 Online Christian Colleges for Future Missionaries.
Point Loma Nazarene University offers more than 60 majors for undergraduates, including some pre-professional programs for those who plan to attend graduate school or other colleges to further their studies. Most of these programs include both practical training and off-campus work. In the pre-veterinary program, students can work with animals as they do internships with veterinary hospitals and other facilities. Pre-occupational therapy and pre-medical majors will also have the chance to work with clients in medical and health care facilities. Other pre-professional programs focus on law, pharmacy, physical therapy and other areas of medicine.
The university offers other majors and degree programs for students too such as a major in film and cinema studies. Though some classes do allow students to watch movies and write papers on what they thought, they also learn the fundamentals of making films, including how to write and edit a script and find funding for their film projects. The university's broadcast journalism program includes some writing courses too, which help students create short pieces that they or others will read on television and the web. Among the more popular majors for undergrads at Point Loma Nazarene University include Christian studies, child development, sustainability studies, social work, software accounting, music performance, music and ministry, and exercise and sport science.
Fifteen degree programs are available for grad students attending the university too. Many of these programs help students to become licensed counselors in California. There is a counseling and guidance program designed for those who want to work with high school students and a clinical counseling program for those who want to help patients with mental disorders. Both programs include practicum work and ask that students do internships to meet the minimum amount of fieldwork required to get a state license. Point Loma Nazarene University also allows graduate students to major in Christian ministry, athletic training, kinesiology, organizational leadership, business administration, and special education.
About Point Loma Nazarene University
Also known as PLNU, Point Loma Nazarene University is a private university in San Diego, California. Founded in 1902 as the Pacific Bible College, it went through multiple name changes as it went from a Bible college to a full university. The affiliation that the university originally had with the Church of the Nazarene remains today, though students can apply if they do not belong to that faith. The PLNU campus is one of the most beautiful in the state and overlooks Point Loma and the Pacific Ocean. That campus was once home to a commune called Lomaland by locals, though few details relating to the commune still remain. PLMU has an enrollment of more than 2,300 undergrads and 1,100 graduate and doctoral students.
Point Loma Nazarene University Accreditation Details
PLNU has the accreditation that allows incoming students to transfer to the university and all students to apply for financial aid. That is the regional accreditation granted to the university by the Western Association of Schools and Colleges (WASC) and the commission of that organization dedicated to senior or full colleges. The programs available at Point Loma Nazarene that also have accreditation include those in dietetics, music, nursing, and education.
Point Loma Nazarene University Application Requirements
The first deadline for undergraduate applications is November 15, which is the early action deadline that allows students to get a decision before Christmas and usually by the middle of December. There is a general admissions deadline of February 15 that lets students get a response by the end of March. Students need to use the PLNU application to apply, which also allows them to apply for the university's scholarships and other financial aid. There is a $55 application fee and a section for students to upload their references' contact information. PLNU asks for both a spiritual and an academic reference. Official transcripts and test scores are also required of all incoming freshmen. Prospective students have the option of doing an interview with PLNU representatives too.
When applying to a PLNU graduate program, students need to take note of the start date because that will give them an idea of which deadline they need to meet. Most programs have a final deadline of August 9 for those who want to start in the fall and December 13 for those starting in the spring. Students need to pay an application fee of $50 unless they are alumni of the university, work for PLNU or are in the military or a military veteran. The university also waives the application fee for the children of those in the military and retired veterans.
Students will need to write a personal essay of up to five pages and submit a resume, three professional references who will write their letters of recommendation and a college transcript. This transcript should show that the applicant took all of the program's prerequisites. Some programs will ask students to take certain assessments and/or go through an interview too.
Tuition and Financial Aid
The average cost for graduate students attending PLNU is $11,796 per year. Many of those students sign up for a payment plan. Once they get the university's approval, they can make small payments each semester and pay off their costs. Graduate students can also get scholarships and student loans.
PLNU undergrads pay $36,350 each year and another $300 in fees each year. Commuters can purchase a meal plan for $270 a semester, which gives them full access to the university's cafeterias. The cost for students who live on the PLNU campus includes $3,000 a semester for a shared dorm room and $2,325 per semester for a meal plan. These students will also pay $37 each semester, which goes into a fund used for maintenance and other necessary dorm expenses.
More than 90% of the university's undergrads qualify for more than $40 million in scholarships and grants each year. PLNU will automatically give some students scholarships based on their achievements and the information they share on the undergraduate application. Students with a weighted grade point average of at least 3.7 and a minimum 27/1200 ACT/SAT score qualify for a $12,000 annual scholarship. There are other scholarships of up to $18,000 available. At Point Loma Nazarene University, undergrads can qualify for financial aid packages that also include grants, military aid, student loans, and federal work-study.
Related Resources: