Share this infographic on your site!
Faith on Film
With "The Passion of the Christ" at number 16 in the top grossing films of all time, how have other Christian movies performed at the box office? Let's take a look at Christian cinema and some of its most popular releases.
Christian Voices
1 in 10
Movies produced per year in Hollywood with a Christian basis (1)
The Dove Foundation, an organization whose main goal is to survey family-friendly entertainment, conducted a public opinion poll regarding perception of the entertainment industry. What did they find? (1)
94% of those surveyed felt that offensive material in movies and TV is increasing.
93% wish to see more family-friendly entertainment.
77% agreed that most entertainment "did not meet their expectations or reinforce values important to them."
77%
Percentage of American adults identifying as Christian in 2012 poll (2)
Top Grossing Christian Movies
Here is a look at some of the highest-grossing Christian films in history compared to comparably successful secular films: (3, 4, 5)
"The Passion of the Christ"
Year
2004
Synopsis
The final hours and crucifixion of Jesus Christ.
Lifetime gross
$370,782,930
Compare to
"Spider-Man 2"
2004
$373,377,893
"Heaven is for Real"
Year
2014
Synopsis
A father's struggle to find the courage to support his son, whose near-death experience gave him a glimpse of heaven.
Lifetime gross
$91,443,253
Compare to
"The Karate Kid"
1984
$90,800,000
"God's Not Dead"
Year
2014
Synopsis
A college philosophy professor is challenged by a Christian student's beliefs.
Lifetime gross
$60,755,732
Compare to
"Baby Mama"
2008
$60,269,340
"Son of God"
Year
2014
Synopsis
The life story of Jesus Christ, from his birth to his crucifixion and ultimate resurrection.
Lifetime gross
$59,700,064
Compare to
"The Godfather: Part II"
1974
$57,300,000
"Soul Surfer"
Year
2011
Synopsis
After losing her arm in a shark attack, a surfer must use her Christian faith as a springboard for taking risks again.
Lifetime gross
$43,853,424
Compare to
"Quarantine"
2008
$41,319,906
"The Nativity Story"
Year
2006
Synopsis
The lives and hardships of Mary, mother of Jesus, and Joseph as they travel to Bethlehem.
Lifetime gross
$37,629,831
Compare to
"Mars Needs Moms"
2011
$38,992,758
"Courageous"
2011
Synopsis
Four police offers struggling to balance work and fatherhood, as well as their faith.
Lifetime gross
$34,522,221
Compare to
"The Mortal Instruments: City of Bones"
2013
$34,000,000
"Fireproof"
Year
2008
Synopsis
A firefighter facing possible divorce accepts God and things begin to change for the better.
Lifetime gross
$33,456,317
Compare to
"Red Planet"
2000
$33,463,969
Crossover Success
Not only is "The Passion" the top-grossing Christian-themed film in history, it's also high on the list of all top-grossing films in the U.S.: (4)
Rank, film, U.S. box office gross
1, Avatar, $759,562,778
2, Titanic, $600,788,188
3, The Dark Knight, $533,184,219
4, Star Wars: Episode IV, A New Hope, $460,998,007
5, Shrek 2, $437,212,000
6, E.T. the Extra-Terrestrial, $434,974,579
7, Star Wars: Episode I, The Phantom Menace, $431,088,301
8, Pirates of the Caribbean: Dead Man's Chest, $423,416,000
9, Toy Story 3, $414,638,013
10, Spider-Man, $407,681,000
11, Transformers: Revenge of the Fallen, $402,076,689
12, Star Wars: Episode III, Revenge of the Sith, $380,270,577
13, Harry Potter and the Deathly Hallows – Part 2, $378,181,000
14, The Lord of the Rings: The Return of the King, $377,019,252
15, Spider-Man 2, $373,377,893
16, The Passion of the Christ, $370,782,930
17, Jurassic Park, $357,067,947
18, Transformers: Dark of the Moon, $351,903,000
19, The Lord of the Rings: The Two Towers, $341,748,130
20, Finding Nemo, $339,714,978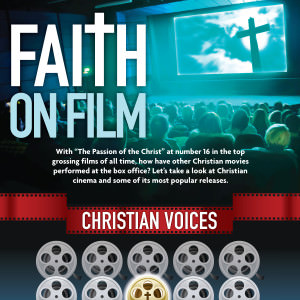 Sources:
Related Resources: