Share this infographic on your site!
The Evolution of Joel Osteen, Pastor of the Biggest Church in America
880: number of evangelical megachurches in U.S.
50: number of megachurches in 1980.
Every 2 weeks: time it takes for a new megachurch to emerge in U.S.
25: percentage of white Evangelicals in America today
#1: Joel Osteen is the pastor of the biggest mega church in America
Largest Megachurches in America today, number in congregation, and pastor
1. Lakewood Church, Houston, Texas, Joel Osteen, (43,500)
2. North Point Ministries, Alpharetta, Ga., Andy Stanley (30,629)
3. Willow Creek Community Church, South Barrington, Ill., Bill Hybels (25,743)
4. NewSpring Church, Anderson, S.C., Perry Noble (23,055)
5. Church of the Highlands, Birmingham, Ala., Chris Hodges (22,184)
Beginnings: </h2
1959: Lakewood church founded by John Osteen, Joel's father.
• John Osteen was the son of a Texas cotton farmer
• John was a Southern Baptist minister.
• Founded non-denominational church in Houston.
• With about 80 people, John began Lakewood Church in a dusty, abandoned feed store on Mother's Day 1959
8,000: number of members in John Osteen's church by the time he died, in `1999.
Joel Scott Osteen: born March 5, 1963. Osteen has become:
• Best selling author
• Televangelist
• Senior "pastor" of Lakewood church in Houston, Texas.
Over 7 million: number of weekly viewers in Joel Osteen's TV ministry.
More than 100: number of nations that broadcast his TV show.
1997: Married wife Victoria. They have two children, Jonathan and Alexandra.
2.5 million: number of copies sold of his first book, Your Best Life Now
Compaq Center: once home of the Houston Rockets NBA team, is now the Lakewood church. Seats 16,000.
The History of Joel
• A college dropout
• For 17 years, worked in production in the television ministry of this father
• October 3, 1999 Osteen took over from his father as pastor of their church; Lakewood church after his father passed away.
• Prior to this role he had preached only once.
• Osteen was listed amongst the 'ten most fascinating people' in December 2006.
• In the same year he was accorded the recognition as the most inspiring Christian in the United States.
• Does not take a salary from the Lakewood church whose annual budget is $70 million.
• Osteen's book sales and related stuff generates a reported $55 million.
Osteen on Facebook, Twitter
Facebook page statistics
• Number of Fans: 5,465,632
• People Talking About: 3,120,509
Distribution of Facebook fans
• U.S.: 4,153,453, 76%
• Kenya: 198,932 3.6%
• South Africa: 135,719, 2.5%
• Philippines: 125570, 2.3%
• Nigeria: 94,901, 1.7%
• Canada: 61,091, 1.1%
• India: 60,510, 1.1%
• U.K.: 38,849, .7%
• Indonesia, 35,662, .7%
• Ghana, 35,320, .6%
623,000: number of Twitter followers
For Joel, money is the root of… Being Cool
• He is worth $ 56.5 million
• Third most popular TV evangelists, behind Billy Graham and Rick Warren
• Takes no salary
• Owns one house, the one he lived in for 13 years.
• Until recently, drove 9 year old car owned by his father.
• Pays his own hotel bills, has no private jet
• His services net $43 million a year.
• Upbeat, does not take collections at services
• $30 million: amount of annual mail donations
More Interesting Facts About Joel Osteen
Nicknames:
Joel Scott Hayley Osteen, Joel Scott Osteen
What is Joel Osteen's Birthday?
Tuesday, March 05, 1963
What is Joel Osteen's Sign?
Pisces
How Tall Is Joel Osteen?
6 feet
Joel Osteen's Nationality:
American
Other interesting facts and tidbits:
• His first five books, "Your Best Life Now," "Become a Better You," "It's Your Time," "Every Day A Friday," and "I Declare," have all been #1 national bestsellers.
• "Your Best Life Now" was on The New York Times Bestsellers List for more than 200 weeks.
• According to Nielsen Media, Osteen's weekly program is watched by more than 10 million American viewers.
• Osteen's weekly program airs in approximately 100 nations around the world.
• Osteen has filled stadiums in England, Northern Ireland, Canada, Israel, Africa and Australia.
• According to iTunes, Osteen's weekly audio and video podcast has an average of 10.5 million downloads each week.
• In the past eight years, more than a two million people have attended Osteen's "Night of Hope" events.
• In 2009, Osteen sold out Yankee Stadium in New York.
• Lakewood has been called "the most integrated church in America."
• Lakewood's 2005 grand opening was attended by Texas Republican Gov. Rick Perry as well as Democratic House Minority Leader Nancy Pelosi.
• Senator John McCain told Rolling Stone Magazine that Osteen was his "favorite inspirational author."
• President Obama hosted the Osteens at the White House.
• In 2006, Barbara Walters named Osteen one of her "Most Fascinating People" of the year.
On the horizon:
Fastest growing mega churches in America (other than Osteen)
(Church name, location, pastor, growth by percent, by number)
• 1. Triumph Church, Detroit, Mich., Solomon Kinloch Jr. (+49 percent, +3,800)
• 2. NewSpring Church, Anderson, S.C., Perry Noble (+44 percent, +7,072)
• 3. Legacy Church, Albuquerque, N.M., Steve Smotherman (+49 percent, +3,300)
• 4. Celebration Church, Jacksonville, Fla., Stovall Weems (+44 percent, +3,396)
• 5. Northview Church, Carmel, Ind., Steve Poe (+50 percent, +2,201)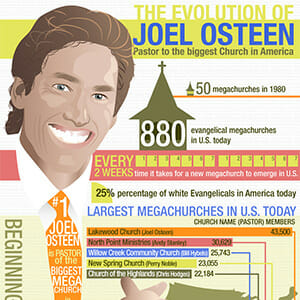 Sources:
http://www.prophecyfilm.com/joel-osteen/
http://www.socialbakers.com/facebook-pages/101306095226-joel-osteen-ministrie
http://askville.amazon.com/money-televangelist-joel-osteen-make-year/AnswerViewer.do?requestId=13423293
http://www.richbutbroke.com/326/Joel-Osteen-Net-Worth
http://www.pennlive.com/midstate/index.ssf/2013/05/joel_osteen_harrisburg_bio.html
http://www.christianitytoday.com/edstetzer/2013/february/explosive-growth-of-us-megachurches-even-while-many-say.html