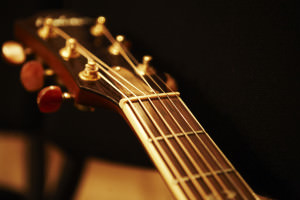 While attending college programs designed to teach students about religion and music or before enrolling in one of those programs, students often want to know about the jobs available with a music and worship degree. Though you might think that the only jobs open to you are positions working in churches, you can use your degree in a number of ways. The skills you develop and experience you gain lets you assist others and share your knowledge of music.
Recording Artist
Some students study music and worship because they love performing in front of others. As a student in one of these programs, you may have the chance to take part in the college band, play live shows in front of other students or simply take classes on music. No matter what type of instrument you play, you may look at jobs available with a music and worship degree that apply to your talents. Recording artists work and play in a variety of different ways. They might play back up for local talent in a recording studio, play live shows across the country or even record and release their own albums.
Choir Director
Do you have a passion for music and signing and want to foster that same passion in others? You might enjoy working as a choir director. Choir directors work in schools, churches and even for nonprofit organizations. They help singers learn how to hone their skills and attempt to get the best performances out of those singers. Choir directors also arrange music, schedule performances and are responsible for scheduling rehearsals and practices. You may also have the chance to pick the songs that the choir sings and help them gain a better understanding of the music.
Music Teacher
Working as a music teacher often appeals to those who enjoy working with students of a certain age. Though most states require that teachers have a license to work in public schools, you can often work for a church or a private school without a license. Music teachers introduce students to new music, help them learn sight reading and singing skills and lead them in performances held in front of others. According to the Bureau of Labor Statistics, teachers working in elementary schools earn a median salary of just over $61,350 a year. You may make more working with teenagers or adults.
Church Leader
One of the jobs available with a music and worship degree is that of a church leader. A young adult worship leader is a good example of this type of job found in churches. Young adult leaders, also known as teen or youth leaders, work with kids ranging in age from around 13 to 18 and with students currently attending high school. You'll act as a counselor and help them deal with issues like peer pressure and bullying at school. You can use your music skills to take their minds off the issues they face and to give them an outlet for their anger and other emotions.
Conclusion
Music and worship degree programs are usually only available through private schools and religious colleges. Before you decide to enroll in one of those programs, give some thought to the jobs available with a music and worship degree after you graduate and whether you want to work as a church leader, music teacher or in another position.
Related Resources: